How To Take the Stress Out of December
I never like to admit when I'm barely treading water, but it happens almost every year as Thanksgiving approaches. The moment the leftover turkey is put in the fridge, it seems that December and its giant to-do list overwhelm me.
Besides the regular crazy that we call our day-to-day around here, December kicks it up more than a notch or two. We celebrate a birthday in December, practice for and attend several special Christmas programs and parades that my children and husband participate in, and the colder weather means daily feeding of the cattle on top of regular jobs. And of course, there's all the home decorating, shopping, and general memory-making that December seems to require.
Every year I have to choose joy over stress. I'm not perfect and have my share of breakdowns, but I've found one key that really, really helps me choose joy more often.
Organization. Organization is the best tactic I've found to maintain joy in any busy season of life.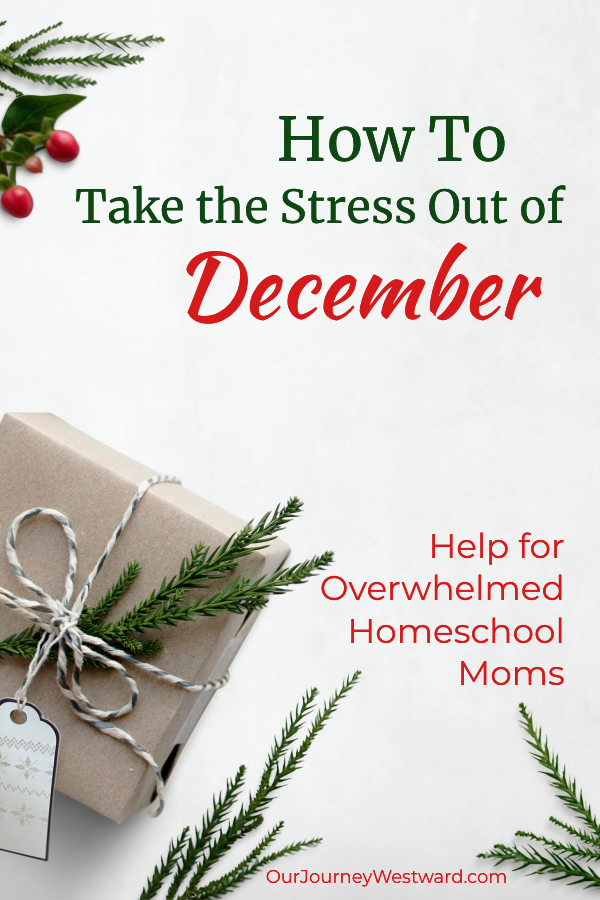 This post contains affiliate links.
---
You can listen to this post!
---
How To Take the Stress Out of December
It sounds simple, but if I make plans ahead of time for everything from homeschooling to healthy meals, I'm way more likely to live in peace even when the days are full of too much.
And so, I spend some time before Thanksgiving getting my plans pulled together. That's what I'm doing this weekend. And, that's what will help me dump these anxious feelings. Here's a peek…
1. Make sure everyone's calendars are up-to-date with December activities.
This requires a family meeting. We keep a color-coded Google calendar that everyone has access to, but not all teenagers or husbands stay on top of it. At this meeting, everyone makes a list of dates they might need to ask off from work so they can get those requests in early.
We also go ahead and pencil in days for shopping trips, making homemade gifts, baking cookies, our annual Christmas light ride around town, and a service project or two.
If any of the events require special clothing, costumes, candy (for parades), or other supplies, I write them on a list and try to gather or purchase what we need asap. It's way less stressful to attend all the events when they are less like fire drills and more like celebrations.
2. Plan meals through Christmas.
I rarely plan meals more than a week at a time, but if I don't tackle December meals early we're very likely to snack on junk food the entire month. Snacking on junk food doesn't just pack on pounds, it makes for lethargic and cranky family members.
We aren't always able to stick with the plan, but at least there's decent food in the house throughout the month.
3. Get a list together of EVERYONE we need to buy or make gifts for – all the way down to Sunday school teachers.
I meet with each family member to help me craft a wish list for themselves. They get to put anything they want on the list and I add a few things I think they might want or need, too. I decide what I plan to buy from those lists and pass the rest of the ideas on to grandparents and aunts & uncles.
While I'm meeting with each person in my family, we work on ideas for anyone else on the master list that has to do with them. For instance, my youngest son will help me with gift ideas for his Sunday school teacher, youth minister, piano teacher, and co-op teachers. He's usually the one these days who helps me plan gifts for our Christmas Angel, too.
I keep a running list of purchases I need to make and supplies I need to buy for homemade gifts as I meet with each person too.
4. Buy the gifts.
As soon as the master list of gifts is complete, I go ahead and purchase whatever I can asap. I also like to gather all the supplies for homemade gifts so that a few free hours we might find here and there can be productive.
Now that a couple of my children are older, I always schedule a shopping day with each one of them. They help me pick out exactly what they want or what fits as we enjoy a day together. Their gifts are rarely surprises, but they get what they want and I get special alone time with them.
5. Plan school through Christmas.
As with meal planning, I rarely plan school more than a week ahead of time. After Thanksgiving though, we always enjoy a change of pace through Christmas Schooling.
It's a time to set aside at least some of our regular schedule. We enjoy Christmas unit studies, read Christmas books, plan and prepare for special gatherings, complete fun Christmas science activities, and other celebratory things. We don't throw out the entire schedule now that my youngest is in middle school, but we used to change up almost everything. Such precious memories are made during these few weeks!
I make sure to plan for any special Bible studies or unit studies and the supplies that might be necessary. I pull out our Christmas books and order or reserve others I want to read.
I jot down things I'd like to accomplish each week leading up to Christmas. I typically wait until the week of to sort out the actual school plans for each week, but I know what I need to fit in and can sort it out according to what the week actually looks like by the time it arrives.
A Peaceful Christmas
Who am I kidding? I'm not sure the December season is ever going to be completely peaceful like I dream about. But, once I get each of these tasks taken care of (hopefully before I ever sit down to turkey dinner), I will definitely be able to enjoy the season in all its busyness. I hope your Christmas season is full of joy and you have time to really focus on the Reason for the season.
Other posts you might like:
Christmas School Nature Study Books Stocking Stuffers