Over the next couple of weeks, I'll be taking part in the Heart of the Matter's 10 Days of… Blog Hop. My posts will focus on creative ways to teach values (or character training) to your children. My prayer is that you and I will both be inspired (or re-inspired) to train our precious children in the way they should go with methods that reach deep to encourage and motivate their souls.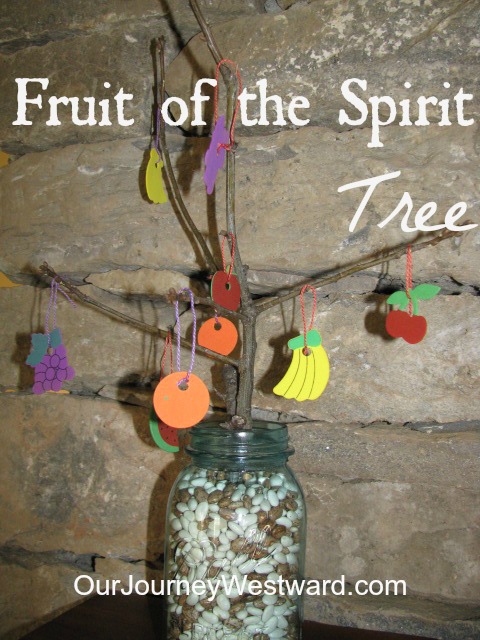 But the fruit of the Spirit is love, joy, peace, patience, kindness, goodness, faithfulness, gentleness and self-control. Against such things there is no law. Galatians 5:22-23
Our Go-To List of Virtues
The Fruit of the Spirit is our "go-to" list of virtues as Christians. We should strive to exuded each of these traits in everything we do! Do we mess up? Sure! That's part of the learning process – and thank God for His sweet mercy day in and day out as we fail!
Fruit of the Spirit Tree
One tried and true method I've used with each of my three children to help them understand and begin to display these values is a Fruit of the Spirit tree.
As early as the age of three or four, whenever I notice that the "fruits" need a little, ahem, fine tuning around the house, we stick a branch in a jar and have great fun catching each other being kind, peaceful, gentle and so on.
This post contains affiliate links.
Beforehand, I've prepared little fruits tied to strings that get hung on the branches when someone has been caught.
There's never a competition between kids to see who can gather the most fruit, but instead it's a cooperative effort to see the good in one another, be good to one another and watch our family tree hang heavy with fruits as a result.
When one child needs a little more encouragement (like the four year old recently), the tree will be all about him. In this instance, as often as we were able, we made a big deal about the values he was displaying and let him put his fruits on the tree.
At the end of the day, we counted the fruits together. His goal the next day was to see if he could gather even more fruits than the day before.
After about a week, he had begun a pleasant habit which replaced a not-so-pleasant habit and we not longer needed the tree.
It Works for All Ages
Old or young, every time I've pulled out the Fruit of the Spirit tree in our home, positive character has resulted. It's so easy, too!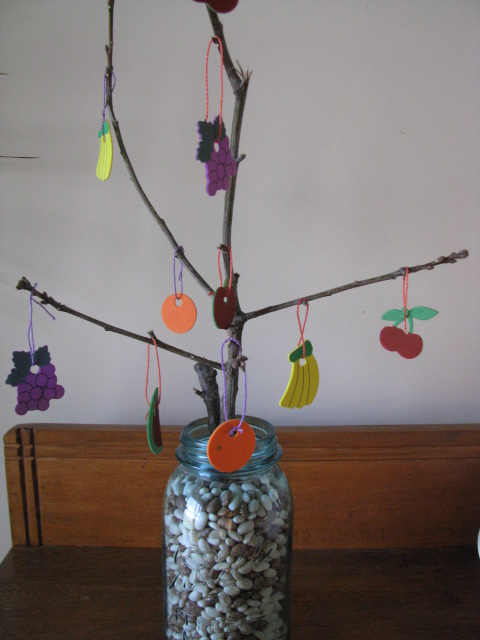 How to Make a Fruit of the Spirit Tree
Place a tree-shaped stick in a jar/bucket of beans/rice/rocks.
Cut out fruit shapes from construction paper, card stock, foam sheets or anything else you like. (The fruit shapes in my photo were prepared shapes I found several years ago at a dollar store.)
Punch a hole at the top of each fruit and loop a ribbon, yarn or string through it to become a hanger.
How To Use a Fruit of the Spirit Tree
For very young children, I don't write anything on the fruits. We simply talk about each value as its displayed and the child hangs any fruit of his choosing.
For young readers, write one value on each of the fruits so that you have at least one per Fruit of the Spirit. When a particular value is displayed, they find the correct fruit to hang on the tree.
For older children, place a list of the Fruits of the Spirit near the tree along with the blank fruits and a marker to create their own as a fruit is displayed.
That's it! What are you waiting for? You could have new, wonderful habits started tomorrow!
Extra Learning Fun
While not necessary, I know many of you like to find fun extras to reinforce your lessons, or actual lessons to help you specifically teach the Fruits of the Spirit.  I have included some ideas for both in the below for your convenience.
_____________________________________________________
The Rest of the Teaching Values Series
Teaching Values with Literature
Teaching Values through Service and Leadership
Teaching Values through Chores and Jobs
Teaching Values through Discipline that Reaches the Heart
Teaching Values Using For Instruction in Righteousness
Practical Lessons for Teaching Values
Teaching Values Using The Pilgrim's Progress
Resource List for Teaching Values

_____________________________________________________
Be sure to visit these wonderful ladies during our 10 days adventure between November 7th-18th! 10 days of Character Studies | Confessions of a Homeschooler 10 days of Christmas Countdown Ideas | Milk & Cookies 10 days of Creative Writing | Chocolate on My Cranium 10 days of Crockpot Meals | The Happy Housewife 10 Days to a Godly Marriage | Women Living Well 10 Days of Growing Leaders | Mom's Mustard Seeds 10 Days of Homeschooling High School | Weird Unsocialized Homeschoolers 10 days of I Wish I Had Known | Fruit in Season 10 days of Keeping Your Marbles | The Tie That Binds Us 10 days of Kid-friendly Food | Planner Perfect 10 Days of Language Arts Lesson Planning | Jimmie's Collage 10 Days of Learning Apps | Daze of Adventure 10 Days of a Mason Jar Christmas | Cajun Joie de Vivre 10 Days of More JESUS in Christmas | Preschoolers and Peace 10 Days to a Peaceful Home | Raising Arrows 10 Days of Raising a Life-Long-Learner | Bright Ideas Press 10 days of Science with Math | Blog, She Wrote 10 days of Teaching Values | Our Journey Westward 10 days of Winning your Child's Heart | I Take Joy