34 Flourishing Gifts for the Junior Gardener
Is there a child in your life who loves to garden? If so, keep reading. I'm sharing some super-fun gifts for the junior gardener that are sure to please!
Gardening has so many wonderful benefits for children. First and foremost, it's a great way for children to burn energy. Oddly, for kiddos that need to find ways to work out anxieties and relax, gardening works for that, too. Growing fruits, veggies, and flowers is very rewarding and builds practical skills, self-esteem, and even character-based habit training. Think about the patience, perseverance, and consistent care that are necessary to grow a successful garden.
Perfect for multiple ages to do at the same time, gardening is hands-on science that inherently teaches botany, animal science, earth science, and even some chemistry and physics. It's such a heavy-lifting activity academically, I've placed gardening high on the yearly to-do list. For years, we have planted, cared for, harvested, and even preserved food as part of our family rhythm. These hours have certainly counted towards school time, too.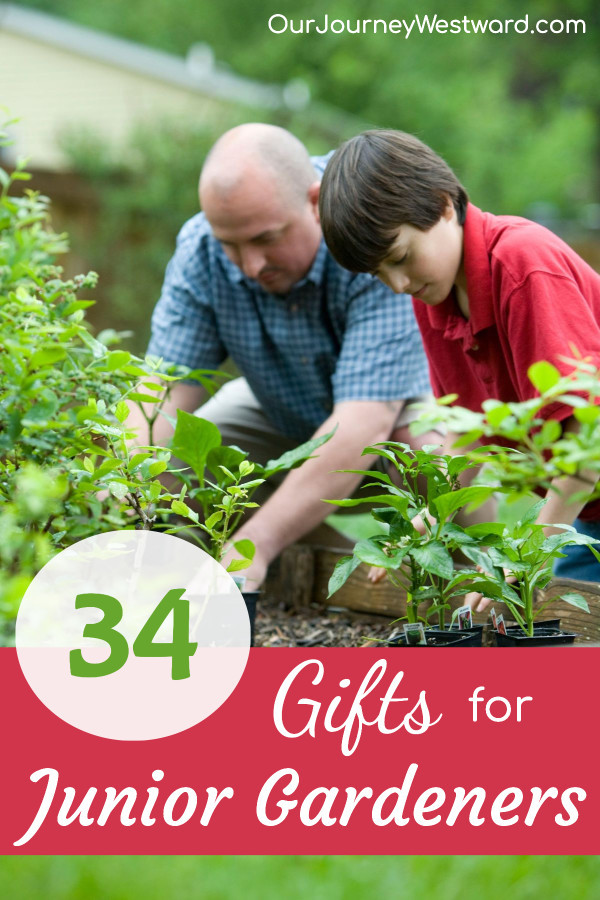 This gift list contains some great ideas for the junior gardeners in your life. Any of these gifts would be great for beginners. No matter if you have room for a large garden or only space enough for a few pots on the porch, these ideas should be friendly for either. If you're wanting to introduce a child to the art of growing, you might consider one of the fun kits towards the end of the post!
This post contains affiliate links.
Junior Gardener Tools
Tools! Tools are incredibly important to any gardener, and the right tools make the job so much easier. These days, people are coming up with some really cool gadgets! The harvest basket has piqued my interest. What a great idea to be able to collect your vegetables and be able to wash them in the same container. I'm sure your junior gardener will be thrilled to receive some of these neat tools!
Essential Gardening Workwear
Proper workwear is also a must for a budding gardener. Gardening gloves are essential to keep pokes, scratches, and blisters at bay. They come in so many fun colors and patterns these days! And isn't the harvesting apron fun?
Growing Supplies for Gardeners
There are lots of fun options for actually planting gardens, too! Whether you're starting seeds indoors, growing container plants, or waiting to plant directly into the soil in the spring, it's never too early to start collecting seeds and supplies.
Junior Gardener Books
Books are always a good idea in any homeschool! Most of these books are specifically about gardening for kids. Whether your gardener is new to gardening or has some experience, these books contain information, projects, and recipes that will be great for any level. I particularly love the idea of a gardening journal. It is a great way to keep track of planting and how well things are growing. Not only is the journal a perfect gift for junior gardeners who love to be organized (or for those who need to learn organizational skills), it can serve as a nature journal of sorts, too.
Unique Gifts for the Junior Gardener
Don't you love unique gifts? These are super fun! And like I mentioned before, if you're not sure if someone will like gardening (or may not have a lot of space), the kits are a great way to test the waters. Children who enjoy these smaller-scale projects may be ready to jump in on bigger gardening projects sooner or later!
I hope you were able to find plenty of gifts for the junior gardener in your life. Gardening teaches many valuable skills that are useful for a lifetime. Learning new skills, growing actual food, and developing responsibility are just a few of the amazing benefits of gardening. Don't forget the value of taking learning outside to breathe fresh air, burn energy, and refocus young minds!
Happy gifting and gardening!
Other posts you may like: