Description



Two LIVE, 30-60 minute science classes that teach 1st-8th graders scientific information and vocabulary through the unique lens of nature study and nature journaling
Printable supplementary packets for every single lesson that include text, specimen images, a vocabulary list, and extension activity ideas
24/7 access to a video library of all previously recorded classes
Replays of special live events with Mrs. Cindy and her friends
A new, free curriculum download from the Our Journey Westward Shop each month
Large discounts at the Our Journey Westward Shop and several partner companies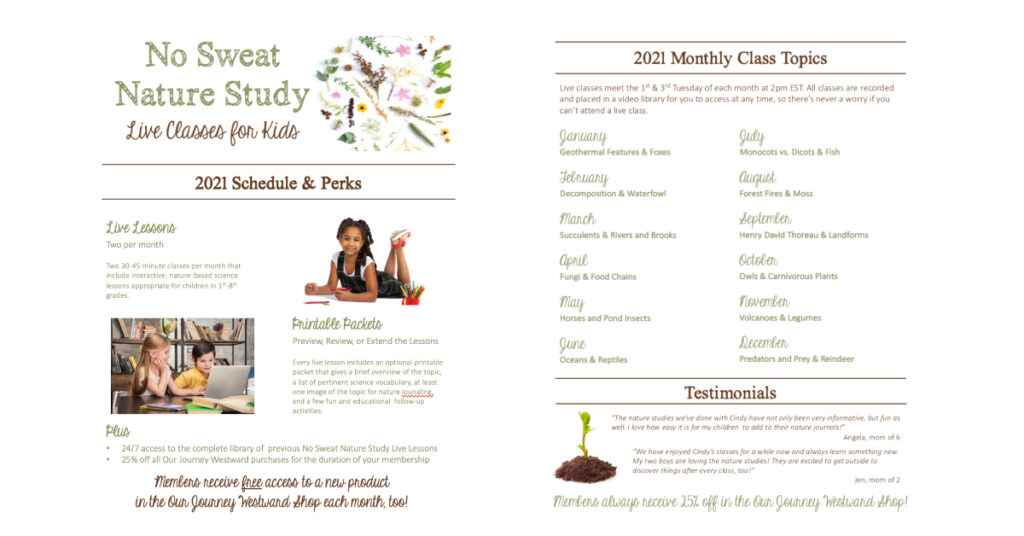 Click here to see the 2021 schedule.

Who should purchased a gift membership?
The gift option is meant for charter schools, grandparents, aunts and uncles, and anyone else who intends to gift the No Sweat Nature Study LIVE membership to another family. It should not be used by parents who wish to give the membership to their children. Parents should purchase a regular membership instead.
How do I purchase a gift membership?
Choose a gift level of one month, one quarter, or one year then check the "This Is a Gift" checkbox to enter the email address of your recipient. Then click the "Sign Up Now" button and proceed to checkout.
After checkout, you will receive an email receipt and account login information to manage the account. Your recipient will also receive an email inviting them to create an account so they can access the membership.
Will there be any additional charges?
No. You will not be charged again.
What if I want the membership to start at a later date or I want it to be a surprise?
We can set up the membership manually for you! Instead of making a purchase, email cindy@ourjourneywestward.com for help.