Fun and Practical Gifts for Animal Lovers
If you have a kiddo who loves a particular animal or loves to learn about animals, this post is for you. Included below are lists of fun and practical gifts for animal lovers of all types.
My daughter is (and always has been) an animal lover herself. Because she has always enjoyed receiving animal gifts, I turned this post over to her! She created idea lists for gifts she would have loved as a kid. You will find ideas for specific animals (particularly her favorites) and some animal groups.
I hope the ideas are helpful and bring a smile to the face of your animal lover!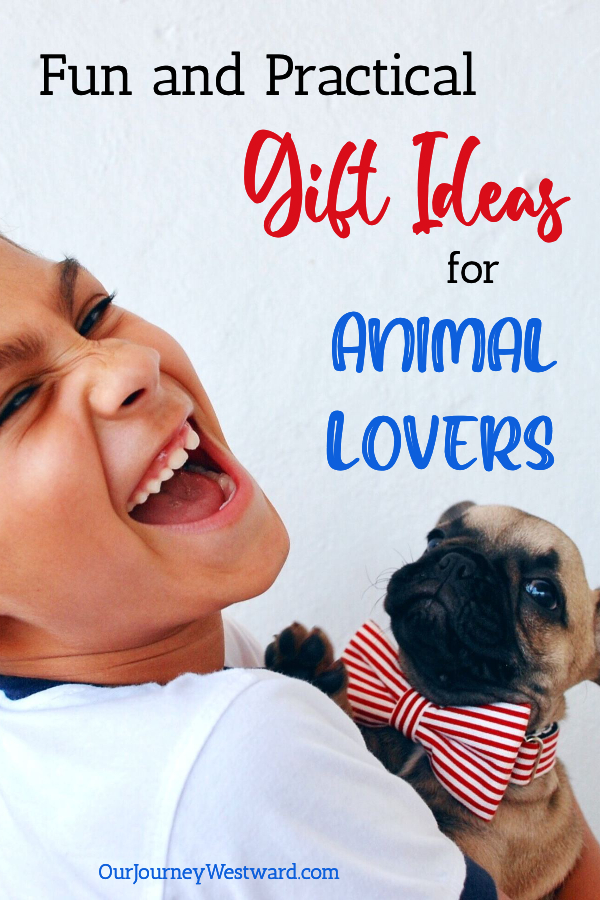 This post contains affiliate links.
Gifts for Animal Lovers
Within each of the lists, you'll find a plethora of options from fun to practical. If you think of additional ideas in any category, let us know in the comments. We'll all appreciate the additional suggestions!
Dog Gifts
My daughter's first love was her border collie, Lilly. Over the years, we have had lots of dogs who have become best friends and wonderful helpers on the farm. These dog gifts are very similar to many my daughter received over the years.
Cat Gifts
The cats on our farm have always been barn cats. They have never been as loveable as the dogs, but they have been ever so useful for keeping unwanted critters at bay. These gifts are sure to keep a cat-lover happy.
Small Pet Gifts
We've never owned small pets – unless you count the mice and moles that live on the farm. Many of my daughter's friends have, though, and they inspired these small pet gift ideas.
Water Animal Gifts
Fish never survived very long in our house, but we sure did enjoy them when we had them. We've also enjoyed many pond, creek, and ocean animals on nature walks and vacations. Aquatic animals are often kid-favorites which is why this list was created.
Bird Gifts
Birds have been a favorite animal for our entire family to observe out the window or on nature walks. Whether your children have pet birds or simply enjoy bird watching, these gifts are sure to please.
Farm Animal Gifts
Cows, in particular, are one of my daughter's favorite farm animals, but she has always enjoyed learning as much as she can about any and all of them. In fact, these days she's the farm manager around here! When she was young, she preferred horse-themed gifts, but if she were still a kid these would be her choices.
Wildlife Gifts
Nature walks have always been a big part of our homeschool. There is so much wildlife to observe and learn about during nature study or a trip to the zoo – or even on a trip to another part of the world! These gift ideas can help spur on the love of wildlife.
A membership to No Sweat Nature Study LIVE is perfect for animal lovers of all types! Your children will be able to attend two live, online classes per month and have access to a video library full of previously taught lessons. It's a gift that keeps on giving!

I sure hope these gifts for animal lovers help you bring smiles to your family!
Other Posts You Might Like