About Our Homeschool
I'm Cindy West, a busy homeschooling mom to three active and wonderful children. We are very eclectic in what and how we learn, but identify most with the Charlotte Mason style of schooling. Our school relies heavily on short academic lessons, good literature, nature study, living math, handicrafts, life as learning, free time, and habit training.
We follow the philosophy of four-year history and science cycles as described in The Well-Trained Mind (Classical education). Most of these lessons are completed in unit studies and are very hands-on and/or project-based.
I strive to create an exciting and varied learning atmosphere in (and out) of our home. This keeps us from getting in a rut, as well as allowing my children to think and do in new and creative ways. If they are constantly challenged to learn and produce in not-so-familiar settings, I believe that will encourage them to tackle whatever comes their way in life without worry or hesitation.
With all this in mind, my main goal in homeschooling has absolutely nothing to do with academics! I plan, prepare and teach so that my children might be prepared for whatever work the Lord has prepared for them. My main goal, therefore, is to gently guide them to Him. Each and everyday I strive to glorify Him in all I do and all I teach. (I often fail miserably, by the way!) It's absolutely been my pleasure to work towards that goal and watch my children grow in the Lord (and in their academics.) I wouldn't trade this life for the world!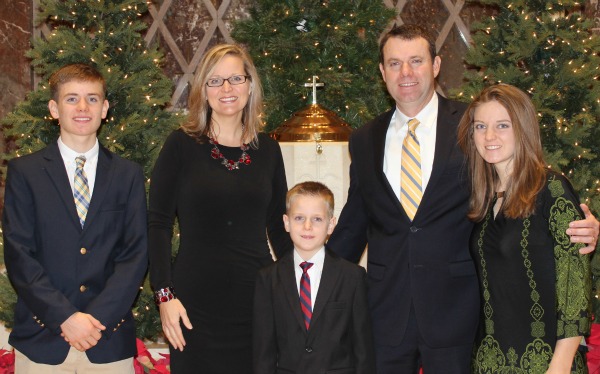 About Our Family
We live on a cattle farm in Central Kentucky. Besides being a farmer, my husband is also a real estate attorney, realtor and State Senator. Busy doesn't even begin to describe it.
I have a master's degree in elementary education, but I LOVE being home with my children. I also enjoy gardening, reading, writing, exercising, hiking, eating lots of chocolate and being outside. Besides homeschooling and blogging, I also write homeschool curriculum, speak regularly at homeschool events, review curriculum, and offer homeschool consultations. Teaching is my passion!
My children are super-sweet, very creative and are always busy doing one thing or another. They all love to be outside and I believe farming is in their blood just as it's in my husband's. You will read many, many posts about my children because they are the main reason I write this blog. I try to document our journey together and hope that not only are memories made for my family, but you find something interesting or inspiring to read as well.
God Bless!