Sneaky Educational Stocking Stuffers
Christmas stockings are a long held tradition in the West household. Of all the gifts around the Christmas tree, it seems the stockings are the most anticipated – which is why we save them until the very last.
I remember feeling the same way as a little girl. There's just something extra special about finding the tiny treasures inside that small space!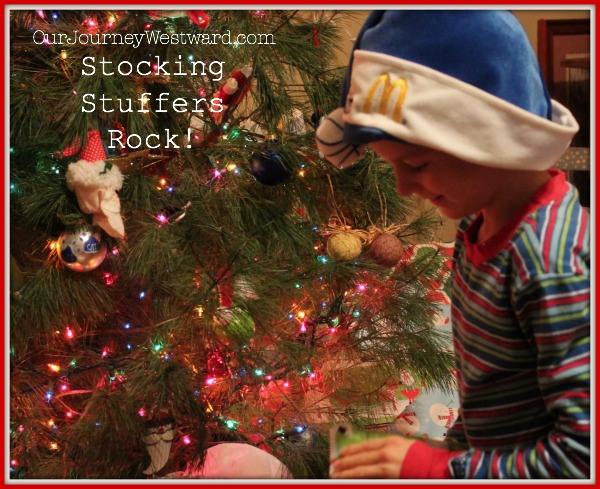 While we always purchase little things like toothbrushes, floss, mints, chocolate, gloves, pencils and the like to fill our stockings, I don't want them to be all practicality. I also don't want them to be filled with junk that will find a trash can within 5.2 days (or hours…sometimes minutes.)
Over the years, I've found some super-fun additions for the stockings – things that have lasted AND stuck around in our house for years. The best part, they are ALL educational. Educational doesn't have to mean boring! In fact, I bet your elementary and middle school children won't have a clue their stocking has anything to do with school.

(This post contains affiliate links.)
Sneaky Educational Stocking Stuffers
I've broken the 100+ items into categories, but realize that many of the suggestions easily cover more than one academic subject – meaning they pack a lot of educational punch.
Brain Training/ Logic/ Critical Thinking
These games all challenge brains – and they're all fun! At least 1/3 of them can be used by a solitary player, too. As an adult, there isn't one thing on this list that I don't enjoy myself – and they stretch my brain as well!
Math
Math doesn't have to be all facts and figures! But even the things on this list that help with facts should produce smiling faces.

Language Arts
Who knew there were so many ways to work on reading, writing and spelling without a pencil and paper. And these are just the options that fit inside a stocking!
Science
Truth be told, this science list could have gone on forever. There are SO many wonderful science gems that can fit inside a stocking!
Prepared Slides for a Microscope
History
You'll notice five Go Fish games on this list from The Classical Historian. Yes, my children enjoy these games THAT much. And, no, I haven't been paid to say that. LOL. Oh, and both DVD's I've mentioned really are worthwhile viewing.
Professor Noggin American History
Geography
Geography games are some of our go-to resources for weekly geography practice.
Where on Earth is Carmen San Diego? DVD

Art
Like the science list, this one could have gone on forever, too. Art supplies are easy to tuck inside of stockings and usually don't cost much at all. Rather than give an exhaustive list, here are some of my unique favorites.
Music
Musical items are a tad harder to fit into a stocking, but these options are perfect!
Educational stocking stuffers don't have to break the bank!
Prices of these items range anywhere from 50¢ – $20. Most of them in the middle of that range. After filling stockings with all the practical goodies, I usually only have room to add two or three things from this list.
Since the practical things are pretty inexpensive, I'm able to keep the stocking stuffers to a reasonable final cost. I keep in mind though that $10 spent on something of lasting value is worth far more than spending $10 on 10 junky things that will be in broken by the end of the day.
Oh, and I should mention that, in most cases, our entire family enjoys the goodies as we play together or as the items make it to our game closet, art shelves, DVD cabinet, etc.
What are some of your favorite educational stocking stuffers?
Related Posts:
This post has been linked to: