40 Gifts for Kids Who Love to Bake
I loved it when my kids learned to bake. As they tried new recipes and grew in their kitchen skills, they also unwittingly grew in math, science, and character. Plus, I had plenty of new treats to eat. That's a win-win-win! These baking gifts for kids are sure to both inspire and thrill!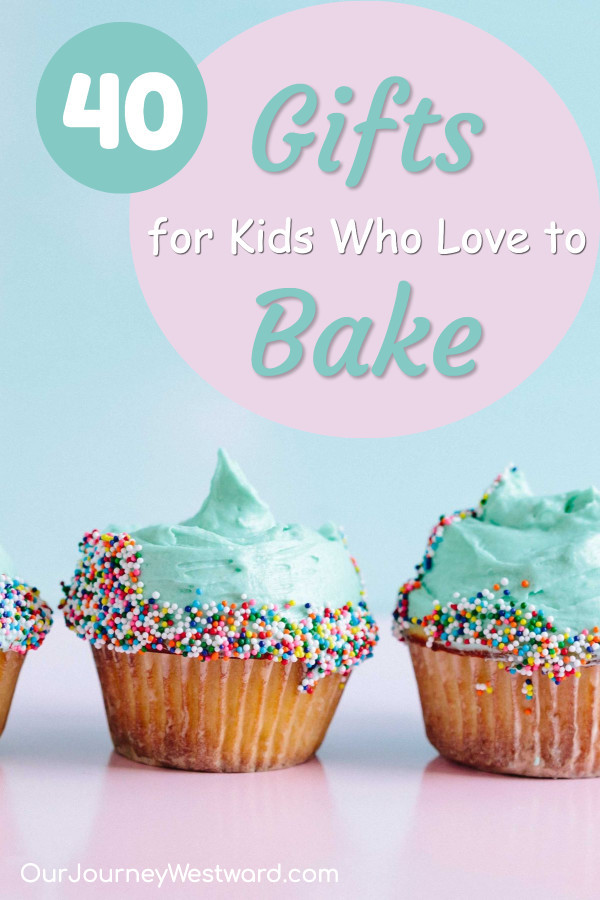 This post contains affiliate links.
Baking Gifts for Kids
Two of my children naturally enjoyed baking when they were younger and have honed their skills over the years to become very good bakers. I partly attribute their love for baking to the time they spent working alongside me in the kitchen from the time they were toddlers. As tough as it was sometimes to include them in the process as opposed to just doing it myself, their ease in the kitchen is a direct result of that extra time spent.
As a homeschooling mom, I have been so thankful for the extra time in our school day to fit in plenty of interest-based learning. When I noticed their enjoyment of baking, my first reaction was to provide plenty of resources and opportunities to practice the skill. Making space for exploring passions has been a wonderful investment of my time and money over and over again.
While there's certainly no need to provide much more than a cookbook, ingredients, regular kitchen tools, and time to practice, I've found that gifting extra-special things makes my children feel special and validated in their pursuits. Birthdays, Christmas, and other special occasions are the perfect times to think about gifts with meaning. A well-thought gift can add momentum and drive to any undertaking.
I hope this list of baking gifts for kids helps you make dreams come true in your kitchen soon!
Aprons and Saftey Gear for Young Bakers
Besides cookbooks, one of the first baking gifts my son received was an apron with a chef's hat. When I say that the gift made him stand taller and have more confidence in the kitchen, that's an understatement. I couldn't believe how such a simple gift made him feel like he was professional enough to do more in the kitchen. Our entire family benefitted from his boost of confidence as we enjoyed his many creations.
Cookbooks for Kids
Even after mastering certain recipes in the kitchen, baking requires such precise measurements that taking a quick peek at a recipe is always a good idea. And, for a budding baker, recipes are a must. While it's easy to find recipes online, there's just something about a cookbook that makes baking better. The ability to thumb through the pages to find the perfect recipe is one benefit. But, more importantly, having a bright recipe in front of you that doesn't lose power or continue to be interrupted by advertising is important for children. These cookbooks are full of recipes that bakers can whip up!
Baking Supplies for Kids
Your kitchen is likely full of plenty of baking supplies, but my children have truly appreciated having some supplies that belong to them. Again, it can really spur the baker onward with encouragement that you believe in them so much to buy a few special things specifically for them. If you want to buy kid-sized tools, that's okay, but don't feel like you have to. For the most part, I've always provided the same-sized tools that I would use. However, when possible, I do try to find fun colors and styles.
Baking Kits for Kids
Baking kits make particularly great options for gifting. The fun kits either provide everything needed for a fun recipe or provide inspiration and the necessary tools to make the fun happen. Many of the kits can be used over and over again, too!
Extra-Special Baking Supplies for Kids
If you're looking for something more unique, I've included a few ideas for you. Don't be alarmed by the pricy ones. As my older children entered their teen years, I actually started buying them one pricier kitchen item each year for Christmas to give them a head start on their future homes. However, I've purchased some of the more expensive items as family gifts, too. When there are several bakers in the family, a new kitchen gadget can be more exciting than you might think!
Have a wonderful time baking with your children. You will be incredibly blessed by the goodness they create and the independence they forge while working in the kitchen!
Other posts you may like: