Educational Science Gifts for Middle School Kids
Middle school kids are a fun, unique sort, aren't they? Caught between childhood and something greater, it can sometimes be difficult to buy gifts for them. But even for middle schoolers who quickly become star-struck with trendy clothes and high-dollar electronics, I'm still a big believer in giving at least a few educational gifts.
The middle school years are so special for science education. Whether your child is already a lover of science or not, there are so many wonderful topics to learn about now that they are old enough to really understand and young enough to have plenty of time for explorations. That's why science gifts for middle school kids are my go-to for gifting.
Kiddos who love science will have opportunities to dig deeper and explore further with interest-based gifts. While the kiddos who don't necessarily love science will at least be tempted by unique gifts that seem more like fun than learning. Either way, this giant list of educational science gifts for middle school kids should help you find a few ideas that will bring smiles and bless your homeschool through some sneaky learning.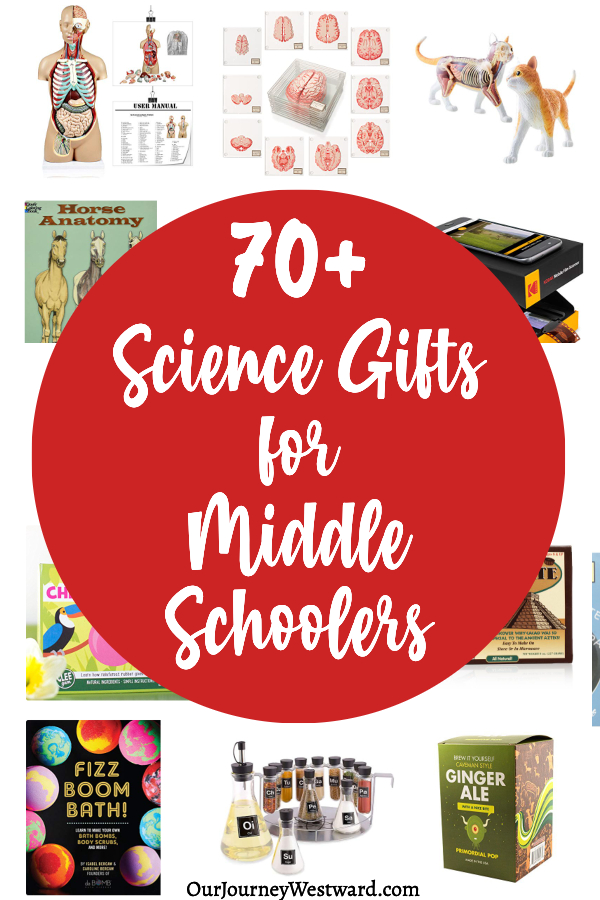 This post contains affiliate links.
Science Gifts for Middle School Kids
As you browse the lists, think about ways that you can further the love of a certain topic AND ways you can introduce new, undiscovered topics. In our homeschool, I might use these kits and science supplies during our "regular" lessons or as afternoon and weekend free-time suggestions. I might do the activity with my children or allow them to enjoy it independently. All of these possibilities are taken into consideration as I decide what will really and truly be used before I buy it.
Science Gifts for Middle School Explorers
Exploring is one of the best gifts we can give our children. The ability to not only wonder what's beyond their doorstep, but also the means to find out and the passion to keep pushing make for lifelong students who will never run out of things to learn. Try some of these exploration gifts to help further their travels, expand their world, or just enjoy the nifty things out there in the comfort of their rooms.
Science Gifts for Middle School Chemists
Whether they're mixing mud pies or magic potions in the kitchen, there's nothing like the hands-on learning of chemistry. Give the kids tools to actually create something with their jumbles and blends and see their eyes light up at having a finished product to show off… or even enjoy!
Science Gifts for Middle School STEM and Maker Kiddos
You can't turn around these days without hearing buzz about STEM learning and how beneficial it is for growing minds. As kids reach middle school age, though, the appeal of stacking blocks tends to wear off, leaving it a bit more difficult to find STEM gifts they'll love and learn from. I've rounded up some of the best gift ideas for tweens and teens who like to build, make, and engineer that will provide learning and entertainment for years to come.
Science Gifts for Middle School Coding
Who knew that we'd ever reach a point where young people wanted to do computer coding for fun? Fortunately, we're learning more and more how beneficial being able to understand coding languages is. Whether it's just to make some tweaks to their mom's website or the precursor to a future career, coding is something that will never be a waste of time to learn – and with these gift ideas, it'll definitely be a lot of fun!
Science Gifts for Middle School Hobbies
Sometimes kids have different, quirky, fun, and interesting hobbies that don't fall under the umbrella of what most would consider "typical". I remember the year that the child of a dear friend became consumed with learning about various bacteria and diseases, for instance! I've found some offbeat gifts that are as educational as they are eccentric, perfect for the middle schooler with curious curiosities or for the kiddo looking for a new topic (or unit study) to dive into!
Small Science Gifts With A Big Impact
Science gifts don't have to take up an entire lab or make messes to be fun and educational. These gift ideas are perfect for stockings, party favors, road trips, or just because! Sure to keep the brain working, the hands busy, and the kids entertained.
Middle schoolers are notoriously hard to please, but there's no doubt that they'll not only enjoy opening up any of these gift ideas, but they'll also actually learn while using them! Science is far too fun and varied to keep it limited to school, so don't be afraid to embrace all that science has to offer whenever a gift-giving occasion comes up!
Other Posts You Might Like