Root Vegetables Nature Study
In this root vegetable nature study, children will learn how to look at root veggies through the eyes of a scientist! Do you think every underground veggie happens to be a root veggie? If so, this lesson might surprise you.
If you enjoy funschooling during the holidays, this topic fits in nicely during the Thanksgiving and Christmas seasons. Think about how many root vegetables dishes are served on holiday tables around the world!
If you're not interested in funschooling around the holidays or you're listening at a different time of year, no worries. The lesson isn't directly connected to either holiday, so you can certainly enjoy learning about root vegetables at other times of the year, too!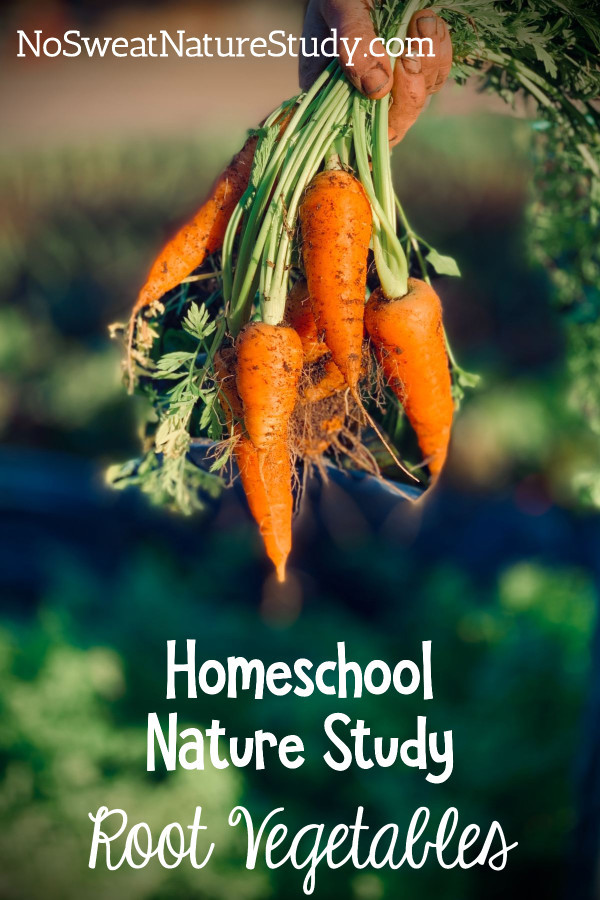 This post contains affiliate links.
Root Vegetable Nature Study
Do you love eating root vegetables? I hope so because they are full of wonderful vitamins and minerals that help us grow big and strong! Plus, they contain fiber which keeps our bodies running smoothly, and antioxidants to protect our cells. Just like other vegetables, root veggies are great for most people to include in their diet regularly.
Root vegetables come in all shapes, sizes, colors, and flavors. Many of them are brightly colored and slightly sweet to eat. The colors and sweetness not only make the foods attractive to us but many animals like them a lot, too. There are plenty of animals that live underground like groundhogs and rabbits who are happy to find root vegetables to eat. There are also plenty of animals that don't live underground like deer who will pull root vegetables out of the ground by the stems to eat them.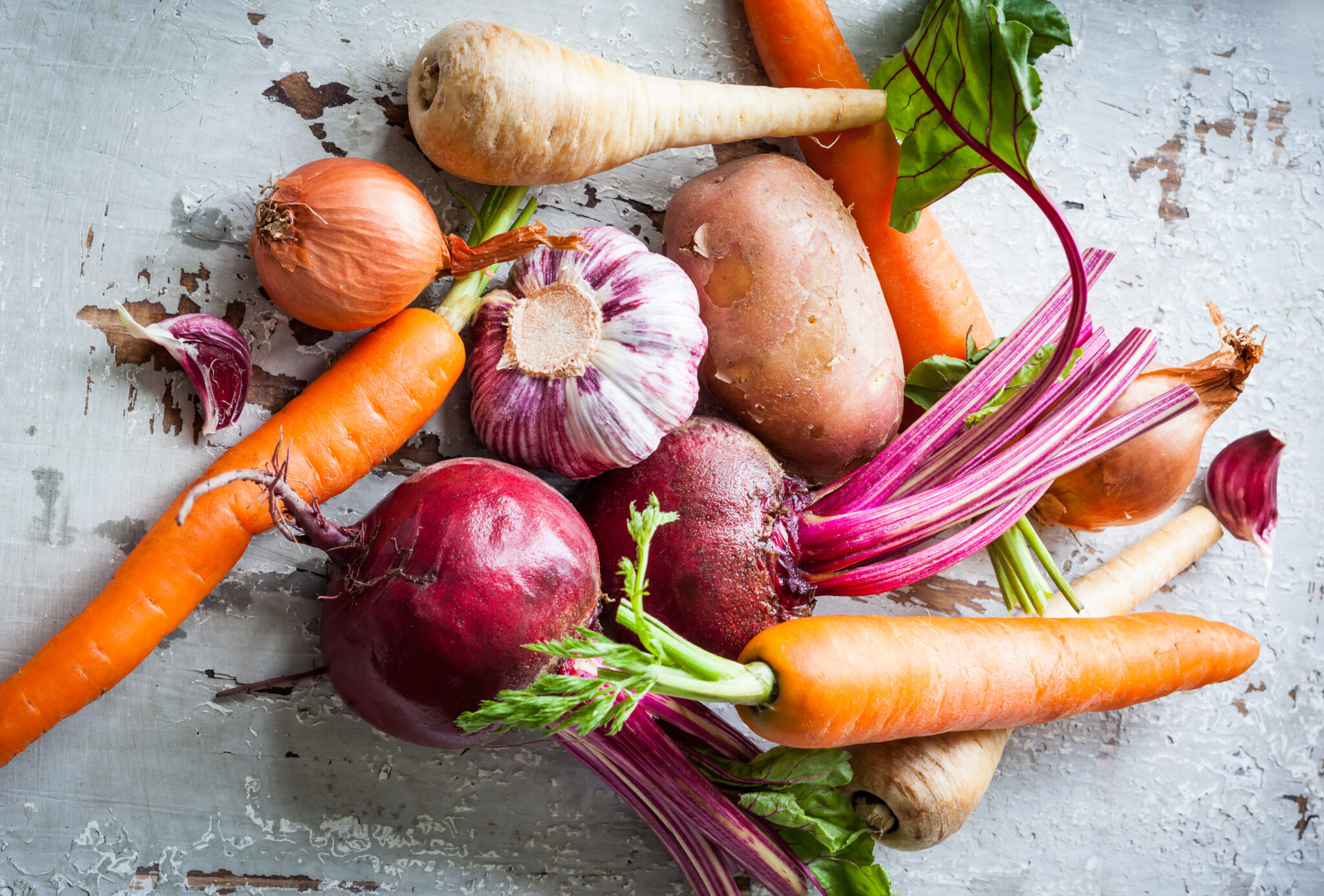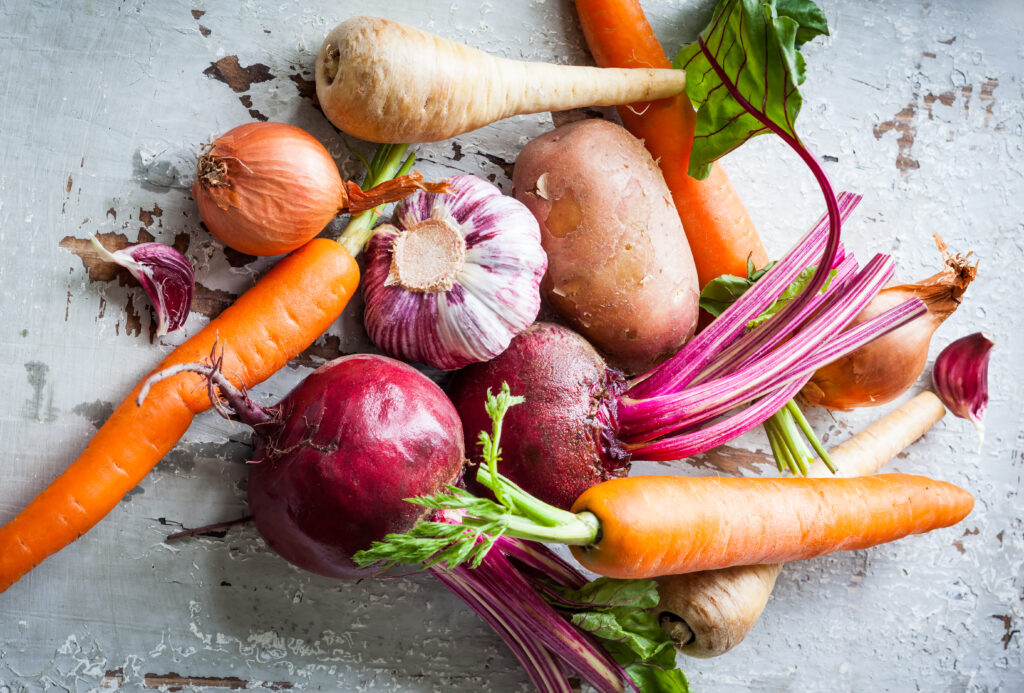 In this podcast episode, learn the difference between true root vegetables and other vegetables that grow underground called tubers and rhizomes. You'll also discover a little about the amazing root system of a plant as you understand vocabulary words like vascular system, xylem, phloem, and nutrients!
Root Vegetable Nature Walk Challenge
Be prepared for the unique root vegetable nature walk challenge mentioned in the podcast by gathering two easy supplies:
nature journal or blank, white paper
colored pencils
Root Vegetable Video Class
Enjoy the corresponding root vegetable video class located in the No Sweat Nature Study LIVE membership. During this 45-minute (or so) class, you'll "dig deeper" into the topic of root vegetables with Mrs. Cindy as you create an underground cross-section nature journal page of true root vegetables, tubers, and rhizomes. You can also accept the challenge to complete some easy and inexpensive root veggie science experiments!
The No Sweat Nature Study video classes are best for 1st-8th graders. Besides internet access, the only thing required is a nature journal (or blank, white paper) and colored pencils.

Nature Walk Curriculum
If you're in the mood to study plants in more depth, you have lots of options in the No Sweat Nature Study membership. There are several supporting video lessons located in the video library:
The monocots and dicots lesson teaches about root systems.
The tree bark lesson covers the xylem and phloem in a plant.
The photosynthesis lesson walks children through a plant's production of food.
There are several other lessons to make extra connections to botany topics, too. Parents have access to plenty of ideas for lesson connections and extension ideas.
Additionally, you can find botany curriculum in the Our Journey Westward Shop. The Life Cycle of Flower Plants will help you teach 1st-8th graders how plants grow from seeds through multi-media lessons. The Fruits and Nuts curriculum will help you plan creative nature walks, hands-on lessons, kid-friendly research projects, and more to study the wonderful fruits of a plant's labor.
Links and Resources
The following supplies and experiment kits can help you enjoy this lesson.
Please leave a rating or a review on your podcast app! It helps the podcast to show up for more people…which means more families can enjoy science through the wonderful lens of nature study! Thank you!
Would you like to record a voicemail to answer this season's nature study question?
At the end of each No Sweat Nature Study Podcast episode, Mrs. Cindy includes messages from a few of her friends. You have the opportunity to record a message that she might use on an upcoming episode!
All children must have their parent's permission before leaving a recording. Parents are welcome to record an answer, too!
Each season, there will be a different question to answer. You can see this season's question below. Think about your answer first and then follow these simple directions:
Click the button that says "start recording".
Tell me your first name. (If you want to tell your age and/or where you live, feel free to do that, too.)
You will have 60 seconds to answer the question, but try to be concise.
Push the play button to listen to your recording before sending it to be sure it is recorded properly. If not, simply record it again.