Great Gifts for Horse Lovers
Horses are a lifelong love for my daughter. She has always gasped at the sight of horses grazing in a pasture, cleared the local library's shelves of all the horse-related books, and covered her walls with posters of wild stallions and prancing ponies. Gift giving occasions have never been great mysteries for anyone who knows her – anything with a horse, about a horse, or shaped like a horse is perfect!
Horses are a timeless obsession, so I'm pretty sure you know at least one budding equestrian. Boy or girl, young or old, experienced or novice, horses are beloved by all. There's sure to be something here for any horse fanatic on your gift list!
Gifts for Horse Lovers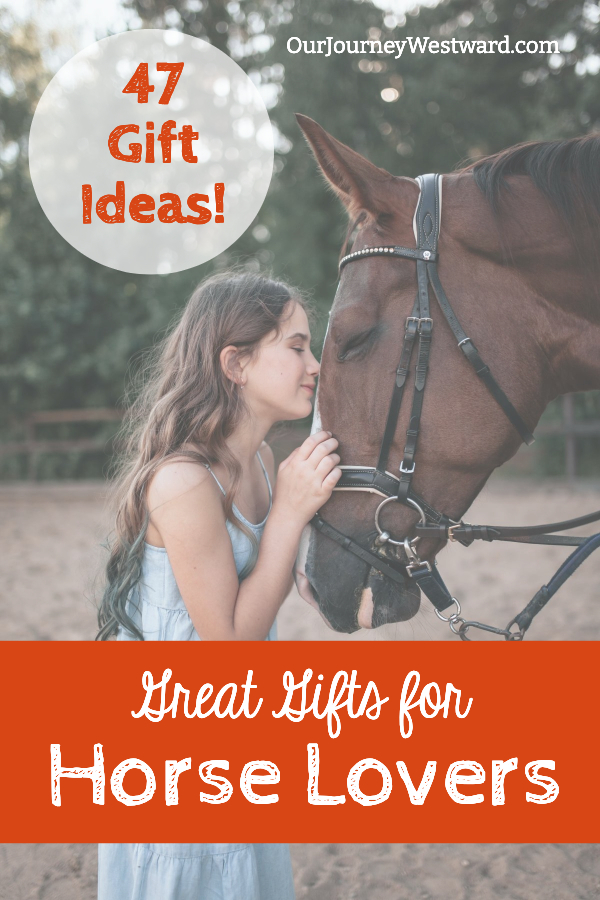 This post contains affiliate links.
Wearable Gifts for Horse Lovers
Horse lovers can't always take their horses with them – or even have their own horse – so you'll want to spoil the equestrian enthusiast in your life with cozy, comfy, and chic horse accessories that they can enjoy and wear anywhere!
Horse Decor Gifts
Nothing brings a smile to a horse-lover's face like being able to see a majestic equine creature anywhere they go. From bedrooms to bathrooms, rustic to whimsical, check out some of these great home decor gift ideas!
Horse Stocking Stuffers
Whether you're looking to fill a stocking, a basket, a goodie bag, or find a small just-because gift for the horse fanatic in your life, these gifts make a big impact with a small gesture. Affordable and enjoyable, you may even want to pick out a few for yourself!
Gifts for the Horse Owner
Does your horse lover have a horse of their own? Maybe they own a horse, lease a horse, or simply have an opportunity to work with horses; these practical, hands-on gift ideas are sure to excite them! Nothing makes a horse lover happier than to pamper their steeds with the best products.
Fun and Quirky Equine Gifts
If the horse lover on your list seems to have it all, take a moment to look over these fun, quirky, and unique gifts that are sure to bring a smile and a laugh! From the silly to the surreal, these are pretty outside the box and easy to enjoy, whether the recipient is a casual fan or full-on fanatic.
Ornamental Horse Figures
In addition to the classic Breyer or Fashion Star Philly figures, there are plenty of unique, beautiful, and even educational horse figurines that can be enjoyed by all. From glittering gems to anatomic accuracy, check out some of these fun figurines that are sure to earn a valued place on display.
Horses are such a universal love for people of all ages that it can sometimes feel as though their gifts become redundant. Choose a few gift ideas from this list and you're sure to surprise even the most avid collector. Saddle up and happy shopping!
Other Posts You Might Like: