Educational History Gifts for Middle School Kids
If you're looking for history gifts for middle school kids, you're in the right place! Whether you have a history buff on your hands or wish you did, keep scrolling for a bunch of ideas.
Every time we do a deep clean at my house, I end up shaking my head at how much unnecessary stuff my kids end up with. Gifts from distant relatives, goodie bags, co-op parties… it doesn't take long for piles of unused and forgotten toys to take over corners and cabinets.
It never fails that they end up with bags and boxes of things to donate or toss, and I find myself wishing I'd invested in something they could actually use more than once. Maybe it's a homeschool mom thing, but I really love giving educational gifts that I know my kids will not only use, but they'll also learn from.
I've rounded up some of my favorite history gifts for middle school kiddos who are fans of the yesteryear. These gift ideas are unique and themed enough that they're sure to bring excitement not just upon unwrapping, but each time they're pulled out! If you've got a tween with a penchant for the past, you've found the perfect gift guide to please them – and yourself!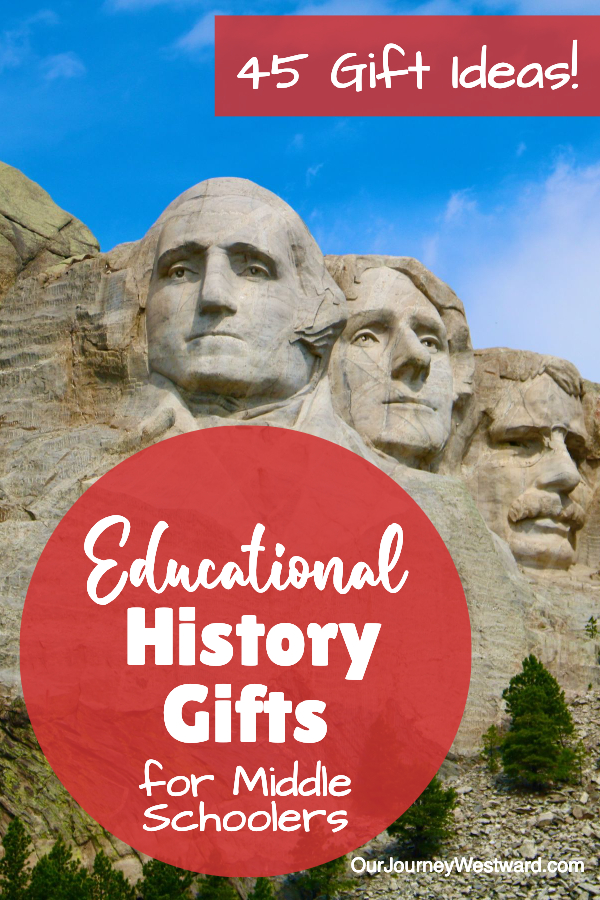 This post contains affiliate links.
Hands-On History Gifts
One of my favorite ways to teach – and learn – history is through hands-on learning. These gift ideas are perfect to bring history alive. Providing more than just a peek into the past, this list is packed with gifts that can help transport your kids back in time – figuratively speaking, of course.
History Games
Have you discovered the benefits of educational games yet? Middle schoolers are notoriously tough to keep engaged, so finding games you can play together while also learning is a genius teaching and parenting hack that allows you to spend time together and have fun. In this list, you'll discover history games that will not only make great gifts, they'll make great memories as you play them again and again.
Unique History Books
History books get a bad reputation. Too often they give off the idea of a dusty old text, filled with boring text that might as well double for a bedtime story. History lovers, however, know better. Below you'll find some of the most unique, fun, and surprising history books that are guaranteed to keep your tweens entertained, educated, and hungry for even more history!
History-Themed Gifts
Okay, not every gift needs to be educational. These stocking stuffers, history decor, and other fun items are perfect for the history-loving middle schooler in your life who appreciates a good pun as much as a good pen!
Just as gifts don't have to always end up in the donate pile, history doesn't always have to be boring – and educational gifts don't have to always be disappointing to receive! These educational history gifts are quirky, different, and deep enough that your middle school kiddos are sure to geek out over them.
Other Posts You May Like