The Best Critical Thinking Games for Your Homeschool
Critical thinking games are the perfect way to teach and practice important thinking and decision making skills in your home. I've been using games as part of my plan of attack for years and it's been such a fun and challenging way to strengthen my children's ability to think and reason.
Critical thinking is extremely important for everyone because it's the process by which we analyze and process information to solve problems and make decisions. Little people and adults alike need critical thinking skills.
When we specifically practice critical thinking with our children, we set them up for success in a lot of ways. First, they are more likely to make good decisions when given the opportunity whether they're 6 or 16. (That can surely make parenting easier!) Second, they can feel less stress when faced with big issues because they know how to think through the options. And third, all that thinking practice can help them to do better on school assignments.
The brain training activities we've talked about before definitely include critical thinking practice. Most of the games I've suggested for gameschooling do, too. In fact, almost all games inherently require critical thinking and make great opportunities for practice.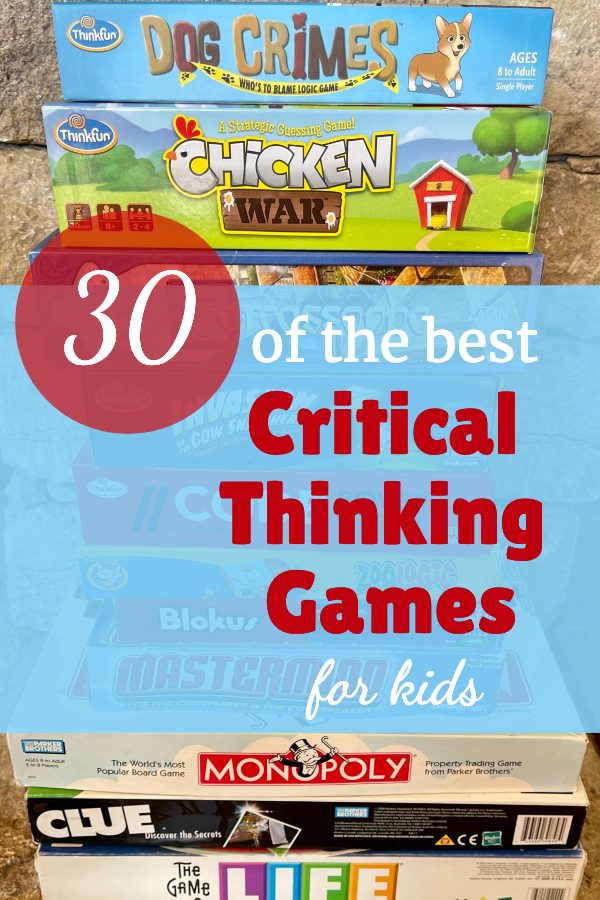 This post includes affiliate links.
Some games are especially made for the express purposes of teaching, stretching, and strengthening critical thinking and others just so happen to be amazing whether that was an original intent or not. Each of the games I've included in this list is tried and true in our homeschool. We've used them during school hours, family game nights, and even in co-op classes.
Independent Critical Thinking Games
When you have a kiddo that needs something to do, these independent games are perfect. They can wake up tired brains, keep bored kids busy, and strengthen critical thinking skills without much (if any) help from you. (A partner is never a bad thing if one wants to tag along and play, too!)
Rush Hour (Also, consider Rush Hour Jr. and My First Rush Hour)
Dog Crimes and Cat Crimes
Relatively Calm Games
These games practice critical thinking with relative calmness – as opposed to the games in the next list that require a little more action. Don't confuse calm with boring. These games are still tons of fun!
Family Game Night Fun
Critical thinking is the name of these games, but the entire family or groups of friends can have a lot of fun at the same time. We've had a lot of Friday game night fun with these.
Learn More About Brain Training
I've included critical thinking activities in our home for years. We actually call them brain training activities because they focus not only on critical thinking, but logical thinking and other activities that generally boost cognitive skills, too.
Our brain training time has been so much fun because it's mostly focused on games that work hard to strengthen the brain. Since we typically begin our school days with a brain training game or two, that's made for a fun and purposeful start that sets a great tone to our days!
If you'd like to learn more about brain training, please enjoy this practical Homeschool Masterclass!
Other Posts You Might Like