Charlotte Mason Inspired Curriculum Picks for a 6th Grade Boy
Oh, my mercy. I'm only homeschooling one this year. While I'm ecstatic in so many ways, it's also entirely bittersweet for me. Who knew deleting my graduated son's name from the letter-of-intent-to-homeschool template on my computer would be such an emotional moment?
That letter with only one name on it has been turned into my local school board and 6th grade curriculum for Eli is sitting proudly on the shelves ready to be used. So…bittersweet or not, bring on middle school!
I ❤️ Charlotte Mason Middle School
In our Charlotte Mason inspired homeschool, the middle school years are my most favorite of all. Since most of the fundamentals of learning have been built on strong foundations during the early years and the super-seriousness of high school is still off in the distance, we're able to spend these middle school years in joyful exploration.
Of course, we still continue to add layers of learning to the foundations – especially in subjects like math and language arts. But we're also free to really dig in to topics that strike a cord or take off on tangents without worrying too much about missing fundamental principals.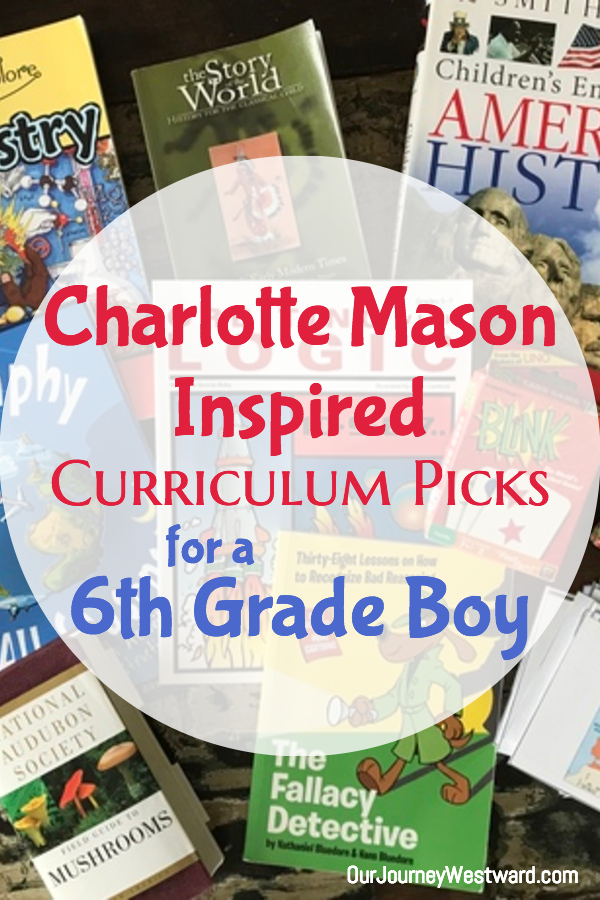 Middle School is Meant for Discovering Passions
It's these middle school years when I make special efforts to help my children discover passions and chase after new skills, too. It can certainly take a little extra effort (and sometimes extra money) to make these things happen, but the excitement in their spirit as they discover a bit more about themselves is inspiring!
I don't quite know what passions will unfold throughout the year, but Eli is already joining a basketball team, is interested in switching from drum lessons to piano lessons, and has been begging his dad for his own horse. (Remember, horse and music passions turned into career paths for a couple other kiddos around here.)
Bring On 6th Grade
As Eli and I venture into 6th grade, we're both expecting a really good year. I've made curriculum plans, but they will sometimes be rearranged or replaced if necessary.
Co-op events, field trips, and special opportunities will definitely take precedence over curriculum some days. And after graduating two children who are successfully navigating life after homeschool, I'm quite happy to report that making time for special things over curriculum once in a while is not only worth it, but preferable to well-rounded homeschooling.
Charlotte Mason Inspired Curriculum Picks
And so, here is our list of 6th grade curriculum! Please remember that I'm never using all the curriculum at once. These are things we will use over the course of the year in some form or fashion.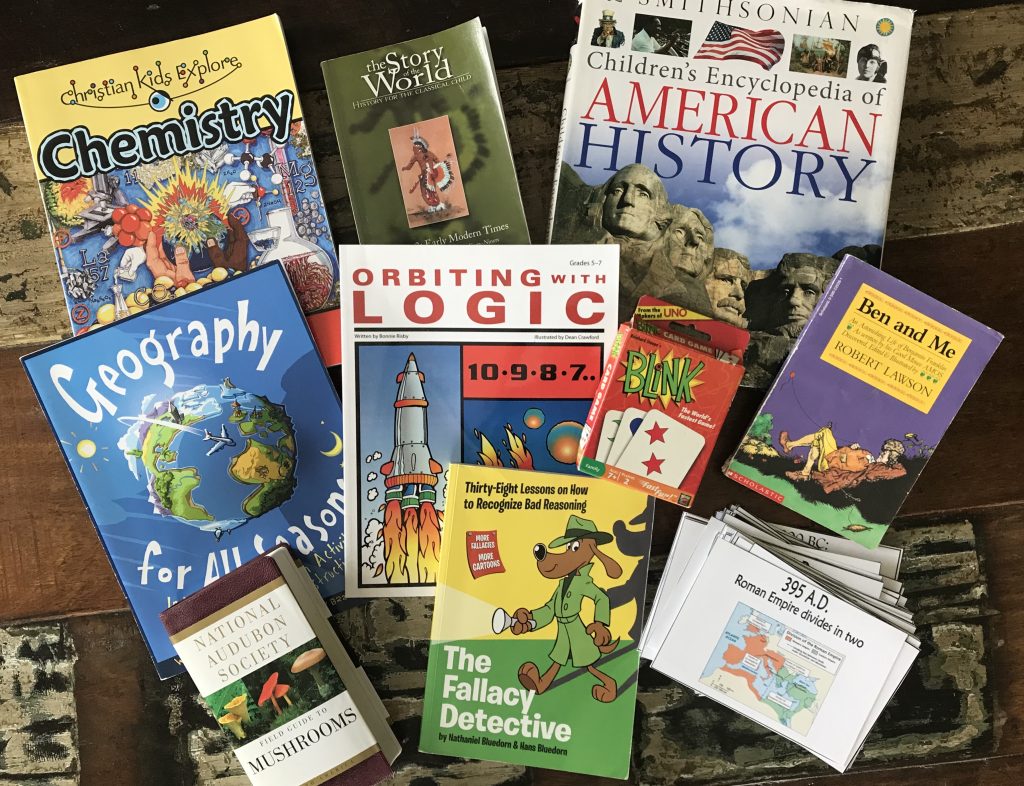 This post contains affiliate links.
BIBLE
Our homeschool days always begin with Bible. Many times, we're just digging into a book of the Bible as a family, but I have a shelf full of exciting things to pick and choose from, too.
MEMORY WORK
I'm making a solid commitment to follow through with memory work every single day after Bible time this year. Normally, we do really well for a little while and then let it slide. Not this year! I have four main goals – one for each quarter – and will add smaller Bible verses and poetry as fillers if we get ahead of ourselves each quarter.
Quarter 1: Colossians 3
Quarter 2: Part of the Declaration of Independence
Quarter 3: Part of the Constitution of the United Sates
Quarter 4: The Bill of Rights
MORNING TIME
Bible and memory work are both considered part of our morning time, but they take place every single day. At least one quick brain training game is played every day, too. Additionally, we will loop through 2-4 of the following activities as part of morning time.
MATH
Before turning Eli loose to do his independent math and language arts work, I'll make sure he understands any new math concepts. Our plan is to work through Saxon 7/6 3 days/week and Prodigy Math or living math activities 1 day/week.
LANGUAGE ARTS
Eli will read 30-45 minutes/day from classic literature or books relating to history or science. Some books will be assigned, but he'll have plenty of opportunity for free choices, too.
Otherwise, he'll work mostly independently through some mixture of the following each day:
Writing: IEW Student Writing Intensive DVD Course (Waiting in the Wings: Mentor-Text Lessons)
Spelling: SpellingClassroom.com & Spelling Works *out-of-print* (Waiting in the Wings: Apples Spelling)
Vocabulary: Words on the Vine (Waiting in the Wings: Rockin' Root Words)
Grammar: Fix It! Grammar (Waiting in the Wings: Daily Paragraph Editing)
HISTORY
Once Eli finishes his independent work, we'll meet back together for history and/or science. We're still working through Story of the World Vol. 3 with lots of additional literature, and will add a KY History Unit Study with field trips towards the end of the school year.
You can see many of the living books we'll use in these posts:
These reference books will be constant companions during our history studies, too:
SCIENCE
At home, we'll finish up Christian Kids Explore Chemistry and move into Christian Kids Explore Physics.
We're also part of a bi-monthly STEM club will focus on animal classification through the dissection of at least 8-10 specimens.
Of course, we will always continue to do weekly nature study!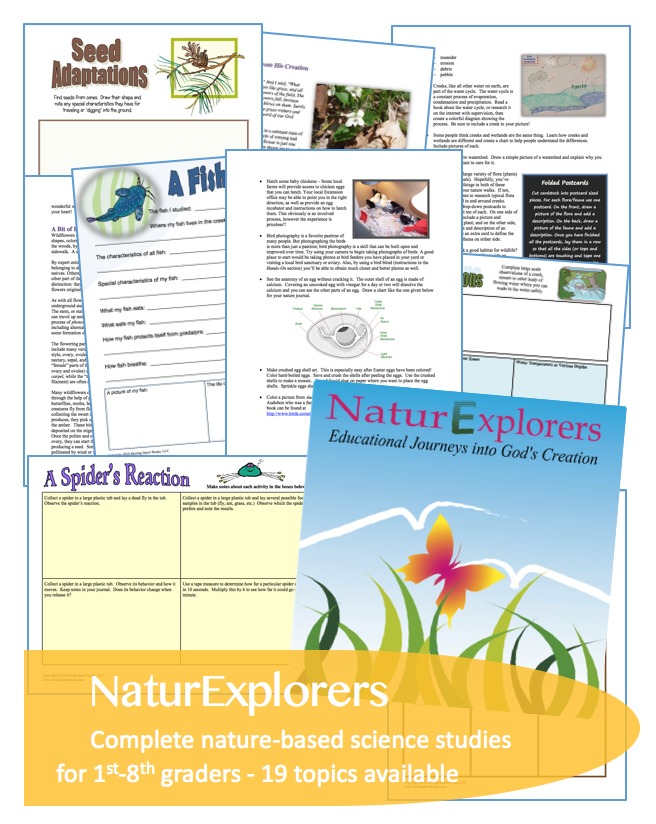 LOGIC & DEBATE
Last year, I taught a little chemistry club to Eli and two of his best friends. Since there are so many science-based things happening this year, we're switching our chemistry club to a logic & debate club that meets twice/month. I'm so excited!
Each meeting will begin with a chapter of The Fallacy Detective. I've never used this book with 6th graders before, but I think these boys are ready.
Afterwards, I'll pull a few logic puzzles from the following books:
Later in the second semester, we'll start preparing some topics for formal-ish debates.
READ ALOUD or AUDIOBOOKS
These books are first in line for afternoon read alouds or listening in the car this year. I'm so excited about each and every one!

Socialization
I've never worried much about socialization because siblings tend keep each other busy – not to mention, plenty of opportunities always come along as homeschoolers. However, since Eli will be homeschooling by himself for the first time ever, I've been purposefully planning for regular time with friends and other teachers.
We're joining a formal co-op again (after five years away!) We're also joining a homeschool basketball team for the first time ever. I've already mentioned the STEM & logic clubs, and there will be once a week music lessons. Yes, it seems like a lot. It is a lot. Eli will thrive with all these opportunities…I will not. However, the alternative for a kid who lives on a farm with no neighborhood children to occupy at least some of his time is many long hours of loneliness (or expectation that momma will fill up the extra time.)
Even though it's not my ideal schedule, I'm pretty sure we'll get into a weekly groove that will really benefit my budding social butterfly.
I'm off to get this show on the road. hope your school year is wonderful!
See curriculum posts from recent years past:
Better yet, find my favorite curriculum of all time for K-12!

This post has been linked to: