2016-17 Homeschool Curriculum and Schedule for 4th and 11th Grades
Well, these children of mine keep getting older and I find myself with a sophomore in college, a high school junior and a 4th grader. My homeschool became a boy school last year – and I've come to enjoy planning with active boys in mind! Take a peek at our homeschool curriculum and slightly improved schedule…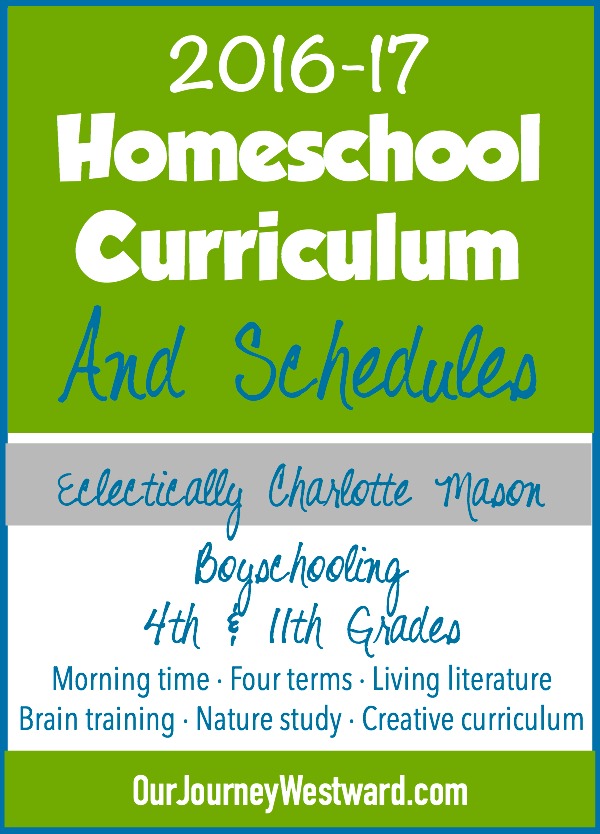 Homeschool Curriculum in Four Terms
Our little homeschool is changing its look just a bit this year to better meet the needs of our busy schedule and to better fit in with my boys' learning styles. We're still eclectically Charlotte Mason. We still follow (a somewhat slower-paced) four-year history and science cycle. We still start our day with family morning time.
The biggest change has to do with the way I'm arranging our year. For the first time ever, we're working in four distinct 9-week terms. One of these sweet boys of mine needs to see an end in sight, and the other boy happens to need distinct deadlines. Working in 9-week chunks of time offer us both.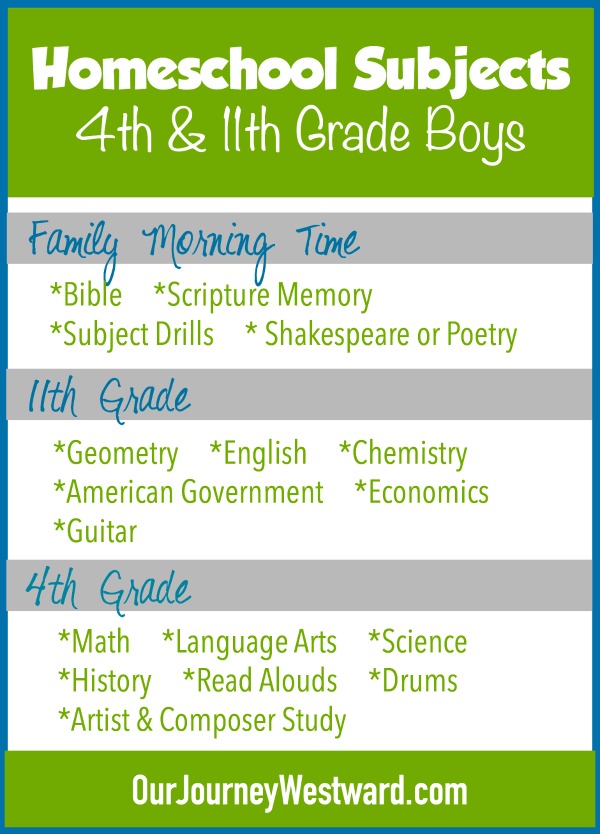 This post includes affiliate links.
Morning Time in Four Terms
Every morning of our school day begins with a family morning time. All three of us read the Bible together, practice Scripture memory, play some brain training games (also called drill time), and *NEW this year* we read Shakespeare, poetry or famous speeches together. (Some recitation happens with poetry and speeches, too.)
Each 9-week term will focus on different things for brain training and the Shakespeare/poetry/speech time. Do you remember how I used to do different morning time activities each day of the week? We used to do a geography activity on Monday, math drills on Tuesday, Latin roots flashcards on Wednesday, etc. Well…this year, after Bible time each term will have its own focus.
Term 1: We are doing a math drill Monday-Thursday AND we're working through Shakespeare's Julius Caesar.
Term 2: We'll play a geography game M-Th AND work on poetry & recitation.
Term 3: We'll do vocabulary building activities M-Th AND read Shakespeare's Henry V (unless we need to finish Julius Caesar.)
Term 4: We'll work on timeline games/drills M-Th AND work on recitation of famous speeches.
Fridays all year: Morning time looks completely different on Fridays. We read a living literature book that demonstrates Biblical principles and play a Bible game or do a Bible drill; we play a brain training game that doesn't fit into the focus of any of this year's terms; we read and narrate an Aesop's Fable; and we watch/read about/discuss current events.
4th Grade in Four Terms
Some of Eli's curriculum will be consistent all year long. Some will be taught within a term. I'll try to explain.
Eli's daily schedule will always include:
Morning Time
Math
Language Arts
History or Science
Read Alouds
Since I've already mentioned the morning time plan, I'll move right on to math. Three days per week, Eli will be using Saxon 5/4. All year long, Mondays, Wednesdays and Fridays will find Eli doing a lesson from Saxon. Also all year long, Tuesdays and Thursdays will find Eli doing living math. The living math lessons ARE separated into terms.
Term 1: Geometry and Logic & Critical Thinking
Term 2: Measurement and Problem Solving
Term 3: Graphing, 100's Chart, and Logic
Term 4: Fractions, Patterns, and Problem Solving
So, this term Eli's math schedule might look something like this: Monday – Saxon; Tuesday – symmetry with pattern blocks and a logic puzzle; Wednesday – Saxon; Thursday – measuring angles around the house with a protractor and a critical thinking worksheet or two; Friday – Saxon.
For language arts, none of Eli's curriculum will be divided into terms. He will alternate daily between cursive copywork and typing. Then, we will work through the Logic of English Mondays, Tuesdays and Wednesdays and some fun writing exercises Thursdays (and some Fridays.) Every day he will also read silently for 25-30 minutes.
Science lessons take place Mondays, Wednesdays and Fridays. Monday and Wednesday lessons ARE divided into terms.
Term 1: earth
Term 2: water
Term 3: sound, light, color, and heat
Term 4: magnets, electricity, simple machines
Fridays are nature study. When the weather is stinky on Fridays, Eli will do one of these Mystery Science lessons instead.
We're doing history lessons on Tuesdays and Thursdays. History will not be divided into terms. We'll finish up Story of the World: Ancient Times and move right into Story of the World: Middle Ages and the Activity Guide.
So, this term Eli's science/history schedule might look something like this: Monday – read book about the water cycle and draw a digram of the water cycle; Tuesday – read a chapter from SOTW, narrate, and complete a map; Wednesday – read a book about how we get drinking water and take a trip to the water treatment plant; Thursday – read a supplementary book from SOTW and complete a project from the activity guide; Friday – take a nature walk looking for signs of erosion noting things in the nature journal.
For music this year, Eli is taking drum lessons. Yes, it's very loud in my house all. the. time. Artist and composer study take place on Fridays. These lessons are going to be much more casual than in the past. This year, we'll work through the Children's Book of Art one two-page section at a time. As we complete artwork inspired from the book, I'll have a selection from the Classical Music Masterpieces CD Set playing in the background. We'll occasionally read children's biographies of famous artists and composers throughout the year as well.
I know this sounds complicated, but take a look at the weekly schedule on the chart below. It's VERY easy to plug the plan into our weekly lessons. We're actually getting school finished faster AND getting so much more done!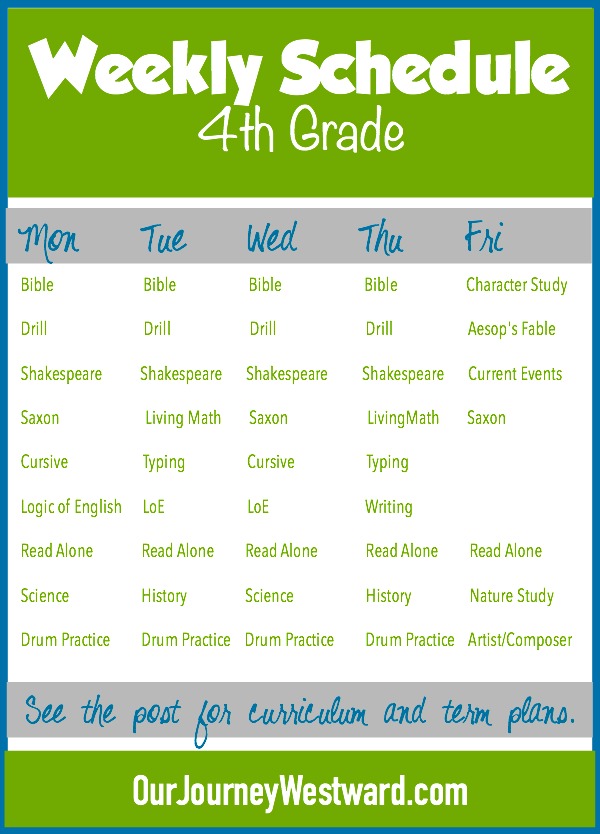 I forgot to add our daily read aloud to this chart! I read to Eli every day. We don't have a plan. We just read until a book is finished and then grab whatever strikes our fancy next. (I filled the shelves with some new boy books this year *post coming soon*, so we have plenty of wonderful choices!) Occasionally, we have two books going on at once – usually one of the books will go along with our history studies and the other is a "just because" book.
High School in Four Terms
For Caleb, our terms mostly serve as set deadlines rather than a switch in focus. In other words, he will be sticking with the same curriculum for most subjects the entire year. By the end of each term, he has certain goals that are to be met with the workload in each subject.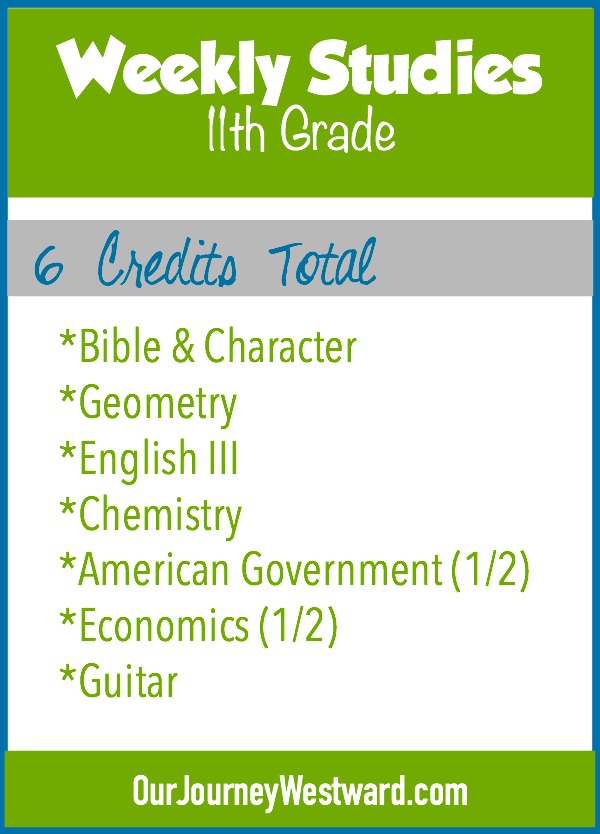 Bible & Character – 1/2 Credit
Some of this credit comes from our morning time Bible reading and Scripture memorizations; some will come from various Bible and character studies he'll do on his own; and some from church studies.
Geometry – 1 Credit
Teaching Textbooks Algebra II worked SO well for Caleb last year that I didn't even consider a different geometry program! He's already several lessons into Teaching Textbooks Geometry and we're both loving it.
English III – 1 1/2 Credits
As usual, high school English finds me piecing together this, that and everything in between. Throughout the year, Caleb will be working on bits and pieces of Let's Eat Fifi, Learning Language Arts Through Literature, High School Literature and Composition, Writing With Skill, and some of my own lessons. You'll notice that some of these resources are the same as last year. When you piece together several things, there are lots of left-overs to use the following year!
You'll also notice I'm assigning this one and a half credits. I'm not exactly sure how I'm going note this on the official transcript yet. We'll have to see how everything pans out in the end. Caleb will be reading a lot this year. He also needs some fine tuning in writing, so we'll be spending quite a lot of time on it. Besides the Shakespeare, grammar, etc. already planned, he will also be studying intensely at some point for the ACT. Likely, by the end of the year, I'll give him (1) English credit and (1/2) study skills credit, or something like that. The workload may even be enough for me to assign (2) credits in the end.
Chemistry – 1 CreditWe're taking the non-traditional route to chemistry and I'm excited about our plan. Caleb is already several lessons into Chemistry 101. Once he finishes all the DVD lessons and quizzes, we'll move on to The Elements: Ingredients of the Universe then Carbon Chemistry. You may like to read the reasoning behind my choices in this post about what to do when the science curriculum isn't working.
American Government – 1/2 Credit
I love the A Beka American Government curriculum! Caleb will be finished with this course by Christmas.
Economics – 1/2 Credit
Caleb will complete the Economics for Everybody DVD's and Study Guide during the spring semester. You might like to see my review at The Curriculum Choice. I've written before about how we expect our high schoolers to have a full credit of economics. Since my son completed the first semester's set of work in a previous year, he only needs to do the second semester's set of work this year.
Guitar – 1 Credit
This boy is s.e.r.i.o.u.s. about guitar. I'm really very proud of him! Considering all the practice time, lessons, and church gigs, I'm pretty sure he could earn two or three or even four credits for guitar. Lucky for him, I'm a mom who won't let him ditch all the other subjects just yet. So one credit it is…no matter how many hours he spends preparing to play in front of thousands and thousands of fans someday.
Find Encouragement
Mercy. This was a long post. I hope it isn't too confusing. My goal really was to try to lay out our schedule and curriculum clearly, but I'm afraid I've left you with glazed eyes of overwhelm. Please don't be overwhelmed. Be encouraged because you are blessed with the freedom to organize your homeschooling days and choose curriculum to meet your own family's specific needs in the here and now.
I offer these glimpses into our homeschool every year NOT to tell you how to "do school" in your home, but to show you what's working for us at the time. If you go back through all the previous year's curriculum and schedule posts, you'll see every year looks a bit different from the rest and the curriculum that worked for one child may not have worked for another.
Do what works for your family.  Be inspired by the ideas of other homeschooling families.  Be inspired by the basic framework of an educational method.  But, in the end, make your homeschool uniquely yours and you'll find so much joy there.
You may also like…