Character Building Chapter Books for Boys
Now that I'm a "boy-only mom" (because my daughter is in college) choosing read aloud books requires a new consideration. Will the potential book appeal to my boys?
I can't get away any longer with reading books that have any sort of girly-girl flavor. Lucky for me, there are TONS of wonderful living books to fill the time. Also lucky for me, I LOVE these books just as much as my boys!
What Makes A Book Appealing
What make a book appealing to BOYS? Adventure. Mystery. Intrigue. Strong characters. Humor. Battles.
What makes THESE particular books appealing to ME? Many of them have great characters who display great character. Leadership. Courage. Strength. Perseverance. Tenderness. Friendship. Boundaries. Repentance. Forgiveness. Humility. Resourcefulness. Honesty. In today's world, my boys can never get enough examples of people who display good character. I especially love those whose characters face and overcome trials or temptations.
Some of these books also contain the plot of good overcoming evil which can so beautifully illustrate the point I like to often remind my boys…Good wins in the end. God wins. That's a message I want burned in their souls so they never lose hope when the evil of this world seems to speak louder than anything else they might hear.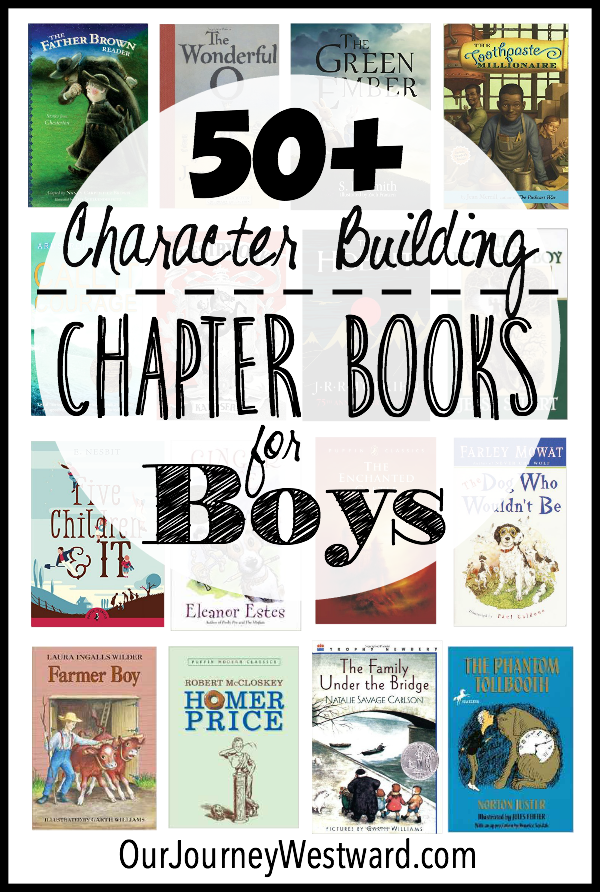 This post contains affiliate links.
Character Building Chapter Books for Boys
Ah. These are good books indeed. They are the kind that don't necessarily fit into a time period or work into any lessons. Well, some of them might, but for the most part they're just good books.
I thought about arranging them in some sort of order of age-appropriateness or character quality, but each of them really fit into too many categories. I just couldn't come up with a better plan than listing them alphabetically.
Please let me know which of the list you've enjoyed in your home! Or, give me other wonderful ideas for reading with my boys!
P.S. There are occasional curse words in children's literature. Gasp! Be assured the words are easily skipped over or replaced with less offensive words if you are reading aloud. If you hand the book over to your children to read alone and don't want them reading curse words, you may want to do a quick internet search to be sure the particular book doesn't have any bad language.
The Adventures of Huckleberry Finn by Mark Twain
The Adventures of Tom Sawyer by Mark Twain
The Beatinest Boy by Jesse Stuart
Call it Courage by Armstrong Perry
The Chestry Oak by Kate Seredy
The Dog Who Wouldn't Be by Farley Mowat
The Enchanted Castle by E. Nesbit
The Family Under the Bridge by Natalie Savage Carlson
Farmer Boy by Laura Ingalls Wilder
The Father Brown Reader by Nancy Carpentier Brown
Five Children and It by E. Nesbit
Ginger Pye by Eleanor Estes
The Good Master by Kate Seredy
The Green Ember by S. D. Smith
Henry Huggins by Beverly Cleary
The Hobbit by J.R.R. Tolkien
Homer Price by Robert McCloskey
The Invention of Hugo Cabret by Brian Selznick
Kingdom Series by Chuck Black
Little Men by Louisa May Alcott
The Lord of the Rings Series by J.R.R. Tolkien
Maniac Magee by Jerry Spinelli
Mr. Popper's Penguins by Richard Atwater
My Side of the Mountain by Jean Craighead George
Owls in the Family by Farley Mowat
Pinocchio by Carlo Collodi
The Prince and the Pauper by Mark Twain
The Narnia Series by C.S. Lewis
A Penny's Worth of Character by Jesse Stuart
The Phantom Tollbooth by Norton Juster
The Railway Children by E. Nesbit
Rascal by Sterling North
Redwall by Brian Jacques
The Rightful Owner by Jesse Stuart
Robinson Crusoe by Daniel DeFoe
The Singing Tree by Kate Seredy
Stone Fox by John Reynolds Gardiner
The Story of the Treasure Seekers by E. Nesbit
Sugar Creek Gang Series by Paul Hutchens
The Swiss Family Robinson by Johann Wyss
The Terrestria Chronicles Series by Ed Dunlop
The Toothpaste Millionaire by Jean Merrill
A Tree for Peter by Kate Seredy
Trumpet of the Swan by E. B. White
The White Stag by Kate Seredy
The Wonderful Oz by James Thurber
Lamplighter Books – Many of these are available in audio drama, too. That's how we've enjoyed most of them. I'm rather sure I would enjoy just about any book from Lamplighter.
The Battle by A.L.O.E.
Buried in the Snow by Franz Hoffmann
Charlie's Choice by M. L. Nesbitt
Sir Knight of the Splendid Way by W. E. Cule
Sir Malcom and the Missing Prince by Sidney Baldwin
Teddy's Button by Amy LeFeuvre
The Wanderer by A.L.O.E.
White Gypsy by Anette Lyster
My, my. There really are more good books than there is time. I'm always surprised when I survey how many wonderful books we've enjoyed together over the years – whether as read-alouds or audio books. Since this second son of mine likes reading to himself more than the first, many of this list I can just turn over to him. That's my secret plot to make sure most of our read-alouds are new to me. I don't find too much pleasure in re-reading even a good book when I know there are so many wonderful new-to-me reads waiting!
Your turn! Add to my list so that I can always have great character-building chapter books for boys at the ready!
Other posts you might enjoy:
This post has been linked to: