Student Planner: Homeschooling with A Plan in Place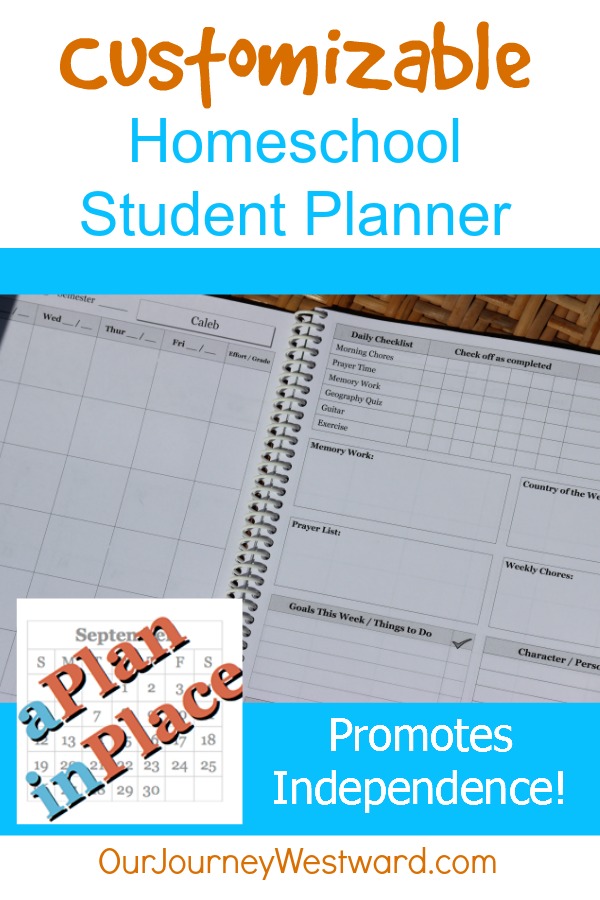 (I received a free student planner from A Plan in Place and compensation for this post. As always, I only present my honest opinion about anything I post.)
Homeschool Organization: A Student Planner
If you haven't guessed it by now, I love organized homeschool plans. During the summer, my children and I spend time thinking about goals for our upcoming school year. I begin to gather materials and anticipate exactly how we'll use them. I begin making notes about how our fresh school days will be organized in order to complete schoolwork, housework and other to-do's. I seriously just love it.
Over the years, I've used and/or created various planners to keep myself organized. I have another child entering high school, though, and I need to help him take on more responsibility. Enter the Student Planner from A Plan in Place.
Wow. This spiral-bound stack of goodness will be a one-stop booklet to keep my son AND me on top of it this coming year! Whether you're a natural born organizer or need some serious help getting it all together, I really think you'll want to check this out.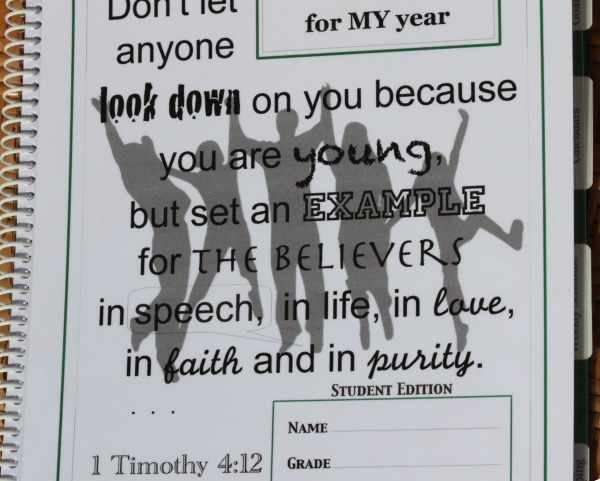 Take a Peek
Where to start? Where to start? There are just so very many wonderful things to tell you. I guess I'll start at the beginning with a few important notes.
It's sturdy with spiral-binding, a laminated cover and a thick backing.
You get to choose the cover style that meets your child's interests.
It's organized into four sections: Goals & Planning, Calendars, Weekly Schedules, and Note & Record Keeping.
The teacher (mom) can note goals, lesson plans, grades, etc. right in the book, while the student can use the book to keep up with daily, weekly and yearly to-do's.
The best part – – it's customizable! That means you get to choose what to put on the weekly schedule pages and add special extras if you like. As I tell you more about each section, I'll explain the customization possibilities. Read on…
Goals & Planning


This section allows you to prepare for a great start to the school year! You get to note personal, academic, spiritual and service goals for each semester. You will also set up plans for weekly chore and study responsibilities.
There are so many unique pages in this section! Keep track of curriculum and other learning resources used for each semester. Pull together a daily time schedule to stay on track if you like. Your child can even develop a plan for earning, saving and spending money!
Calendars
A year-at-a-glance calendar is included. You can also add a 12-month calendar for a small fee. I chose to add the calendar to help my son keep track of all his (many) upcoming events and work schedules. This keeps all his planning in one easy-to-find (or hard-to-lose as the case may be) spot.
Weekly Schedule

Now, this is where it gets exciting. You get to choose the style of your weekly plan pages AND the content! Because there are so many possibilities, I'm just going to tell you what I ended up choosing.
I'm so happy with the two-page layout that includes daily lesson plan boxes on one side and weekly to-do's on the other side. I was able to label each of the subject titles to specifically match my son's studies for the upcoming year. I even got to choose a Bible verse to add to the bottom of the page. Oh, and I can note grades for the week right on the chart.

The weekly to-do side is my very favorite! I was able to create a checklist of things I want Caleb to do daily – and can make notes about his effort for future report cards. I created a space for a weekly memory verse, a country of the week, a prayer list for the week and special weekly chores. On this page, we can also set special goals to check off when completed, and keep lists of books and field trips.
I know that seems like A LOT to fit on one page, but A Plan in Place has organized it so efficiently that it works! And I feel oh, so good that all the lessons, goals, records and more are just right there. For me and my son.
I love, love, love the fact that I can take a few minutes before the start of each week to write in the assignments and he can take care of the rest of it. Truly, a student planner at it's finest!
Notes & Record Keeping

The final section provides everything you need to keep track of attendance, field trips, book lists, special achievements and important notes. Even better, report cards for two semesters are included! Using this student planner, you literally have no excuse for not keeping up with planning and record keeping. Not only is it EASY, but everything you need is neatly packaged in one book!
If you'd like to see one version of the planner in action, watch this YouTube video from A Plan in Place. Remember, the way I chose to organize my weekly schedule pages was WAY different than the pages you'll see in this example. Yours will look different, too, because it will be designed by YOU!
What's the Cost?
The base price for a non-customized planner is $19.99. It's TOTALLY worth it to pay an additional $4.99 for the customizable version!
Other add-ons like the 12-month calendar, pocket pages, or an accessory packet can be added for various small fees. I chose to add-on one pocket page just in case.
If your order your student planner by June 30, 2014 and use the code FreeSmallAP, you will receive a free accessory pack. That's a $4.99 value!
Don't Miss the Giveaway!
A Plan in Place is giving away TEN $25 gift certificates to their store! You WANT to win one of these certificates! Trust me. Enter below.
Keep up with A Plan in Place
Facebook Twitter Pinterest YouTube
Now that I have my "plan in place," bring on the new school year!
You may also like: