The Best Games to Teach Geography
Geography doesn't have to be boring. It also doesn't have to be a tough subject. In fact, A LOT of geography can be learned through something as simple as regular game time!
After years of trial and error, here's our list of the best games to teach geography. I think you'll find some wonderful options to make learning geography a blast for your entire family.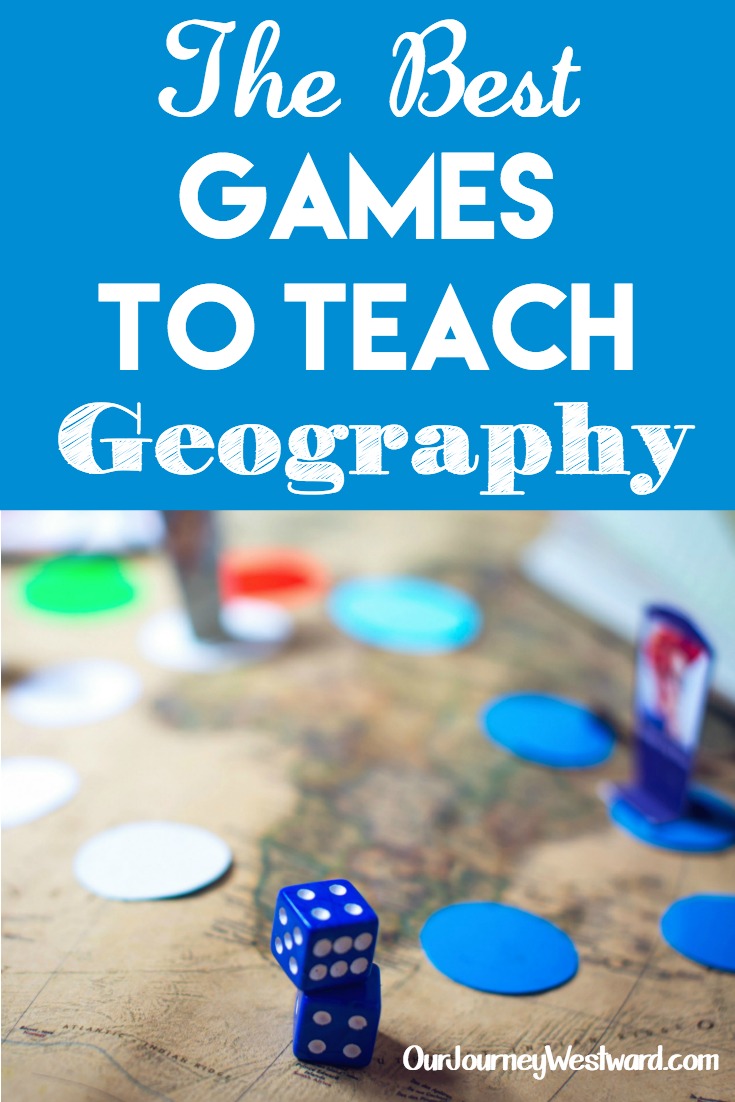 Best Games to Teach USA Geography
10 Days in the USA mixes strategy and luck as you race other players to plan a 10-day trip through the United States. It's easy enough for 3rd graders to play, but challenging enough that adults don't get bored. This is one of our favorite geography games to play (along with its world geography counterparts found below.)
Scrambled States of America is a fast-paced card game that helps your children learn the geography, capitals, and nicknames of the 50 states through simple and fun challenge cards. It's a little on the silly side, which is why my kids have always loved it.
Geography of the United States
is a set of trivia, true/false, and multiple choice cards that help children learn fun facts about geography across the U.S.
Professor Noggin card games
like this one come in all sorts of subjects are are perfect for eager learners. There's even a
Countries of the World edition
.
Bingo is always a hit. USA GeoBingo includes a little twist on the typical game. The caller's cards include a picture of a state's shape, its name, nickname, population, area, and surrounding states and/or bodies of water. Based on a student's knowledge or what skill you wish to practice, you can choose what to call out from the card. Each player must try to find the appropriate state on their bingo card based on what is called.
Learn the capitals of all 50 states with the
Sequence States and Capitals
board game. If you haven't played a Sequence game before, you'll be surprised at the strategic simplicity that keeps everyone in the family excited to play. In this version, states and capitals are memorized almost seamlessly as players race to place five chips in a row on the game board. It's not quite as easy as it sounds!
We've had Game of the States for several years. It looks like the newer version includes a STEM component that makes it even better than our game. There are a few ways to play – a simple trivia game, a buy/sell game, and a junior version for 6 and 7-year-olds. The version we like best requires us to move our little trucks across the U.S. buying and selling goods with a goal to make more money than the other players. I love the math and economics components included!
Who can travel by train to the most cities in seven days to win a million dollar prize? In
Ticket to Ride
, your goal is to claim railroad routes that are as long as possible and make connections to fulfill your destination tickets. This game takes a little longer than most to play and isn't for children younger than 3rd grade. It's a neat way to experience North America circa 1900!
BONUS #1: The U.S.A. and Canada GeoPuzzle isn't technically a game, but we love GeoPuzzles around here. They have individual pieces that are shaped like the various states and provinces (or countries if you work with the other world geography puzzles.) I've seen great improvement in the ability of my children to recognize places by shape and know where they are in relation to other places through playing these puzzles.
BONUS #2: The License Plate Game is super-fun to take on a long car trip. It's a magnetized map of the U.S.A that includes a cute little license plate magnet for each state. The license plate pieces are placed on their correct state on the map. When your child sees a car from a particular state during your travels, he flips the magnet piece up on its side. It's a great activity for single players, but each magnet is colored red on one side and blue on the other, so it works as a game for two as well.
Best Games to Teach World Geography
Ditto to my explanation of 10 Days in the U.S.A. (above) as you consider 10 Days in…Africa, the Americas, Asia, and Europe.
We're fans of the BrainBox games for their ability to teach trivia facts quickly with a
brain training
component.
All Around the World
is no exception. Players have 10 seconds to look at a card representing a country and memorize as much information as possible. After 10 seconds, the player rolls a dice and must answer a question on the back of the card that will quiz a particular fact like bordering countries, bordering waters, capital cities, flags, or cultural references.
Where in the World?
includes 6 different playing versions – some of which are card games and others that are board games. Each version helps children discover comprehensive facts about the geography of the world, while the most advanced version even includes a current events component. Children should be at least 3rd grade for the easier leveled-games. This one has enough difficulty variation to last your family many years.
There are four different game options in the Flags of the World card game. The version that works for children as young as six expects them to draw a flag card from the pile and attempt to guess which country it belongs to. In more the more difficult versions, players will not only be able to match flags with countries, but recognize factual clues about countries and remembering capital cities, too. This game is especially good to play during an Olympics year.
If you enjoy the North American Ticket to Ride (mentioned above), there are Ticket to Ride games for other areas of the world that can be used singularly or as companions to other game sets.
Quick Pix Geography
has been on our game shelf for years and years – and we're still not tired of it. This fast-paced card game helps children easily learn which countries reside on which continents. The speed required makes it another great brain training game, as well. It can be played in about 10 minutes, which is why we often use it during our
morning time
for geography practice.
BONUS:
The Global Puzzle
isn't just any puzzle – it includes individual pieces shaped like each country, state, or province. The 600 pieces are perfectly challenging for children 3rd grade and older. Heck, it's challenging for adults. But, the experience is really great for general world geography practice!
Well, that's my list. Tell me yours! What are the best games to teach geography in your house?
Incorporating games into your school day makes learning fun and creates an eagerness to learn with surprisingly little effort! I have loved gameschooling for years and will continue to make it a regular part of our schedule for years to come. I hope you do, too!
Related Posts:
 How to Teach Geography with Living Literature
 World Geography Projects
 50 States Notebooking Pages