25 Sneaky Summer Learning Library Books
In our home, summer break has always been an opportunity for more reading rather than less. With the obligations of regular school lessons on hold for a while, we often get lost in a stack of picture books or chapter after chapter from a current read-aloud (or two). There are lots of components to summer learning, but reading is one of my favorites.
I don't necessarily plan for learning during all this extra reading time, but living books tend to have a way of making one impression or another that's long-lasting.
I recently took part in a challenge with some friends on Instagram to choose five of my very favorite sneaky summer learning books for five different subjects. Because I know how much we all love booklists, I've gathered those 25 suggestions into this post for you!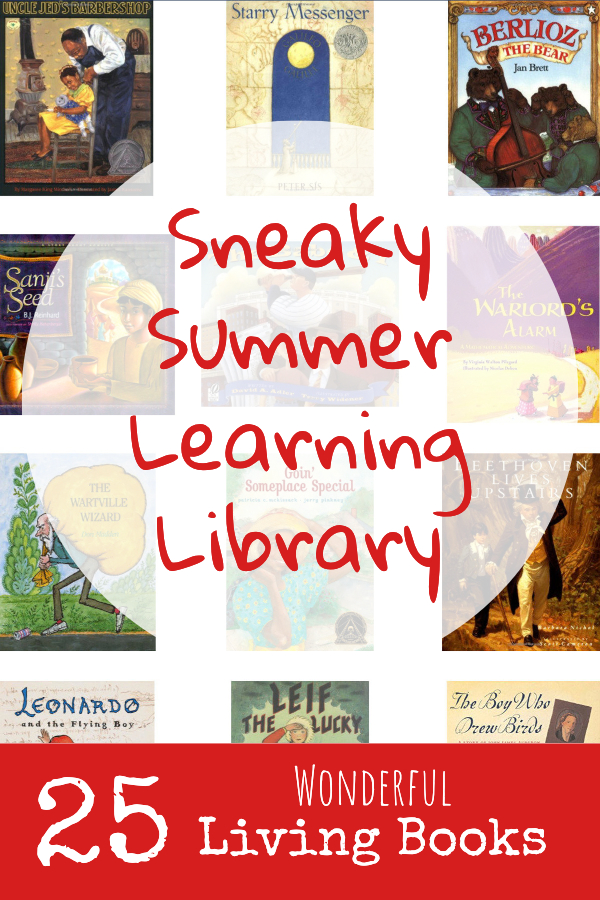 This post contains affiliate links.
Sneaky Summer Learning
Let's face it, not all kiddos jump at the thought of learning during the summer. When they hear "learning," they often equate it with bookwork and solving math problems. Summer learning isn't like traditional schoolwork, though.
I have a couple of other posts about how summer is a great time for learning life skills and how learning happens naturally during the summer. And, luckily, reading is a great way to keep the mind sharp without the pressures of regular school work, too.
Let me be entirely honest. The task of formulating this list was hard. I could have easily written lists of 25 'favorites' for each and every category below. Since I was limited to five each, I tried to gather a wide variety of books that often go much farther than the highlighted subject.
I sure hope you find some new favorites here!
Math Picture Books
My Rows and Piles of Coins by Tolotwa M. Mollel is a sweet tale set in Tanzania about a little boy who works hard to save money for a bike. He has to learn a hard lesson or two but is rewarded for his work ethic in the end.
Beatrice's Goat by Page McBriar is a book that doesn't overtly teach math. However, it's an incredible story to open up discussions about economics and how the best gift you can share with someone sometimes is a simple gift that keeps on giving.
The Babe and I by David A. Adler is set in New York during the Great Depression. It's not overtly about math either, but mathematical and economic concepts can be easily discussed after reading the heartwarming story of a little boy who secretly finds a job to help with the family's income.
The Sir Cumference series by Cindy Neuschwander is surely on everyone's list of best-ever math literature and for good reason. These adventurous medieval-era books are wonderful for introducing mathematical concepts to 3rd-7th graders.
The Warlord's series by Virginia Walton Pilegard is similar in style to the Sir Cumference series, but written for 1st-4th graders and set in ancient China. I love how both series require the characters to use mathematical (and sometimes scientific) thinking to solve real-world problems.
My other lists of living math books:
Science & Nature Picture Books
The Raft by Jim LaMarche paints a beautiful picture of the gentle allure of nature and how much can be learned by simply hanging out there regularly. This book has been a favorite of all of my children over the years.
The Boy Who Drew Birds: A Story of John James Audubon by Jacqueline Davies is a lovely introduction to a tremendous ornithologist, naturalist, and painter. So many academic connections can be made within the pages of this book!
Starry Messenger: Galileo Galilei by Peter Sis is another incredible biography for children. Not only does it teach you about Galileo's life, but you'll find lots of factual scientific information, too.
I could never leave a top anything booklist without Tops and Bottoms by Janet Stevens. While it certainly helps little ones understand the differences in garden plants, the character lessons it gently teaches are invaluable.
The Wartville Wizard by Don Madden is one of my favorite ecology books ever. I just love the humor and wit that really drive home the idea that trash doesn't belong anywhere except a trash can.
My other lists of living science books and living nature study books:
History/Geography Picture Books
Leif the Lucky by Ingri D'Aulaire was one of the first D'Aulaire books I ever read with my children. I was hooked on the writing style and my children loved each and every one of the biographies that followed!
This full-color version of Hitty, Her First Hundred Years by Rachel Field makes the absolutely wonderful story of a doll's 100-year adventure through time even better.
I actually love about a zillion picture books on the topic of slavery because they paint such amazing pictures of the trials and tenacity of slaves. Henry's Freedom Box: A True Story of the Underground Railroad by Ellen Levine is one of the best of the best, though.
Here's another book about tenacity that takes place during the 1950s. Goin' Someplace Special by Patricia C. McKissack is a charming story about a little girl who gets to do something significant by herself for the first time ever.
Get ready to weep (a lot) and rejoice mightily when reading A Long Walk to Water by Linda Sue Park. While this chapter book could be read easily by a 5th-8th grader, I always read it aloud with my children. There are some tough emotions to wade through. This is an incredibly worthwhile book to read.
My other lists of history living books, geography living books, and living books about other cultures.
Fine Arts Picture Books
Berlioz the Bear by Jan Brett tangles up a wonderfully funny storyline and an introduction to the orchestra – all with her signature illustrations that add so much to the book, too.
Barbara Nichol has written a lovely biography of Beethoven through the eyes of a little boy in Beethoven Lives Upstairs. It's my all-time favorite living book about a composer.
I love how Laurence Anholt writes biographies of artists! The Magical Garden of Claude Monet, Leonardo and the Flying Boy, Degas and the Little Dancer, and all of his other titles in the series are all 100% worth reading with your children!
My other lists of fine arts living books:
Picture Books That Build Character
With You All the Way by Max Lucado is a cream-of-the-crop top book around here. I love how it gently reminds children the importance of listening to the still small voice of the Holy Spirit.
Sanji's Seed by B.J. Reinhard is a simple, yet powerful tale of the importance of honesty – even when honesty doesn't seem like it's going to get you very far.
The Quiltmaker's Gift by Jeff Brumbeau shows the contrast between greed and generosity in a beautiful tale of finding true happiness.
When his niece falls ill, Uncle Jed has a very difficult decision to make about how he will spend the money he's long saved toward owning his own barber shop. Uncle Jed's Barbershop by Margaree King Mitchell is priceless.
The Family Under the Bridge by Natalie Savage Carlson is a behind-the-curtain look into homelessness and how everyone has a story. This chapter book is intermingled with the storyline that "family" doesn't always mean blood relatives.
My other lists of character-building books:
I just love children's books and sharing them with you! I hope you've found a few new treasures within this list. Happy reading!
Here are the booklists of my friends who joined in on the Instagram fun…
Alicia Hutchinson of Over at Alicia's – Summer Fun Books
Rachel Reeves of Rachel Reeves – Summer Booklist
You might also enjoy these book posts: