10 Living Books to Teach Medieval History
Ah, the middle ages – kings, knights, castles, art, politics, plagues and more.  What an exciting time in the history of our world!  It was hard to narrow my favorite medieval history living books into a Top 10 list, but below you'll find the best of the best.  Be ready for adventure!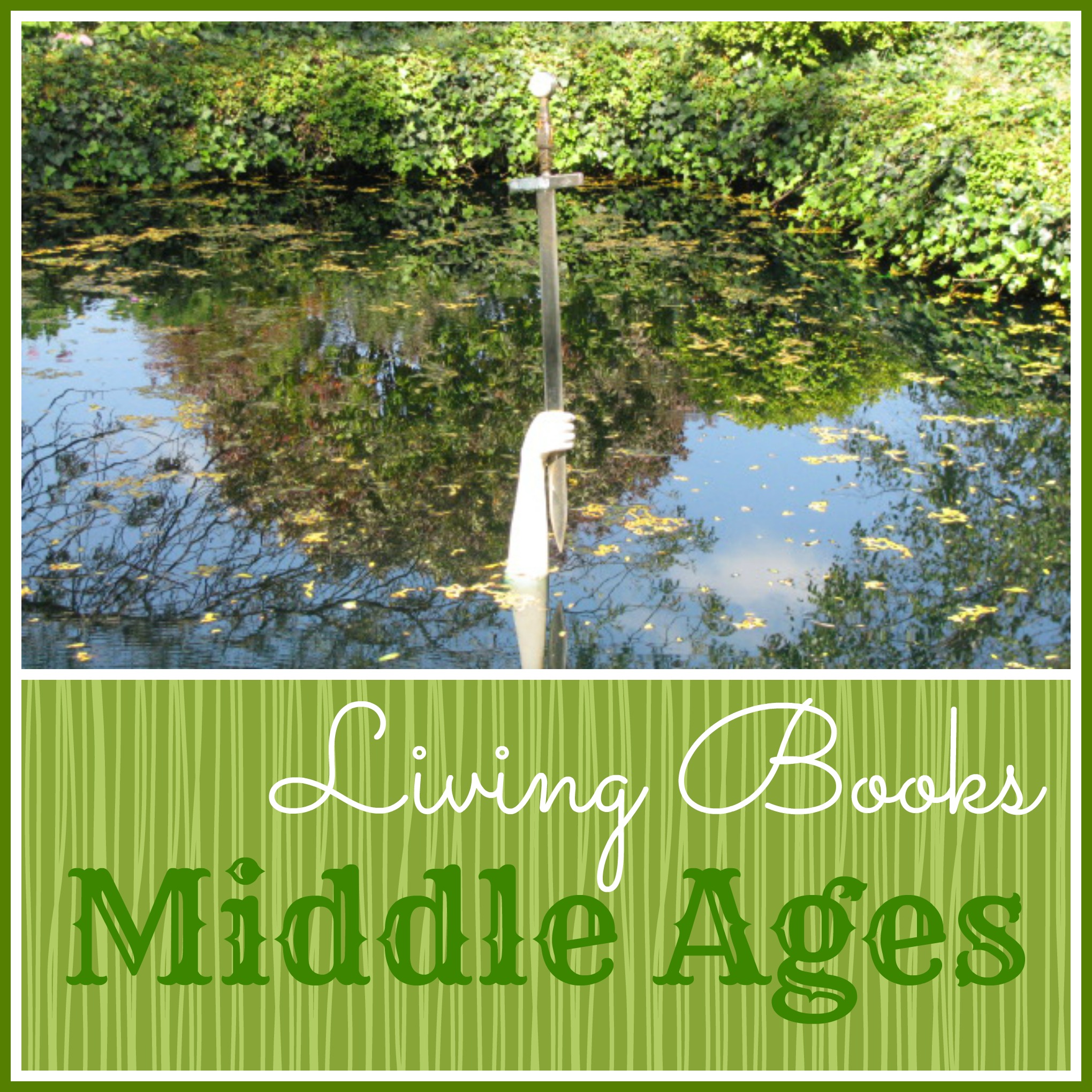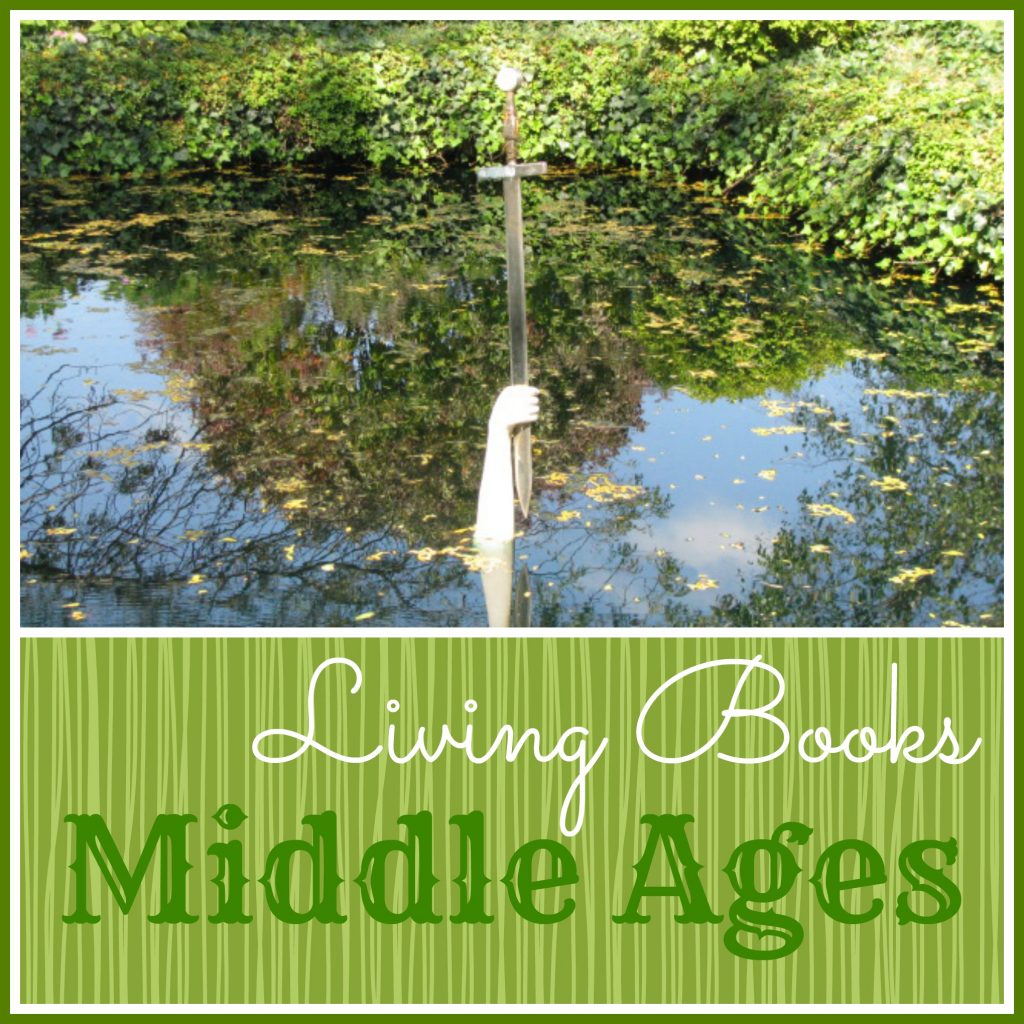 This post contains affiliate links.
The list is ordered chronologically for you.
Living Books for Medieval History
Otto of the Silver Hand is historical fiction that takes place in early western Europe. Otto, the main character, is a sweet boy who has grown up in a monastery after the death of his mother and the barbarian life of his father. Upon the return of his father, Otto is kidnapped in revenge of his father's deeds. The book is very suspenseful and very thought-provoking.
The Sword in the Tree is a King Arthur story that is easy enough for elementary students to understand, yet full of enough plot and excitement to keep older kids interested. The main character, Shan, must help his family regain their castle from a greedy uncle. The book is full of excitement and especially appeals to boys.
Leif the Lucky, like all d'Aulaire books, is a fantastic example of a biography and living literature coming together seamlessly. In this book, you actually learn not just about Leif Erickson, but his father, Viking life, Norwegian history, and early exploration. I read this with my late elementary students, but older students would enjoy it, too.
The Adventures of Robin Hood is a story many of us are familiar with, but have you taken the time to read the entire story all the way through? You should! It's full of adventure, cunning plans, and hope for the oppressed. It also has it's share of violence and revengeful acts, so be warned.
Adam of the Road follows the wanderings of Adam, a boy who gets separated from his dad and his dog on a long journey through 13th century England. Adam meets many people from many walks of life giving you quite a full historical perspective of the time period. The book is a tad long, which is why we opted to listen to it on CD in the car during our travels.
The Door in the Wall is exciting historical fiction with yet another young man as the main character. That's pretty common thread with this list, but I love how these young boys must face difficult situations which require them to acquire important character traits like courage and perseverance. The Door in the Wall is full of these situations as Adam, a crippled character, overcomes much adversity during the Scottish wars.
Crispin: The Cross of Lead is first in a series of three books about the main character. Crispin is a boy who has grown up as a poor peasant in 14th century England. His life gets even worse when he's accused of a crime he didn't commit, so he decides to run away. Be aware that this book contains some violence and "opportunities" to discuss the topics of atheism and adultery.
The Trumpeter of Krakow takes place in Poland in 1461 and is not only historical fiction, but full of mystery as well. The plot line is quite detailed, so I would recommend reading it with children who are at least in 6th grade. We absolutely got lost in this book and it's twists and turns. Considering we rarely learn anything about Poland in the Middle Ages, it was perfect for a new perspective on the time period.
The World of Columbus and Sons is what I like to call textbook living literature. It can be used as a spine when learning about the world during the time of exploration, but is quite fascinating and story-like at the same time. Officially set in the time of the Renaissance and Reformation, this book picks up where the end of the Middle Ages leaves off.
The Prince And The Pauper is another tale that is quite familiar to most of us as a simple fairy tale, but I encourage you to read the full-length version to learn all the ins and outs of the time period surrounding Henry VIII and the Tudors.  It's full of all the adventure a "character switch" story should have as a prince and a pauper unintentionally begin to live the life of the other person.
I can't wait to hear your favorite living books for Medieval History!
Other posts you might enjoy:
Living Books for Ancient History Living Books for Early American History Living Books for Modern American History