10 Living Books for Middle School Math
By now, y'all know that I LOVE living math – and especially math that involves living literature. So many people think math and literature connections only make sense for the elementary years, but I'm here to tell you middle school students still benefit from the connection!
This list of living books for middle school math is perfect for making those connections and bringing some excitement and pleasure to math time.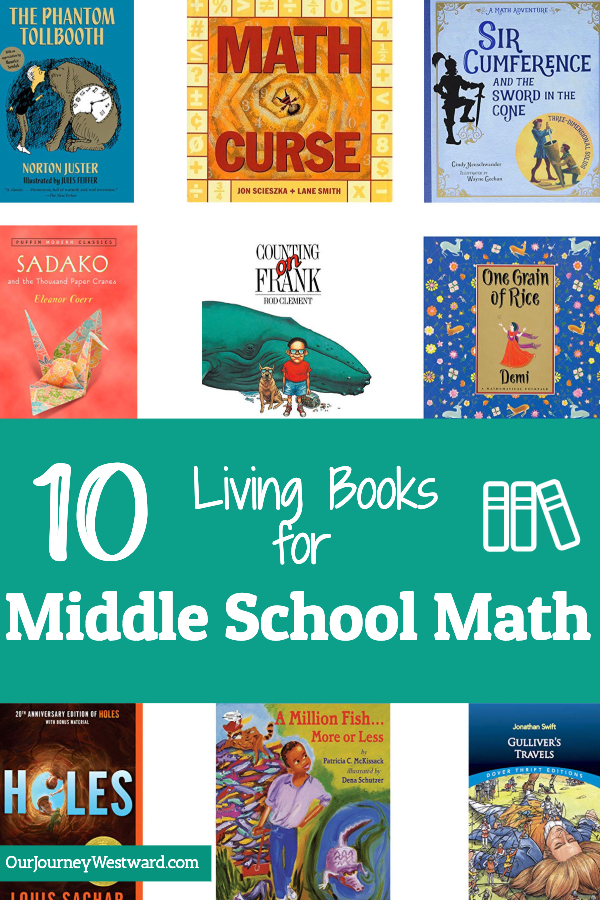 This post contains affiliate links.
Living Books for Middle School Math
The Phantom Tollbooth is rich in imagination and character development…not to mention math concepts. Ratio, proportion, averages, measurement, estimation, geometry and more are seamlessly woven throughout the story line.
Math Curse is a goofy picture book that can be read in one sitting. Each page offers great opportunities for various math explorations like problem solving, averages, percents, volume, sequencing, permutations and more. Children who are less than enthusiastic about math might find the book somewhat painless.
Sir Cumference and the Sword in the Cone is just one of an entire series of Sir Cumference math stories. While some of the books are appropriate for older elementary, many of them cover more in-depth middle school topics – like finding the volume of cones or the area of circles. I can't speak highly enough of this series.
Sadako and the Thousand Paper Cranes is mostly historical fiction with a geometry twist. It takes place in Japan after the bombing of Hiroshima. Get your tissues ready! After you wipe your tears away, have some fun with this origami lesson.
Counting On Frank is somewhat similar to Math Curse (above), with a character who is a little more thoughtful about math. Everything he thinks about seems to go through a math funnel. It's especially good for showing the real-life side of math. Find several activity suggestions to go-along with the book here.
One Grain Of Rice is one of my favorite multicultural tales with a wonderful moral at the end. The book teaches the power of doubling painlessly. Large place values naturally are covered as well. We have enjoyed this lesson in the past.
Holes was a book I was skeptical about allowing my children to read at first. I had the impression it handled issues that were too big, but after previewing, I felt very comfortable handing it over to my kiddos. It has since become one of Caleb's very favorite books ever (and that's saying a lot since very few books even make the "it was okay" list.) Many math lessons can be drawn from this book including percentages, ratios, proportions and more.
A Million Fish…More or Less is a book that I disliked the first time I read it. I found the tall tales to be silly and hard for my children to grasp. Then I started looking at this book from the perspective of math potential for older children and the book earned a spot in my top 10! Set in Louisiana and using traditional Bayou language, the characters tales about events tend to grow. Here is an article that talks about using estimation with kids.
Gulliver's Travels is a classic tale about a shipwrecked English surgeon who finds himself held captive by a group of little people, among other sea adventures. Lessons on ratio, proportion and measurement can be easily tied into the book. Here are a few math activity ideas that go along with the book.
Chasing Vermeer is an art mystery that covers all sort of mathematical concepts like patterns, symmetry, shapes, Roman numerals and more. There's even a bit of math history thrown in! Please be aware that the Lord's name in taken in vain in this book.
Do you have any middle school math favorites to share?
You'll love the other posts in this Living Literature Top 10 Series. If you're interested in living math, be sure to also check out my Living Math Matters Series full of practical living math lessons!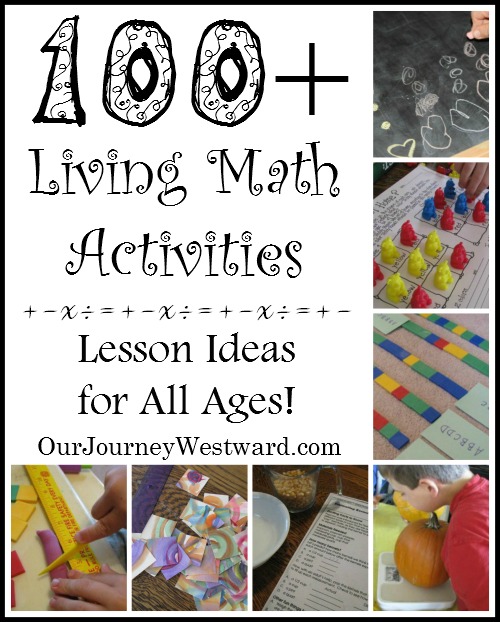 Learn More About Living Math
Want to learn even more about the possibilities of living math? The Loving Living Math book and Living Math Video Training teach you what living math is, and better yet, how to easily and practically incorporate it into your homeschool program. There are so many benefits to living math, don't miss out!