100+ Science Picture Books to Help You Homeschool
We follow a four-year cycle for teaching science. In the elementary years, science picture books have helped me introduce and explain scientific topics so well that I consider them as much curriculum as anything else we use to teach science.
How We Learn Science
While we do use the occasional science textbook during the elementary years, much of the learning takes place through three modalities:
Nature Study
Nature Study covers most of the biology and earth science topics. We consider nature walks to be our outdoor science labs and spend indoor hours reading, researching, and sometimes completing hands-on projects.
Unit Studies
Unit Studies cover most of the chemistry and physical science topics. We spend plenty of time reading, completing experiments, and sometimes preparing show-what-you-know projects.
Living Books
Living Books support us through all the nature studies and unit studies. They connect us to real-life science, demonstrate concepts, and even serve as the teachers of information for all of the sciences. We use them before, during, and/or after nature studies or unit studies.
Since science picture books have been such a wonderful thread of learning over the years for us, I thought it was high time to pull together a mega list of our tried and true favorites.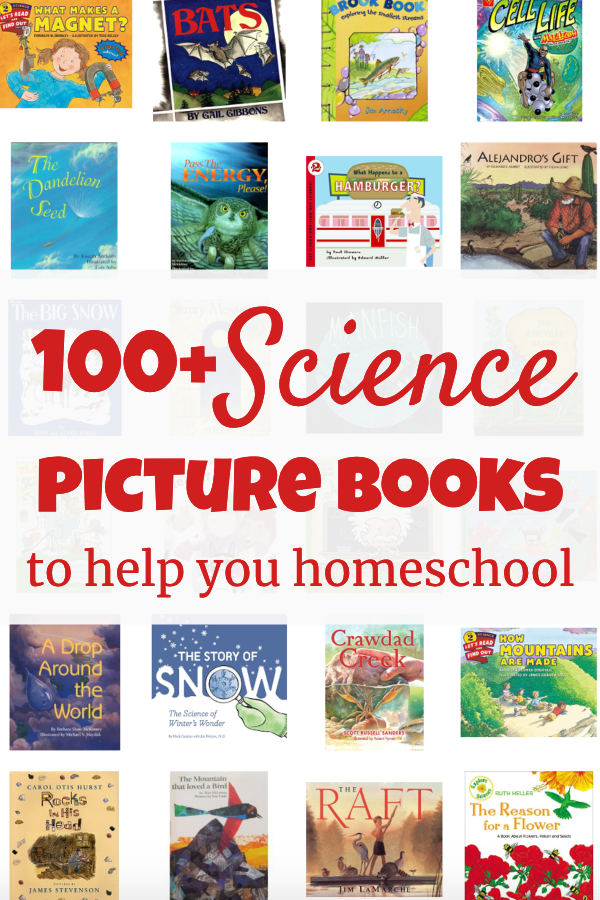 This post contains affiliate links.
Using Picture Books for Science
You'll find most of these books appropriate for 1st-6th graders. However, some will be a little too easy for the older group and some will be a little too difficult for the younger group. Never fear. If something is too easy, have your student read it through quickly if you like – or not. If something is too hard, you can try rephrasing things as you read aloud or just hang on to the book for another year. The topic will come around again whether you follow four-year science cycles or not.
I have broken the booklists below into the four-year cycles that we follow. You don't need to follow a four-year cycle to use this list. Just pick and choose what works with your current plan of study.
Note that living science books can be used even if you have a textbook curriculum you're pleased with! Consider the books an extra bit of goodness during science – or even just as great selections to use during read-aloud or quiet reading time.
Science Series Worth Reading
The following series each include several books on a wide variety of science topics. Rather than include each of the books in the cycle lists below, I'll link to pages where you can peruse all the titles in each set. (I've only included a very small sampling of their topics in the images.)
Franklyn M. Branley Books
Franklyn M. Branley – K-3rd
Gail Gibbons Books
Gail Gibbons – K-3rd
Jim Arnosky Books
Jim Arnosky – 1st-4th
Magic School Bus Books
Magic School Bus  – 1st-5th
Seymour Simon Books
Seymour Simon – 2nd-6th
Max Axiom Books
Max Axiom – 3rd-7th
Holling C. Holling Books
Holling C. Holling – 3rd-7th
Science Picture Books for Biology
Picture Books About Plants 
Picture Books About Animals
Picture Books About the Human Body
Picture Books for Earth Science
Picture Books About Geology 
Picture Books About Weather & Water
Picture Books About Astronomy
Picture Books About the Ocean
Picture Books About Ecology
Picture Books for Chemistry & Physical Science
Picture Books for Science Inquiry
Would you like other living book lists? I have tons of them for you!

More About Living Literature
There are plenty of opportunities to learn how to use living literature in your homeschool in the Our Journey Westward Shop. Not to mention, almost all of the curriculum includes curated living literature lists so you don't have to do the hard work of figuring out the best books for each topic!
You Might Also Enjoy These Blog Posts