10 Living Books to Teach Modern American History
Well, now…quite a lot happens in the time period known as modern American history!  In order to cover everything from slavery and the Civil War to WWI, WWII and following, it would take a much bigger list than this.  Rather than a Top 10, I've chosen to give you a Top 12 today.  These books just tip the iceberg of various important events in modern history.  They're the best of the best, though!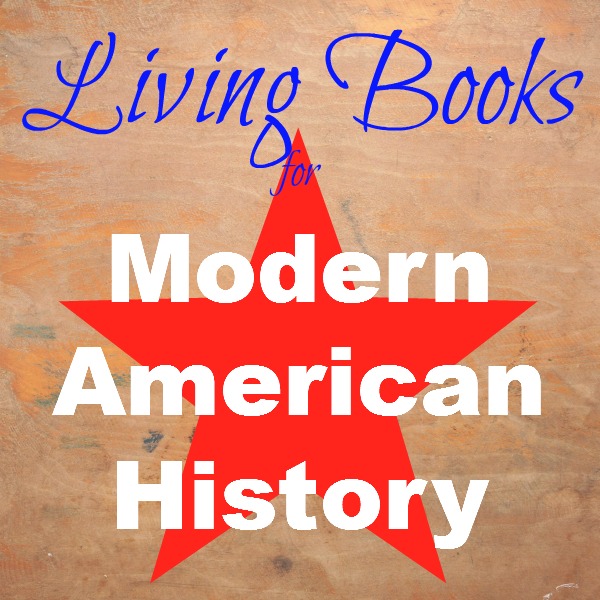 This post contains affiliate links.
You'll likely notice that a few of these have nothing to do with America, per say (like a book about concentration camps), but the events played an integral role in the shaping of our country which is why I included them.
Modern American History Living Books
The list of modern American history books is ordered chronologically for you.
Uncle Tom's Cabin is a classic story written by Harriet Beecher Stowe in 1852 meant to give a complete picture of slavery to all who would read it. Both historical and gripping, Uncle Tom's Cabin opened eyes concerning slavery in the years leading up to the Civil War, yet made just as much of an impact on our family today.
Rifles for Watie paints a vivid picture of the life of a Civil War soldier. The main character, Jeff, went into the war hoping for adventure and came out of the war realizing the truth. Full of historical fact, that means there are also bloody battles, death, spies, and other mature topics woven into the storyline. I would reserve this book for students in the 6th grade and older.
With Lee in Virginia, written by popular historical fiction author G.A. Henty, is obviously about the Civil War – but it has a twist. The main character stands for the rights of slaves, but fights for the Confederates. Seeing the Civil War from the viewpoint of the South is a bit unique as far as literature goes from this time period. The book is complete with maps and descriptions of battles fought in Virginia, too.
(I just have to take a break and mention that slavery and Civil War related literature is one subject that grips me almost every time we read it. I have written another post called Slavery and Civil War Treasures that highlights many fabulous books – both picture and chapter books.)
Caddie Woodlawn caught our attention because of her spunk. I have a daughter who can be a girly-girl at times, but most often she's rough and tumble right alongside the guys on the farm. Caddie is that sort of character. She even befriends Native Americans – which scares her family – but turns out to grow a precious friendship. This late era pioneer tale is full of adventure!
All-of-a-Kind Family is a series of books set in NYC in the early 20th century. It follows the warm adventures of a Jewish-American family. This family shares their faith with others through their day to day struggles and accomplishments, as well as their celebration of Jewish holidays.
Little Britches: Father and I Were Ranchers is the first in a series. We have only read the first book, but enjoyed it very much. It takes place in 1906 when a family moves to Colorado to become ranchers. Much frustration and hard work comes along with the new lifestyle! While the book is sad at times, there is an air of accomplishment and satisfaction in the end.
My Side of the Mountain is a really good book for boys. The main character, Sam, runs away from home (with the blessing of his family) because of a crowded family and city. He escapes to the mountains with just a few items where life or death is based on his own will to survive. Many adventures and descriptions of survival skills are highlighted.
Roll of Thunder, Hear My Cry is set in Mississippi during the Great Depression. It vividly details the struggles of the Logan family who are black landowners trying to fight against the racism surrounding them. It's very touching and will leave a lasting impression on your family.
Number the Stars takes place in Denmark during the Nazi invasion of WWII. It's moving, full of suspense, heart warming, emotional and more as you join an underground movement to smuggle Jews into the safety of Sweden. The characters will grip your heart through their displays of courage.
The Hiding Place is an autobiographical, yet living, account of Corrie Ten Boom's experiences during WWII. She and her family begin the story using their home as a hiding place for Jews trying to escape the Nazi's only to be caught and end up in concentration camps themselves. The view from inside the concentration camp will bring the horrible conditions to life in your mind, but the joy of the Lord that Corrie is able to have in spite of the conditions lingers even longer in your mind. This is a must read!
Through Gates of Splendor is a missionary story. Granted, it doesn't really have a lot to do with American history, but as Christians it's a fascinating read of events from the 1950's that will leave a lasting impact on your family. The author, Elisabeth Elliot, tells the story of her husband and four other men who were murdered while trying to deliver the Gospel of the Auca people of Ecuador. It sounds horrible, but great fruit has been shared because of it.
Maniac Magee is the story of an orphan who lives in Two Mills, Pennsylvania, which is a fictional town that is clearly divided between blacks and whites.  Maniac, homeless but with a lot of spunk, brings the people of the town together quite accidentally…or not.  The story is a bit raw, but truly important as a discussion starter concerning any sort of discrimination.
This time period in history was huge for changes and developments. I know I missed some of your favorites…share them with me!
Other posts you might enjoy:
Living Books for Ancient History Living Books for Medieval History Living Books for Early American History