Homeschooling is a big deal, but it doesn't have to be hard.
Homeschooling is definitely a serious business, but it doesn't have to be hard or leave you in tears. Let's learn together how to execute well so that success and joy fill your home!
Homeschool Masterclasses are just what you need to work out the practical how-tos of homeschooling. Things that seem frustrating or unattainable will fall into place beautifully with just a little training.


Why Online Homeschool Masterclasses?
You could certainly attend a homeschool conference to give you a boost, right?
Yes, but most of the time they only come around once a year. They're expensive and require time away from home. And, while you often come home with an arsenal of wonderful ideas…it's usually more than you could ever practically put into place – if you can even remember the ideas with so many of them flooding you at once.
Homeschool Masterclasses bring you bite-sized chunks of practical ideas that you can use right away. You can view the replay of the class as many times as you need to and will have access to a private Facebook group where you can ask additional questions anytime!
You could easily hire a homeschool consultant instead, right?
Well, maybe. Homeschool consultants that have years of experience to speak directly to your needs are few and far between. They're incredibly expensive, too.
During Homeschool Masterclasses, you get the knowledge and experience of an 18-year veteran of homeschooling with a master's degree in education!
Upcoming LIVE Training
We are on summer break. See you in the fall!
Every month, you can choose to attend a LIVE training on a brand new, highly requested homeschooling topic!
Why would you want to attend a LIVE Class?
For starters, it's less expensive than the replay-only price – AND you get access to the replay afterward, too!
More importantly, you get to take part in the LIVE Q&A session that follows each training. The opportunity to ask your burning questions is totally worth attending live!
Can't attend live, but you would still like the chance to have your questions answered? No problem! Purchase access to the live class and you'll receive a link to our private Facebook group where you can let Cindy know what questions you'd like answered during the class.
Better still, you'll get in on the cheaper price and will have access to the replay within 24 hours of the live class!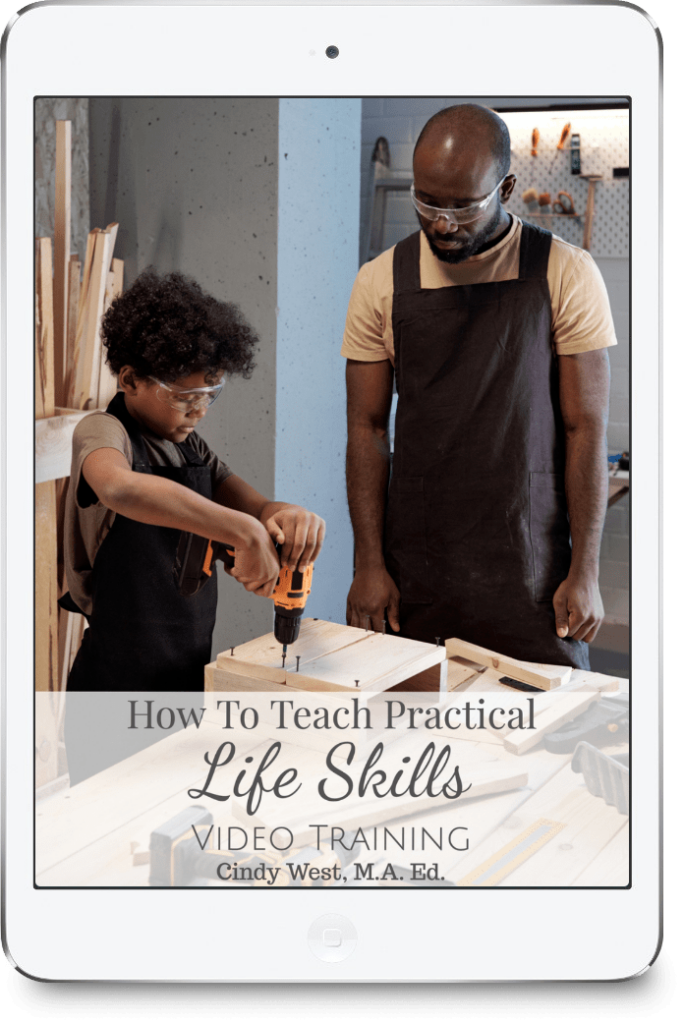 Life Skills for Kids Homeschool Masterclass
What are the important life skills for kids and how do you teach them without adding even more to your already busy schedule? This class has plenty of practical ideas for you!
I can't wait to see you there!
Previously-Recorded Classes
Did you miss a monthly class? No worries! All previously-recorded Homeschool Masterclasses are available to you at any time! Find the list of topics below.
Each power-packed Homeschool Masterclass was recorded live. In general, you can expect a 60 minutes (or so) how-to lesson, followed by Q&A goodness.
Upon your purchase, you'll be able to watch the recording(s) as many times as you like!
Choose Your Homeschool Masterclass
Let's homeschool boldly and joyfully together!
Not convinced yet? Go enjoy a FREE mini Homeschool Masterclass!