A Cemetery Scavenger Hunt Makes a Great History Lesson
Eeeewww! A cemetery scavenger hunt? Are you serious? Yes! Believe it or not, this is a REALLY cool activity because cemeteries are chock-full of history!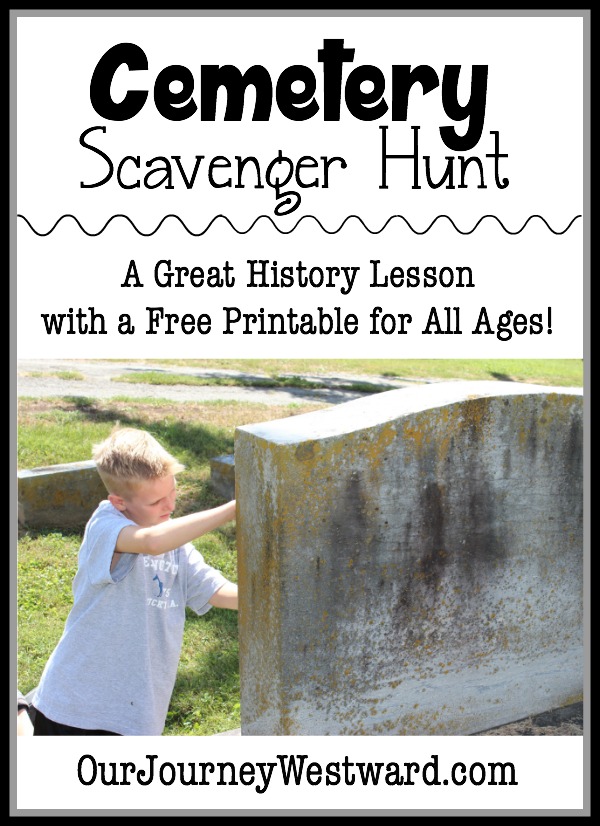 We've visited several cemeteries over the years as we've studied our state's history. And, you might remember the times we've utilized our beautiful cemeteries for science purposes like winter nature walks, conifer studies, and tweezer treks. But this trip really helps us dig into the history of our own community as we discover more about the actual lives of the people who have made our town their home over the years.
Historical Cemetery Scavenger Hunt
This activity works well for children of all ages. It also works whether you have one child or take along an entire group of children. Just be sure you take time to talk about the extra measures of respectfulness that are required in a cemetery. If taking a group, it's always a good idea to contact the cemetery before your visit to be sure of their rules and regulations.
The scavenger hunt I've prepared for you may take more than one day depending on the ages and abilities of your students. But even if you finish it in one visit, the same printable can be used again and again in various cemeteries within your community.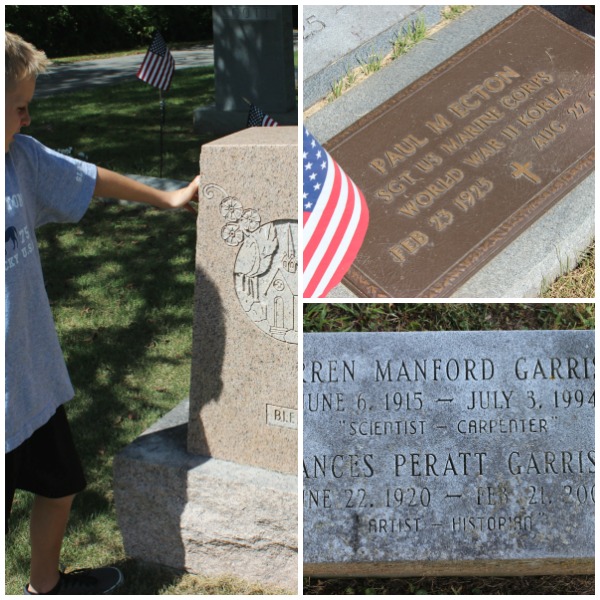 Before the Cemetery Scavenger Hunt
It's not necessary, but learning a bit about your community's history will give some background knowledge that could prove useful during the scavenger hunt.
Even though we live in a very small town, there is a museum that hosts rotating exhibits of county history. It's our go-to place before (or sometimes after) the cemetery history hunt.
Enjoy the Scavenger Hunt
Print off one copy of the Cemetery Scavenger Hunt for each of your students – and one for yourself! Give each student a clipboard and a sharpened pencil with a good eraser.  Pack a few extra pencils and you're off!
Cemetery Scavenger Hunt
Make Extra Historical Discoveries During Your Hunt
Because I wanted you to be able to use the printable scavenger hunt in any cemetery, the questions are somewhat generic. Feel free to add any of these bonus tasks that might be pertinent to your specific cemetery:
Find the tombstone of someone famous.
How many (Revolutionary War, Civil War, WWI, etc.) veterans can you find?
Determine what years were especially difficult in this community. (This would be relevant if several people died of a plague-like illness in the 1800s, for instance, or a natural disaster hit the community hard one year.)
Determine some of the most longstanding surnames in the community.
Find a headstone from 1800, 1850, 1900, 1950, and 2000. Compare the similarities and differences.
Choose a time period (perhaps 1850-1900) and list the ages of 20 men and 20 women who died during that period. Average the age of death for each gender and make a (very limited) assumption about whether males or females lived longer in those days. Research at home to see if your assumption is true.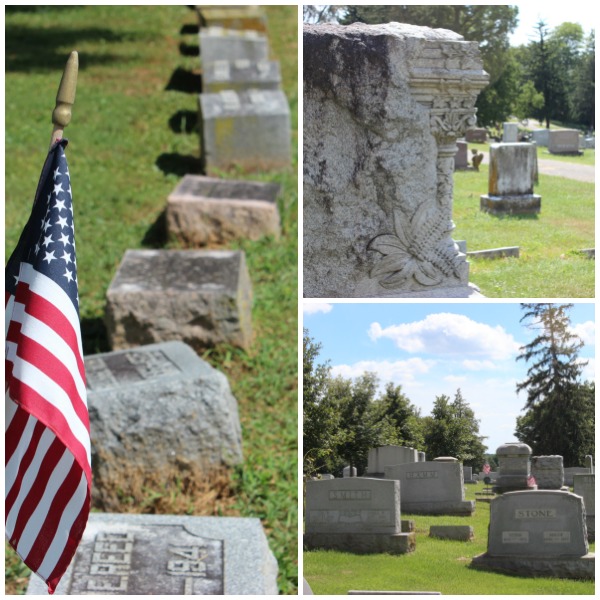 After the Cemetery Scavenger Hunt
After our hunts, we mostly just have lively discussions about the history of our community based on our observations. We might talk about which wars seemed to have an impact or which church denominations seem to have been most prevalent. We might remember that several of the surnames also happen to be names of streets or buildings and ponder about why they were important enough to have things named after them.
Sometimes, interest-based learning is spurred on from the hunt. To capture those teachable moments, we might decide to visit one of the buildings that bears the name of a past community member and ask around for the real story, for example.
I don't like to "ruin" field trips with too many additional assignments. If you prefer follow-up assignments, or the interest level is high and you want to seize the excitement with a meaningful assignment, consider a project-based research project. For example, I might ask my son to research what life was like in Central KY during the Civil War. He could choose to present his research in the form of a typical written paper – or a project like a PowerPoint slideshow, a video news report, or a 3-D display. (I love the multi-layered learning of projects!)
Tell me how you make history fun! I'd also love to hear how you enjoy your cemetery scavenger hunt!
Other Great History Resources