How To Teach High School History with Literature Easily
I love using living books in our homeschool. If you've been around here any time at all, you know that living literature is a key tool I use across all ages and all subjects.
Using literature to teach high school history works especially well. There are so many nuances of an event or era that can be understood through books. Living books also have a unique way of drawing students in and placing them smack-dab in the middle of a time period to meet important people, experience meaningful events, and feel real emotions.
Just talking about all the benefits of literature makes me want to go grab some historical fiction right now!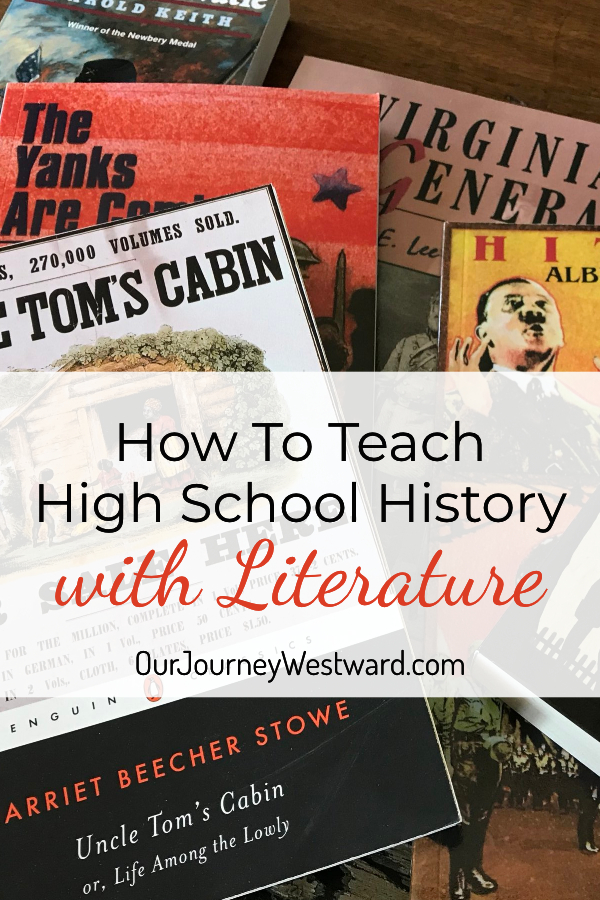 I received Modern U.S. and World History for free and was compensated for my time in writing this post. As always, all opinions are strictly my own. Affiliate links are included in this post.
High School History Curriculum
In the past, I've found success in pulling together various "spine" and living book resources for high school history. But quite honestly, it took a lot of research and hours of work to create a meaningful course.
I had to find a spine that was thorough and didn't mince the facts of history. I had to search out the best of the best living books to give a nice fullness to each focus area. And, I had to design appropriate lessons to go along.
Why did I go to all this trouble? Because I hadn't yet found a curriculum that took living literature seriously and also included a wonderful underlying spine AND meaningful lessons that didn't waste the time of my children.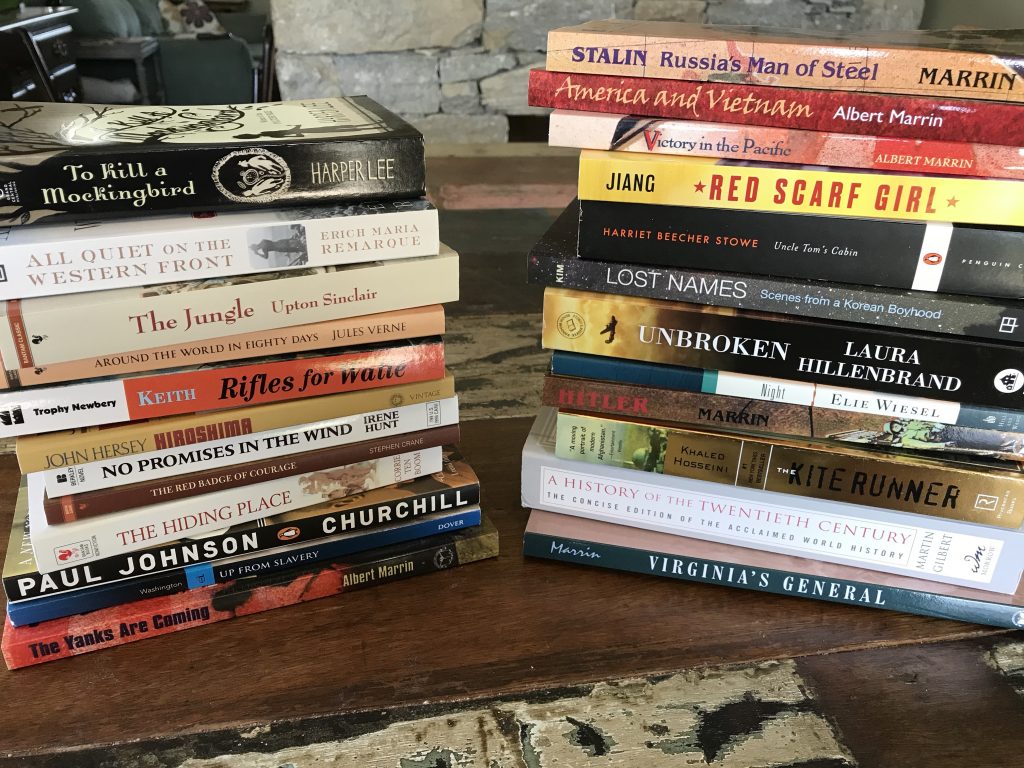 And then…along came Modern U.S. and World History: A Literature Approach for Senior High from Beautiful Feet Books.
My heart actually skipped a beat when I realized this was sooo close to what I had been planning myself for high school history – but even better. (Yes, that's hard to admit.)
Why I Love Beautiful Feet High School History
My goodness, I could go on and on about how perfectly this curriculum has fit into our homeschool.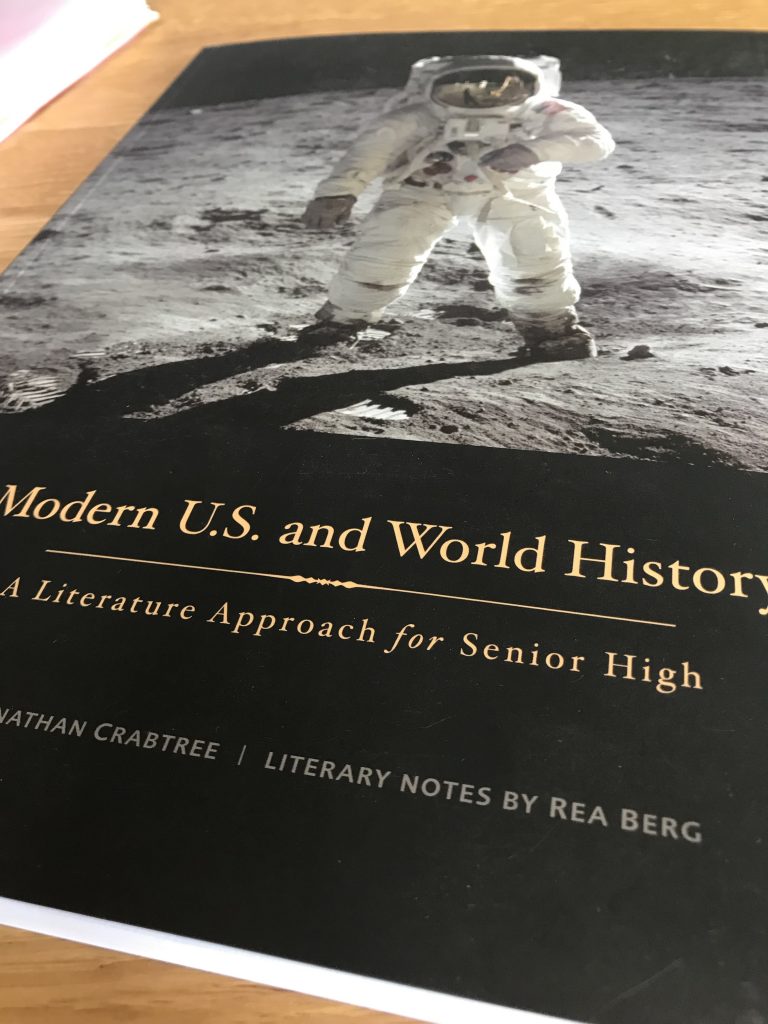 It's thorough.
Textbooks are often thorough, but I've never wanted to use a dry history textbook in our homeschool. And, when it comes to curriculum that leans heavily into literature, you're often left floating around with no real anchor to the actual history, which can leave significant gaps.
Not so with Modern U.S. and World History. The daily lesson guide serves as a wonderful home base to help students solidify and move successfully through 150 years of history from 1850 through the 2000s.
It uses wonderful living literature.
Through incredible literature that was chosen for its literary significance as much as its historical relevance, students enter into each time period from the Civil War to the 21st Century.
The books help students gain perspective and understanding as they read a number of assigned chapters each day.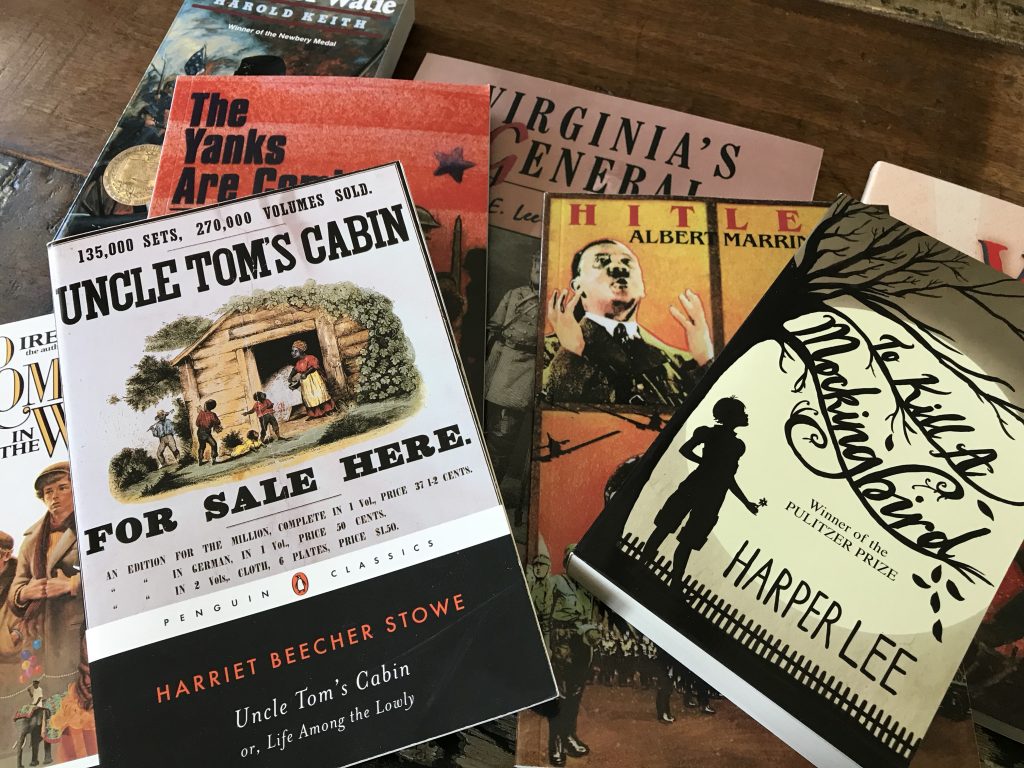 Twenty-four books are included in the curriculum – many of them you may already know as solid living literature, some you may not know yet. Uncle Tom's Cabin, The Jungle, The Hiding Place, Victory in the Pacific, and The Kite Runner name just a few of the amazing titles.
The teaching guide ties everything together.
The teaching guide not only provides underlying structure as it moves through history, it serves as the daily assignment book as well. From previewing important vocabulary before jumping into the day's reading to meaningful follow-up questions, this guide has everything you need.
When a particular living book leaves out something historically significant, the lessons fill in the gaps and tie one thing to another quite well. This is often accomplished via specific internet links, so it's important that students have online access.
The lessons aren't a waste of time.
I'm normally not a fan of a lot of follow-up questions after reading. However, the questions in this guide have been designed to help students really contemplate the ideas introduced in the books on a level that goes way beyond, "What did the doctor do on page 45?"
Here's a sample question from chapters 5-6 of Churchill by Paul Johnson. "Do you find Churchill's authorization of the firebombing of Hamburg and Dresden ethical in a time of war?"
In order to answer such a question, there is a depth of understanding about Winston Churchill as well as the reality of war that must be pondered. Then feelings must be sorted through and mulled over before a final answer is given.
We can knock out history and literature credits.
There is enough assigned each day to add history and literature credits to the transcript in the end.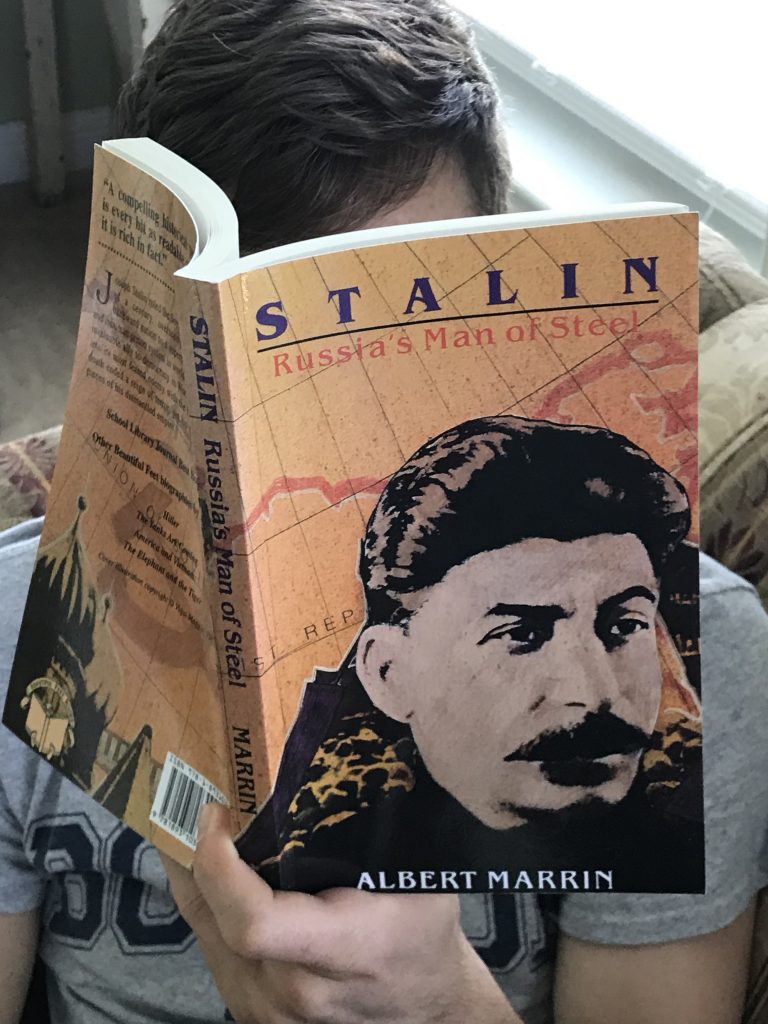 Obviously, it makes sense that the curriculum should earn a history credit. I was pleasantly surprised to see the specific literary focus on several of the books, too.
Of course, when you consider the amount of reading involved and the regular writing assignments, the amount of time spent in history, literature, and writing fully suffice for two credits.
We don't have to do everything.
The curriculum is fully customizable. You can assign what you want and leave out what you don't want.
I've found the vocabulary, reading assignments, and related internet links to be important daily tasks. The follow-up questions are also important to do daily, but rotating through the type of assignment – short answers, essays, and oral discussion – works well.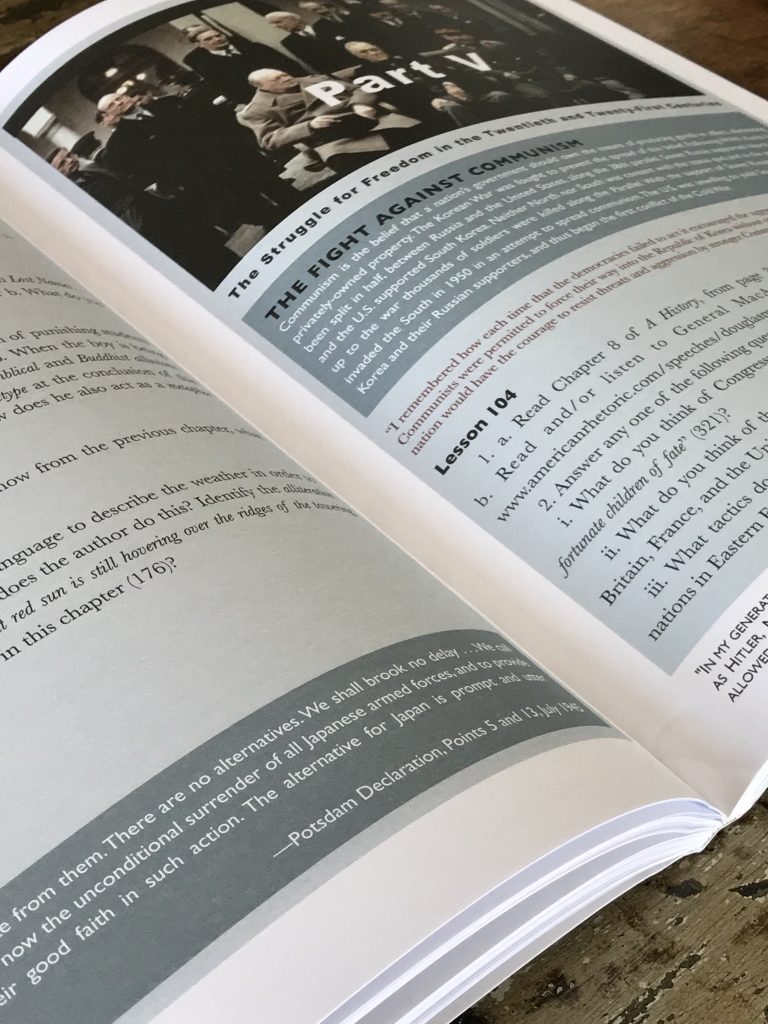 The books and assignments lead to great discussions.
Speaking of oral discussions, this curriculum has sparked wonderful depth to discussions in our school day and around the family supper table.
We don't always agree on every topic, but that's the best part. Defending an argument is a fantastic way to solidify understanding of any topic. Sometimes, in the midst of defense, it's easy to see where there are fallacies on one or both sides of the issue.
It's easy for a student to use independently.
The guide is very self-explanatory and is organized in a step-by-step manner that shouldn't leave any student confused.
If you want to assign certain parts of a lesson, it's very easy to simply checkmark or highlight your expectations for your child to follow behind and do.
Besides the guide and living books, your student will need online access in order to utilize the internet links, plus a notebook and pens or pencils. It's easy!
There is an answer key.
I always appreciate an answer key – especially when we're deep into high school literature that I may or may not have read myself.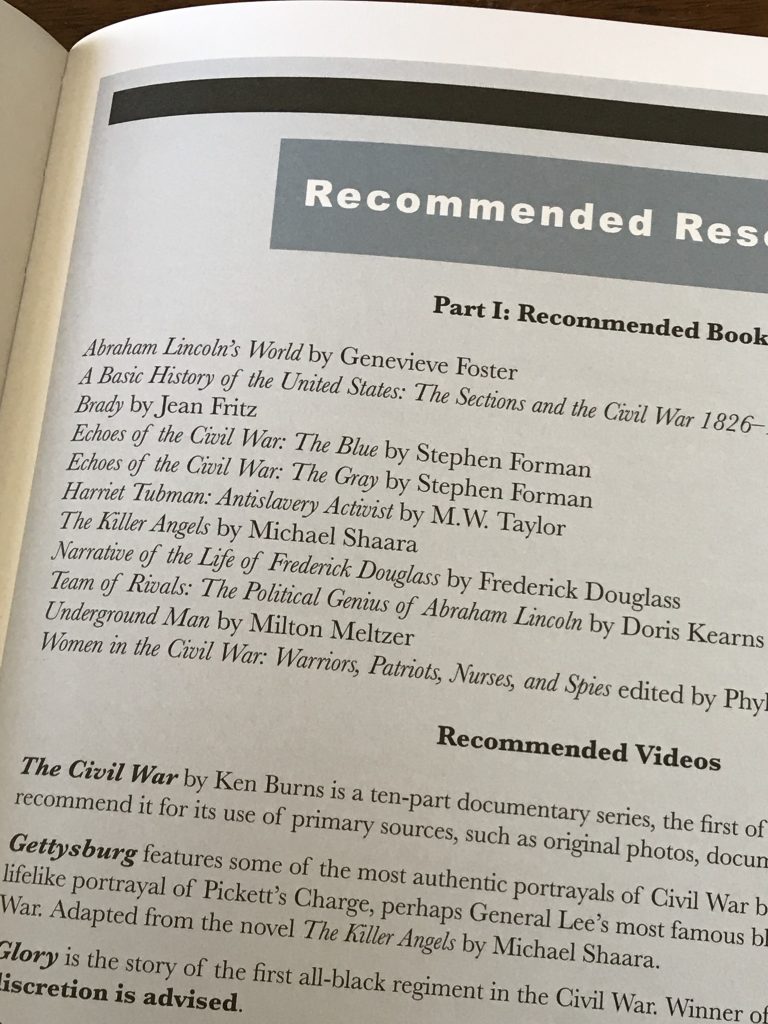 There are extras.
The curriculum is divided into five parts:
Part 1: Antebellum and the Civil War
Part 2: Reconstruction, the Industrial Revolution, and the Turn of the Century
Part 3: The First World War, Depression, and Segregation
Part 4: Building Towards War, the Second World War, and the Atomic Age
Part 5: The Struggle for Freedom in the 20th and 21st Centuries
For each part, there are several additional book selections (appropriate for the high school level) that can give additional insight into an era or event. A large list of videos is suggested for each part, too.
Those who have voracious readers or children who respond well to video will love these lists. The additional resources could also help extend the 36-week curriculum to cover more time if necessary.
A Question I Know You'll Ask About the Living Books
Is it necessary to purchase the entire curriculum or can I simply buy the study guide and check the books out from the library?
You can certainly purchase the study guide alone. The 24 literature books are a necessary part of the curriculum. Each are planned in the curriculum to take a little more than two weeks to read.
You could likely check the books out from the library as needed, but you'll need to be sure you're organized and reserve (or interlibrary loan) the books in time.
If you purchase the entire package, you're paying an average of $9 per book. A quick search on Amazon listed most of the books at $12 and higher.
I used to work hard to be ultra-thrifty. I would spend hours (and hours) searching out the cheapest prices online and scouring thrift stores for the books I needed. Since my library is small, I would have to interlibrary loan just about every title…and they usually wouldn't show up on time.
At this point in my homeschooling career, it's so worth the money spent up front to buy entire sets. It saves me an incredible amount of time in the long run. As a bonus, I get to build my library of living literature!
If you have more than one child in line to use it, having the full set on hand is almost a no-brainer.
If you have any other questions or want to discuss more about this particular high school history curriculum from Beautiful Feet, comment here. Or, better yet, send me a message on Instagram and I'll make an InstaStory to answer your question live.
Giveaway
Beautiful Feet has a giveaway going on right now that I don't want you to miss. You could win the Modern U.S. and World History curriculum or any other Beautiful Feet Literature Pack of your choice!
Emails collected during the giveaway will be used by Beautiful Feet for promotional purposes, but you can opt out at any time and still be entered to win the set of books. The giveaway is open from 5/5/19 through 5/22/19. The prize package can only be sent to USA addresses.
a Rafflecopter giveaway
Other posts you might like: