15 Fantastic Logic and Critical Thinking Games
Games are wonderful additions to any homeschool. In fact, we typically play at least one game a day – sometimes even gameschooling for an entire day!
Not only do games bring joy and lightheartedness to the school day, they can help teach new concepts and practice old ones.
One of the most important reasons I include games in our homeschool frequently is because they are amazing for building logic and critical thinking skills!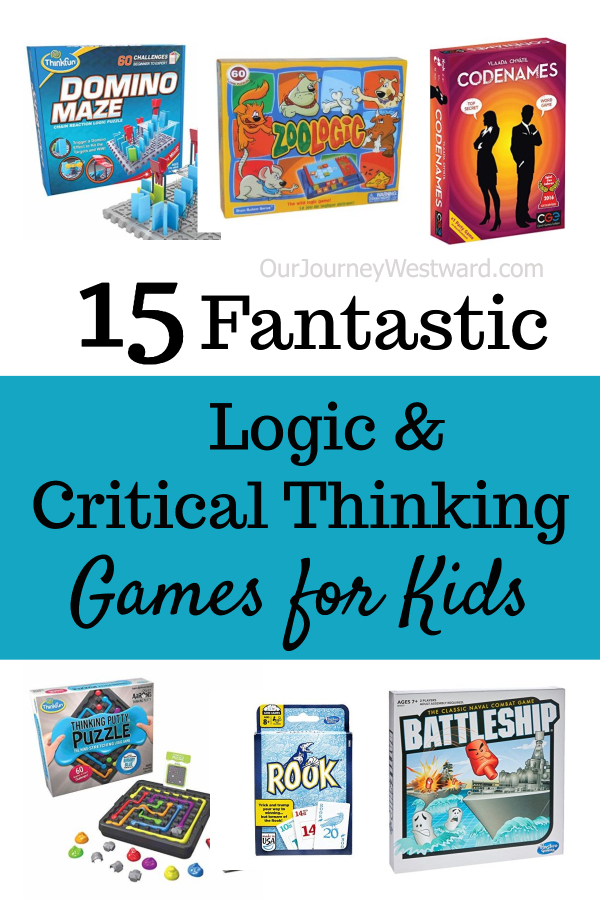 This post includes affiliate links.
If you've read any of my blog posts about brain training, you'll know that I place a lot of value on building logical thinking skills in kids. Luckily, games are one of the best ways to do that – and they don't even require much effort on our part!
While almost every game has logic and critical thinking value, some games are made specifically to give those skills a workout. I've included 15 of my favorites here for you!
Logic and Critical Thinking Games
Invasion of the Cow Snatchers – A creative, single player game that uses magnetic playing pieces as you maneuver a flying saucer around obstacles on a farm to beam up all the cattle.
Domino Maze – In this hands-on, single player game, you create fun domino mazes with a critical thinking twist as you set out to build based on challenge cards.
Thinking Putty Puzzle – This is another hands-on, single player game that "stretches" your thinking skills as you complete mazes with Thinking Putty.
Qwirkle – A family favorite, this game is kind of like Scrabble with shapes & colors. Your goal is to rack up as many points as possible as you work to complete symbol combinations.
Battleship – Coordinate graphing and logical thinking are required to sink all your opponent's ships in this classic game for two players.
Mastermind – Another classic game for two players, Mastermind is truly a top pick for practicing logical thinking skills as you deduce a hidden code.
ZooLogic – This is such a cute single player game. You must figure out how to organize dogs, cats, and mice on puzzle cards so that no fights ensue between the animals.
Guess Who? – This is the perfect game to teach beginning critical thinking skills as you ask pertinent questions to figure out your opponent's mystery character.
SET – Get ready to work logic skills faster than your opponents as everyone races to put together the next combination of cards based on shape, color, shading, and number.
Clue – A good, old-fashioned game of Clue is perfect for sharpening logic and critical thinking skills since the goal is to use deductive reasoning to solve the mystery before anyone else.
Cat Crimes – In this hands-on, single player logic puzzle, you place cat characters on the board based on clues you are given in order to determine which one is to blame for an oopsie that has occurred.
Codenames – While this game can be played with as few as four people, it's great for a crowd, too. Spymasters use word clues to help their teams logically consider which cards on the table will locate friendly spy agents instead of foes.
Rover Control – This creative, single player coding game teaches basic programming skills through critical thinking puzzles in which a rover must go through various start to finish challenges.
Rush Hour – A classic, single player game, Rush Hour utilizes logical thinking as you work to get an ice cream truck out of a rush hour traffic jam.
Rook – This four player card game is another family favorite that is won by logic and critical thinking between teammates (as well as a little luck.)
Gameschooling
There are so many wonderful games available these days! I've written about favorites for other subjects plenty of times. Feel free to click on any of the images below to see a different list of games.
P.S. Games make great gifts for any holiday or birthday. They also make great family gifts or for people who are hospital or homebound. Games are one the most frequent things we give when a gift is in order!