The Best Language Arts Games and Manipulatives for Homeschoolers
Have you ever wondered which are the best language arts games to use in your homeschool? There are so many options out there, but not every game is both educational and fun.
I've pulled together a list of more than 20 games (and a few manipulatives) that I have used to get my kids excited about things like reading, spelling, and sentence structure. For the most part, everything on the list can be used with multiple ages as long as the student can already read.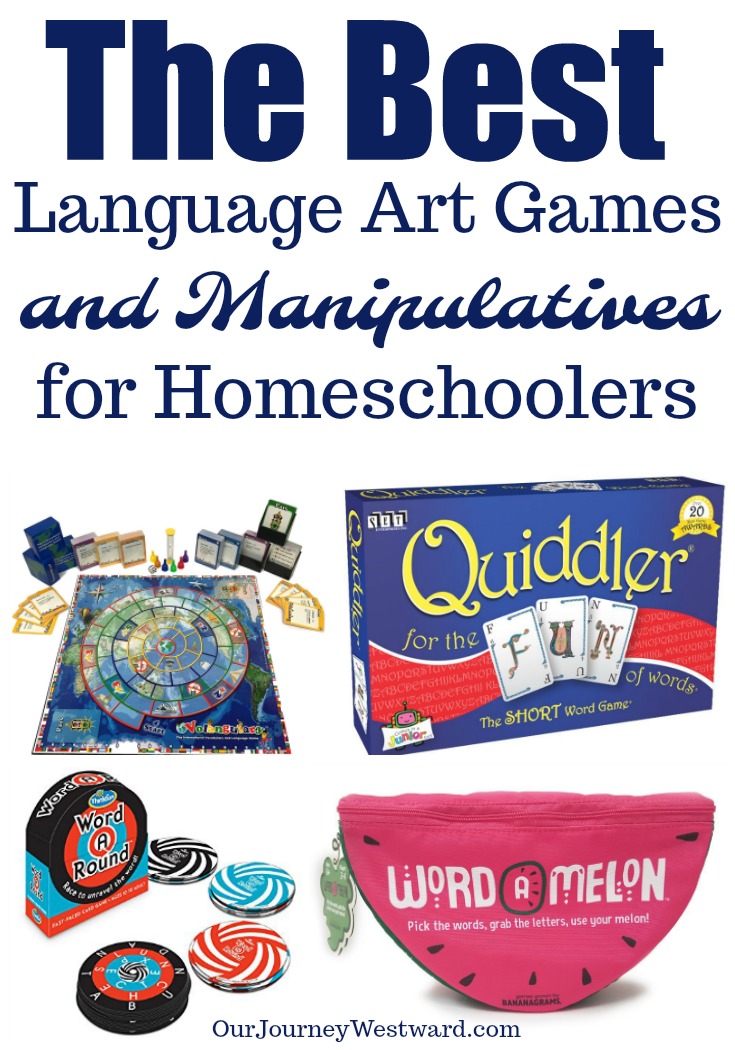 This post contains affiliate links.
We usually play at least one language arts game per week during school hours. But, a few are family favorites that we often enjoy during family game night. I'll note the family favorites in the descriptions below.
The Best Language Art Games
For years, Apples to Apples has been one of our favorite games to play when the extended family gets together. The more people, the funnier the game! Each player has a handful of cards with nouns on them. The person who is "it" lays down a card with a descriptive word and the other players must turn in one of the noun cards from their hand that seems to go along with the descriptive word. The "it" person uses his or her own discretion to choose one of the nouns that best fits with the descriptive word. By the end of the game, when there are fewer and fewer noun cards in the players' hands, it's a hoot to see some of the nouns that are placed with the descriptions. The regular version for ages 12+ is actually the game we own. There are a few questionable cards which is the reason I'm recommending the junior version.
Quiddler comes from the makers of SET (one of my all-time favorite logic games) and Five Crowns (one of our all-time favorite family night card games.) If you've ever played Five Crowns, this game is very similar except you're building words rather than number groups. Each round, your goal is to build words of varying lengths to discard before your opponents. Doing so keeps your score down. By the end of the game, the person with the lowest score is the winner. It's a fun family game for anyone who can spell at least at a 4th grade level.
If you've ever played Spot It!, this game is similar except you are racing to find the hidden words rather than pictures. Because it requires decent spelling skills, it's best for children 10+. Because I love double duty games so much, this is a great brain training game that will strengthen attention, working memory, and visual processing skills.
Have you watched $100,000 Pyramid? This game is similar in that one person (or team) gives clues to a vocabulary word that other players (or teams) race to blurt out first. It's fast-paced and loud – and my kids love it. There's also a Bible version of the game that's great for reviewing Bible knowledge!
This is another family favorite. Each player gets their own dry erase paddle and marker. One adjective card and one noun card are drawn from stacks of cards. The combinations of cards are almost endless which means you'll be able to play with the same deck for years. Your adjective/noun combo could be something like, "silly/appliance" or "fancy/clothing." Your goal is to write a word on the board that will match as many other players as possible. Matching answers get points and points win the game.
This little jar is full of multiple-choice questions that help your children learn to identify and use similes, metaphors, and idioms. While it doesn't include examples of all figurative language (personification, hyperbole, and symbolism are not included), it's still a fun little game for 3rd grade and up.
Word on the Street Jr. and Word on the Street
Word on the Street Jr. (7+) and Word on the Street (12+) is spelling tug of words war that can be played one-on-one or with teams. Players must think of vocabulary words that fit the category of the card drawn and slide letters on the board toward their side of the board. The other player/team tried to tug those letters back toward their own side on their turn. This is a difficult game for younger spellers to win against older spellers, but it's fun for all.
Boggle requires players to make as many words as possible from connecting letter cubes in the grid before the time runs out. It requires a great deal of attention, visual processing, and working memory, which makes it a another great brain training game!
This game can require a lot of thinking juice. (Yes, another great brain training game!) It can be played independently as you race the clock – or with others as your race your opponents. The goal is to grab 20 tiles and use ALL of them to create 5 different words. The recommended age is 8 and up, but it can be difficult for kids under 12. Scrabble lovers will appreciate this spelling game!
In this vocabulary boosting game, players are given a word that they must define correctly in order to make a move on the game board. It's almost like practicing flashcards – without being at all like flashcards. The game is actually very fun and has varying levels so that children can play against adults fairly.
There are several topical versions of Word Teasers, but this SAT version is a gentle way to practice high-level vocabulary words. Instead of memorizing definitions, the game uses conversation and context to teach definitions of the words. It's kind of like conversational flashcards that are actually fun to use around the dinner table with the whole family.
This game is as much critical thinking as it is vocabulary practice for kids 10+. It can get really silly, too, which makes it even better as far as my kids are concerned. The goal is to be the person to lay the 4th card on a set. That's harder than it sounds because each card laid must be something bigger than the card before it. For example, sofa -> garage -> supermarket -> universe. (A sofa can fit in a garage. A garage could fit in a supermarket. A supermarket could fit in the universe.) Be ready for some of your opponents to debate why they believe their card played makes sense. That's part of the fun!
Bananagrams is a faster, easier version of Scrabble. There's no game board or any points to tally. Players simply race to be the first to get rid of all their letter tiles by building onto the intersecting words. It's quick (and can be a little frantic.) It's the perfect way to fill a few spare minutes and small enough to pack as a travel game for rainy days at the hotel. For children younger than 7 or 8, try My First Bananagrams.
This game isn't one of my favorites – but my kids love it. It's a spelling game with a big twist of Memory thrown in for good measure. Truth be told, I used to kick butt at memory games, but these kids of mine are way sharper than me these days. The goal is to spell the longest word possible, but the letters are hidden just like they would be in a game of memory. Shew whee, it wears me out. Like Bananagrams, it's best for children who can already spell at least a little. Oh, and it's travel-sized for road trips.
This language arts game is a bit like charades, only there is absolutely no acting or speaking aloud. Two teams have a storyteller who are each trying to get their own team to guess the same word. The storytellers can only share clues with their team via word cards that contain either noun, verbs, adjectives, or prepositions. It's a hoot…and harder than it sounds. The game suggests players should be 12+, but we've found 10+ can generally play along pretty well.
We love this little dice game for a quick brain training activity during morning time. It's simple to play, yet requires quick thinking. One player rolls a set of ten letter dice then all the players race to make words. You tally up the score each round based on the number of words created and continue play until someone reaches the preset score. It usually takes us less than five or ten minutes to play. While the actual game requires players who are decent at spelling already, you can certainly play at a much slower pace for younger students.
Scattergories is another family favorite! Each player receives a topic card and a piece of paper. Roll the letter die to determine which letter everyone will be working with. Start the timer and write words that describe each item on your topic card using only words that begin with the letter rolled on the die. Once the time is up, everyone reads the words they came up with aloud. You get a point every time your word was not written by any other players. It sounds way more difficult than it is, I promise! It definitely requires players who are already decent spellers, but we've teamed younger ones up with older one before with great success.
The Best Language Arts Manipulatives
While not games, these items are great tools to help kids improve their language arts skills. They're almost game-like, so still super-fun!
These simple, puzzle-like manipulatives are fun for new readers as they learn to create complete sentences. You could easily create your own version of this game by writing a variety of nouns, verbs, articles, adjectives, and other parts of speech on notecards for your children to play with. Another option that my children loved a lot was…
These magnets do basically the same thing as the product above, with more word options. My children had so much fun creating complete sentences before they were physically strong writers.
Poetry magnets have been another big hit in our homeschool. They are very similar to the Magnetic Sentence Builder, except with more poetic word options. My children really liked the magnetic aspect of these little word tiles and often create poems on cookie sheets to prop up in our school room.
We often use MadLibs as a morning time activity because my kids have loved them so much. They aren't really a game, nor can they be considered a manipulative, but there is definitely play with words taking place. These little workbooks have stories with missing words. You fill in the missing words based only on knowing that you're supposed to place a certain part of speech in the blank. Once all the blanks are full, you read the story in it's entirety. Eli, in particular, cracks up every single time because the stories are hilarious in the end. It's a great way to practice parts of speech.
My typical mode of checking reading comprehension is through narration or conversation. However, I've found these dice prompts always seem to motivate children to discuss or write about the books they're reading. If it's motivating, I'm all in.
Reading, comprehension, and sentence structure are very important skills to master. These fun tools help children understand and use the English language well. Using really good language arts games and manipulatives makes the task easier!
Share some of your best language arts games with me. I'd love to add to our collection!
Other posts you might like: