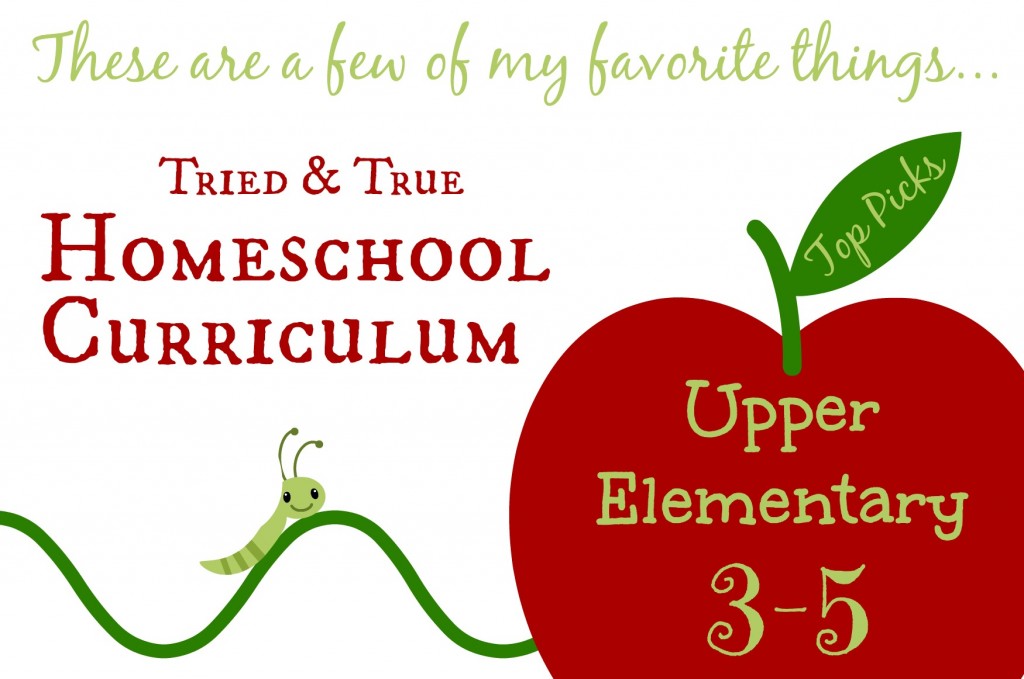 (This post contains affiliate links and links to my products.)
Third through fifth grades are probably my favorite years to teach.  During this period, children are usually pretty good readers – making it more fun to dive deeper into other subjects.  And, they still have a zestful spirit about learning which means we get to have A LOT of fun!
The hardest part for me during these years is reigning in our learning times.  There are literally hundreds of wonderful studies we could do, places we could go, and great curriculum choices to use.  Over the years, I've fit about as much homeschool excitement as you can into these upper elementary years…and we have wonderful memories to prove it.
You can imagine my difficulty, then, in choosing just my very top upper elementary homeschool curriculum picks!  After much going back and forth, I've narrowed down the list as much as possible.  All of the products I've chosen to highlight are both academically excellent and inspire a love for learning.
Bible
God's Great Covenant New Testament and Old Testament (each comes in two volumes) along with the Map/Timeline Set is a great prepared Bible curriculum for the upper elementary crowd.  I'm normally not a big fan of prepared Bible curriculum for two reasons.  First, the doctrine doesn't always line up with ours.  Second, the lessons usually seem forced and don't inspire an excitement about God's Word.  God's Great Covenant is one of those rare exceptions for our family.  The lessons are real and in-depth, while still fun!
Proverbs People
is another workbook curriculum that has really blessed our family.
Book One
and
Book Two
follow a simple plan of reading various verses in Proverbs and making observations to compare opposite character traits – like liars vs. truth-tellers and slothful people vs. those who are diligent. It's easy-to-implement and does a great job helping children to see the benefits of good character.
Language Arts

Living literature is the main mode we use to practice reading skills once the kids are good readers – and it's one of the main modes for learning history and science during these years, too!  From our literature selections also come grammar lessons, spelling lessons, copywork, narration, and dictation, not to mention wonderful family discussions.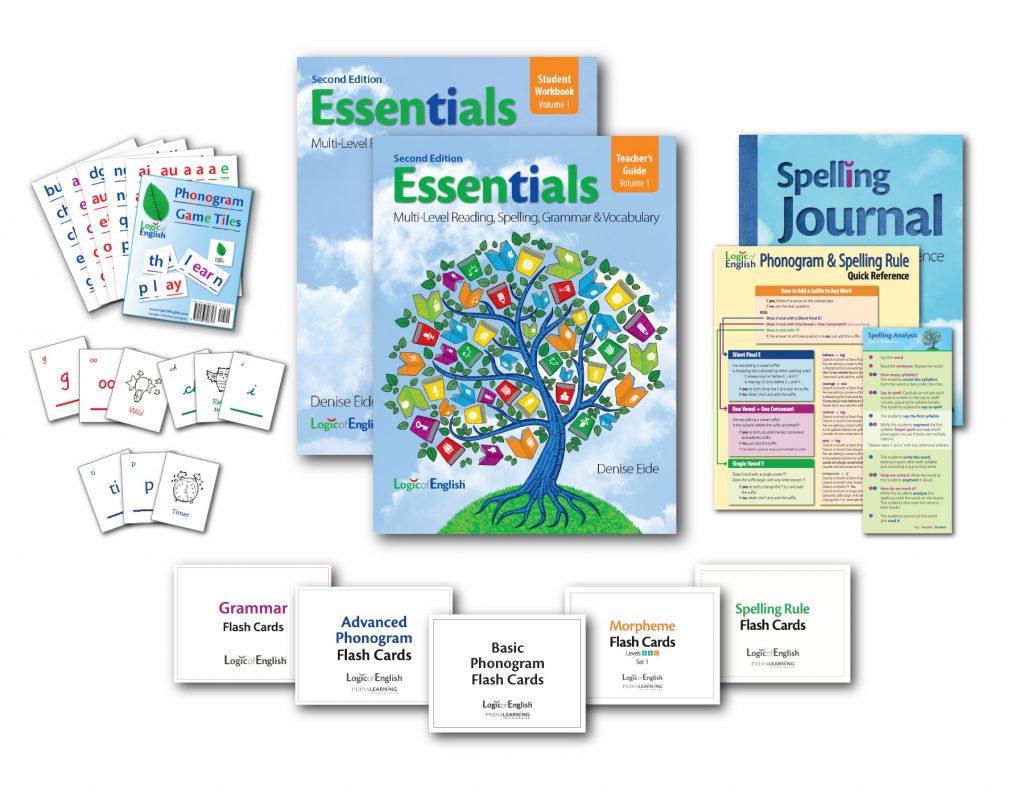 For those of you looking for an absolutely COMPLETE, sequential approach to reading, spelling and grammar, I love The Logic of English Essentials.  Besides daily reading practice, this program contains all the language arts you need during the 2nd, 3rd OR 4th grade year – depending on your child's abilities.  Rule memorization, systematic instruction and creative activities make this a rock solid language arts curriculum!
Intermediate Language Lessons is a Charlotte Mason-friendly way to introduce grammar and other language arts to 3rd-5th graders.  I've never found the teacher's guide necessary, but you might like it if you aren't entirely confident with teaching just yet.  The original book was meant to be completed orally and on notebook paper.  I've enjoyed the workbook format, too, as it keeps my children a bit more organized in their work.
Spelling Workout is one of the few traditional workbooks we use – and I don't use it like the directions suggest.  When I notice a spelling struggle with a certain type of word (-ough, for instance), I'll assign the appropriate lessons until the issue is resolved.  I appreciate the short, game-like worksheet lessons that get right to business and don't waste our time.
Math
Through 3rd grade, we use Horizons Math from Alpha Omega.  Beginning in 4th grade, we make the switch to Saxon Math.  My 4th graders use Saxon 5/4 and my 5th graders use Saxon 6/5.  Saxon is an academically excellent math program that builds upon skills and continually practices previously learned skills.
Saxon expects A LOT from children on a daily basis.  I only assign odd or even numbered problems each day to overcome this issue.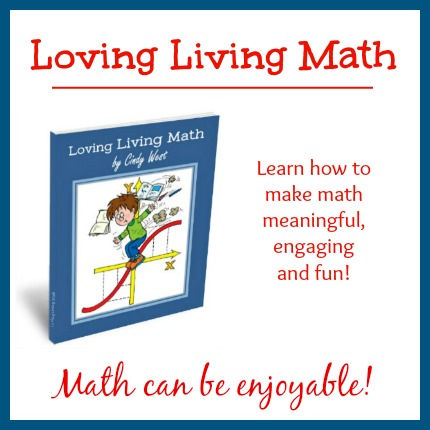 Some of you have heard me say before that we only do textbook math (aka Horizons or Saxon) three days a week and do "living math" the other two days a week.  Living math includes literature-based lessons, manipulative-based lessons, real-life lessons, games, logic, problem solving and more.  I wrote Loving Living Math to help you understand what living math is, why it's important and how to go about adding it into your homeschool schedule.
Logic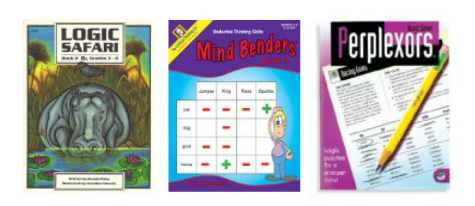 Logic is something we add weekly in our homeschool.  My kids beg for it.  Really.  Logic puzzles are challenging, but oh, so fun!
History
Story of the World
comes in four volumes that begin with ancient history and end with modern history.  The books are recommended beginning in the 1st grade.  Personally, I find them more useful beginning around 3rd grade.  The bountiful lessons are often lost on 1st and 2nd graders if you use them to their full advantage – literature, research, narration, maps, activities…  I LOVE the abundance of resources in this curriculum!
When I first used these books, my oldest was in the 1st grade.  (She's our Ms. Smarty Pants.)  She did well, but even as smart and eager as she was, I think she could have grasped more if I has waited a couple of years before starting.
Science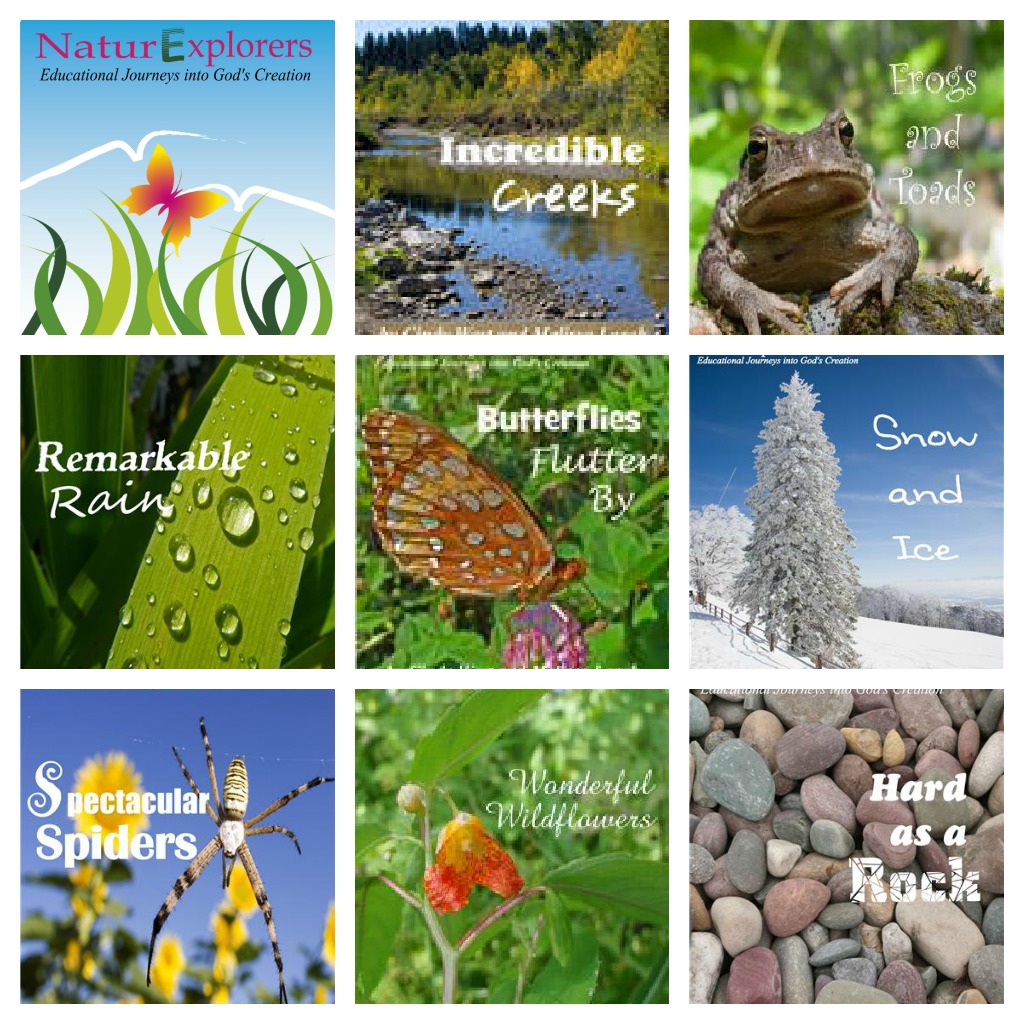 NaturExplorers are written for 1st-8th graders, but I find upper elementary kids to be some of the most excited nature learners.  They're old enough to begin making serious scientific connections and interested enough to enjoy follow-up research and projects.   Nature study is our main mode of science study during the upper elementary years!
For the few science topics we can't cover during nature study or for a different learning experience, we use unit studies or Apologia science books.  Unit studies offer my kids lots of opportunity for interest-based learning, while the Apologia books give us the accountability of a "living" textbook.
Jonathan Park audio adventures are highly educational and highly entertaining!  Along with visits to the Creation Museum, Jonathan Park has been very affirming of our creation science lessons.
Fine Arts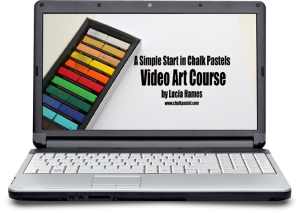 While we often do our own Charlotte Mason-inspired artist study lessons, A Simple Start in Chalk Pastels Video Course has become a hit in our house.  The lessons are quick and easy. The supplies are minimal an inexpensive. I love bringing an art teacher into our home whenever I need her and being awed at the creations of my children.
With my first two, I designed our own Charlotte Mason-inspired composer study lessons. Luckily, there are a few great composer study resources these days that are grab-n-go. I really like each one of the following programs equally. Each offers a different sort of flair.
SQUILT (Super Quiet Uninterrupted Listening Time) is a PDF curriculum. Each volume of SQUILT focuses on a different composer and walks you through various lessons to learn about such things as the musical era, instruments of the the time period, biographical information, musical terminology, etc. There are direct links to videos within in the lessons so your children hear music of the composer, too.
15-Minute Music Lessons is an online course. You and your children read through some short biographical or explanatory text and watch embedded videos. You're often encouraged to listen for things that help encourage an understanding of musical terminology. There's a short online quiz at the end of each lesson and there are a few PDF pages you can print if you like that offer copywork, research pages, and pages to note things like the tempo, mood, and instrumentation of the music from the lesson.
Zeezok's Music Apprecation Program is a much bigger curriculum. It's based on the literature of Opal Wheeler and includes daily lessons to go along with each chapter of the various biographies. This curriculum covers music, history, character training, and more. There is music to listen to, worksheets to be completed, experiments to do, and even a lapbooking component. If you're looking for a unit study-like resource, this is what you want.
And that wraps up this list.  Feel free to share your 3rd-5th grade favorites in the comments!
More top picks!

Early Elementary Top Picks (K-2)
Middle School Top Picks (6-8)
High School Top Picks (9-12)
This post has been linked to: