This Is a Great Way to Use Movies in Your Homeschool!
Using movies in your homeschool might seem like a cop-out, but it's not at all when you use them for some fun learning.
Project-based learning is the best. My kids have not only been more excited and engaged during a project vs. plain old textbook learning, but they have also absorbed SO much more information. Their interest is fed each day as we add a new element, a new perspective, or a new layer to what we're learning – and by the end, the result is a celebration of sorts. Celebrating what we've learned, what we've built, and how it feels to finish something.
When you picture project-based learning, do you think of dioramas and science projects? While those certainly count, there are SO many other things that could be considered perfect projects. All of them can be fun in their own right, but some projects are even more fun, especially when they include a movie party!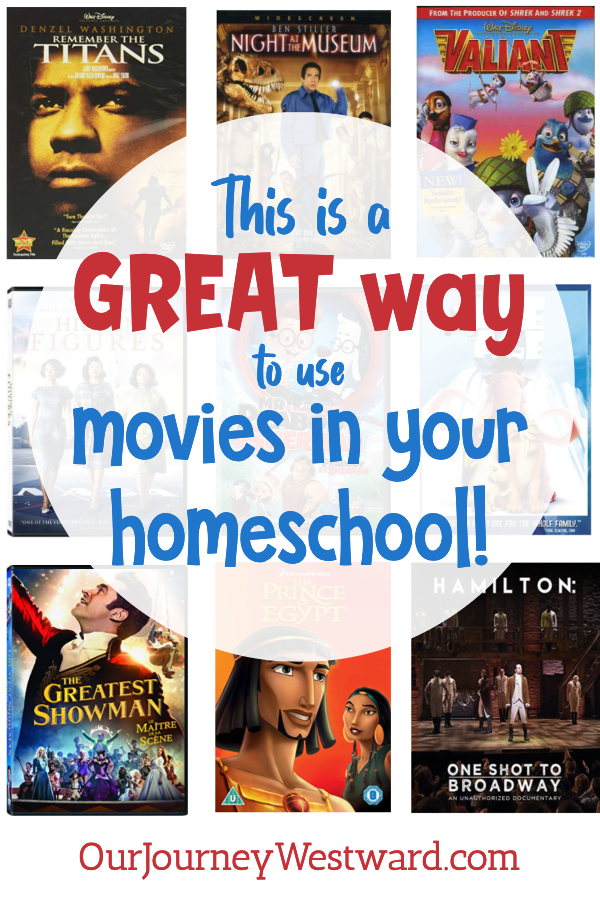 This post contains affiliate links.
Night at the Museum History Party
A few years ago our small homeschool group did one of our favorite projects to date. Each family watched "Night at the Museum" at home, and the children chose from the cast which historical figure was their favorite.
Over the next week, everyone researched the character they had chosen, learning even more interesting facts about their life than the simple glimpses shown in the movie. Every student was responsible for putting together a project (or two) that would help them teach the homeschool group what they had learned.
At the end of the week, we all met up for a "Night at the Museum" project party! Each student dressed as their chosen historical figure and shared their project(s) with the group. Seeing all those projects and hearing from the "expert teachers" was like having a living museum of our own!
The other children could interact with each other, ask questions of Marco Polo or Sacagawea, and all learn interesting information about a multitude of important people through time. Rather than reading about a long list of past people, the children were enthralled with the experience and formed deep connections not only to who they chose to research, but who they "met" that day.
(This isn't a good picture, but you can see how much fun we had!)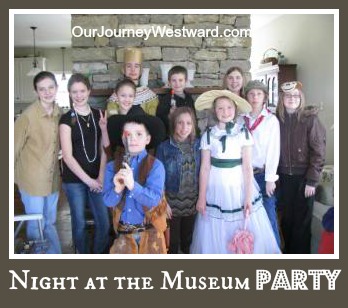 Practical Suggestions for a Successful Party
No great homeschool get-together would be complete without food, so families brought themed foods to compliment their historical figures. This further adds to the immersive experience by connecting history to real life!
This has remained one of my favorite activities we've done as a homeschool group, but it doesn't have to be limited to a co-op or a handful of families. Siblings can present among themselves or single students can share with grandparents via Zoom or after a family dinner.
If your homeschool group is large, each family can choose a character instead of each child choosing one. If food allergies are a concern then consider bringing themed games, crafts, or books instead of treats. There are numerous ways to adapt this learning project to your unique needs!
More Ideas for Movies in Your Homeschool
More exciting than the fun and flexibility this activity offers, however, is the seemingly endless list of movies to choose from that adapt perfectly to project-based learning!
In addition to "Night at the Museum" and its two sequels, other history-rich movies such as "Mr. Peabody & Sherman", "Around the World in 80 Days", "The Prince of Egypt", and "National Treasure" offer a varied and colorful cast of influential people to choose from and learn about. And depending on the crowd, "Bill and Ted's Excellent Adventure" would offer the same.
Movies About Historical Eras
There is no shortage of person-specific films, but finding movies that present a group of people or an important period in history allows for the option to choose from various characters, movements, laws, trends, and more. Much like living books, movies can be a fantastic way to display the context of a point on their timeline or what life was like for a specific person.
If your family or group is learning about a specific time period, try using some of these movies in your homeschool: "Remember the Titans", "Valiant", "Hidden Figures", "Ice Age", "The Greatest Showman", "Hamilton", or even any number of titles from the American Girl films.
Non-Historical Movies in Your Homeschool
Movie learning projects don't have to revolve entirely around history! There are several options for children to choose from science topics, cultural studies, or even various character traits.
For instance, after watching "Walking With Dinosaurs" each child could pick a favorite dinosaur to study and present to the group. Costumes and food probably won't be too easily figured out, but crafts and games centered around specific species would be a lot of fun and incredibly memorable.
Along the same lines, "Finding Nemo" could inspire everyone to pick their favorite sea creature and follow a similar course. Plus it gives everyone another reason to watch "Finding Nemo", and who isn't always looking for that?
You might even consider watching "Inside Out" and presenting the importance, role, benefits, and struggles of each emotion shown. Use the film to explore the favorite memories of the children in your group, encourage them to identify their emotions, and maybe even work in a few tools for self-regulation.
Even literature can have a turn during a movies in your homeschool project! The entire "Shrek" collection is a fun and off-the-wall introduction to some of the most famous and beloved fairy tales known. Choosing a character gives the opportunity to not only explore rich and beautiful writing but to compare and contrast the original sources to the animated versions we so often picture. Fairy tales offer a great many teaching opportunities, from descriptive language to lessons in morality, and would certainly make for a fascinating and fun learning project for learners of all ages.
Using movies in your homeschool as a learning project is a wonderful way to learn many things together. Children can engage in research and listening, practice the steps of project-based learning, and enjoy time together with people who are such a special part of this homeschool journey. It is immensely reusable and can be adapted to complement any number of units, groups, and needs.
Homeschooling all these years has always been a source of enjoyment for me, but seeing my kids enjoy it so thoroughly just makes the process that much sweeter. That, and any homeschool project that can end with snacks and games is a win in my book!
Other Posts You Might Like