Homeschooling can be hard!  Even those of us who have been homeschooling for years stumble once in a while or enter uncharted territory where we need some guidance.  That's why I'm here!  Whether you're new to homeschooling and want help getting started or you're a veteran homeschooler who needs to get past a bump in the road, I'm happy to help.
Cindy saved my homeschool!  I was ready to throw in the towel, but she gave me the encouragement and tools I needed to turn our homeschool around.  I'm so thankful I didn't give up!  

Amanda, homeschool mom of two

Homeschool Consulting Services
I'm often approached for homeschooling advice. As much as I love helping, it takes quite some time to sincerely and thoroughly discuss an issue. To ensure I spend enough time with my own family and carve out enough time for you, I offer phone consultations at the rate of $100 per hour.  One hour is usually plenty of time to discuss most issues.
During that hour, you can be sure that I'll be your cheerleader and give you very practical advice.  We can discuss homeschooling methods, curriculum, schedules, organization, discipline, attitudes, home management…anything that's become a stumbling block for you!
Rest assured that all calls are completely confidential and there is no judgement from me no matter what issues you may face.
To schedule an appointment, contact me using the form below.  Please include an overview of your circumstances with days of the week and times (EST) convenient for our meeting.
Cindy gave me exactly the kick in the pants I needed to become more disciplined about homeschooling.  I just needed to tweak a few things and now our days are going so much better!

Deidra, homeschool mom of three
Areas of Expertise
Charlotte Mason Homeschooling
Gifted Homeschooling
Homeschooling with Unit Studies
Project-Based Learning
Nature Study
Living Math
Making Adjustments to Meet Particular Student Needs
Homeschooling in KY
Curriculum Choices: Preschool-High School
Getting Started in Homeschooling
My Bio
I'm a 16-year veteran of homeschooling and mom of three. I own Our Journey Westward and have written Homeschooling Gifted and Advanced Learners and the popular NaturExplorers studies, among other titles. With a Master's Degree in education, I often teach workshops on a variety of topics, most focusing on homeschooling with joy, passion and creativity. My personal teaching style is eclectically Charlotte Mason, with a dash of unit studies and Classical thrown in for good measure. I believe that, no matter the teaching style, children should be inspired in learning. God has created such a marvelous world for us to learn about and we should be excited to dive in. Yes, even math and grammar!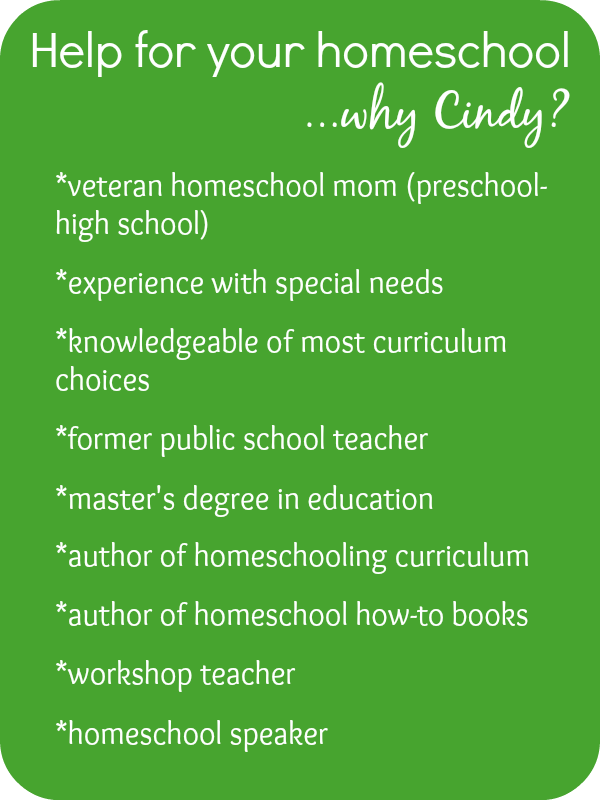 What My Clients Think
I was so excited when I read that Cindy was offering homeschool counseling. I have needed a resource like this for a while, and to find someone I know and trust was a plus! I sent an email briefly describing the issues we were having, and when she called at our appointed time we were able to get right to work. She has a wonderful knowledge of curriculum and learning styles to assist you in pin-pointing what might work for you. What a blessing it was to spend time speaking with Cindy about a plan for next year!

Susie, veteran homeschool mom of one

Cindy gives excellent advice for curriculum.  She is full of wisdom and passion for teaching at home.  She is humble.  Even though she is a terrific teacher she never passes judgement on those of us who aren't as blessed with the teaching skills.  She is full of ideas for making learning fun and enjoyable.

Lori, homeschool mom of four

I was lost in a whirlwind of curriculum choices and curriculum methods.  Cindy helped me figure out how to make our homeschool work for us.  She even helped me pinpoint specific curriculum for each of my children.  I've had several phone consultations with Cindy and our time together has been worth every single penny.

Jane, homeschool mom of two
Contact Me!
Ready for a consultation?  Let's do it!