Picture Books That Demonstrate Narrative Writing for Older Students
If there's one subject that seems to befuddle homeschoolers more than any other, it's writing. I hear it during homeschool consultations and casually talking among homeschool friends. Plus, I see questions about it all over the internet.
People are often surprised when I tell them I don't formally teach writing until middle school. Really, I don't. And here's my reasoning…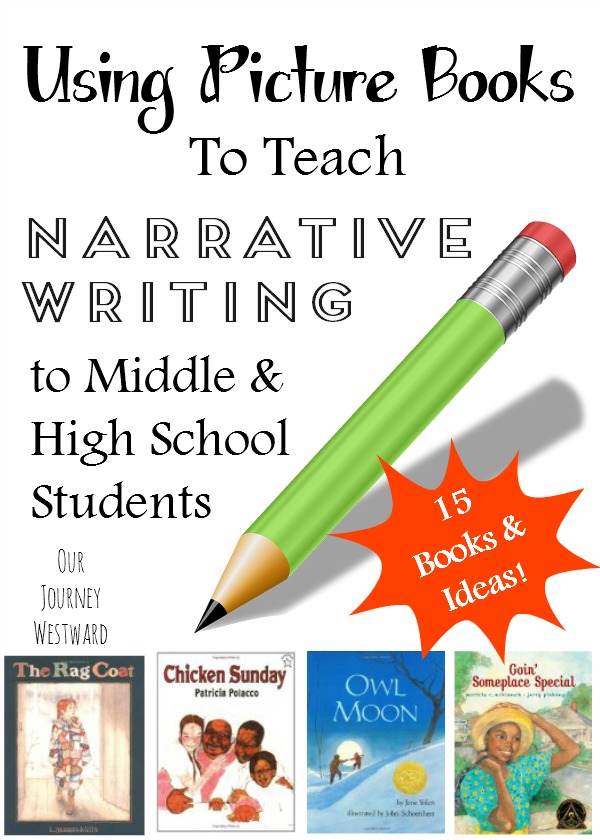 This post contains affiliate links.
Why We Wait For Formal Writing Lessons
In elementary school, children are physically working hard just to form letters. It takes a lot of effort to practice a few sentences of copywork. With so much effort to simply write words on paper, it's often too frustrating for them to focus on creating stories as well. Additionally, when you think about the various stages of cognitive development, most children aren't ready to pull together their own stories before 5th or 6th grade anyway.
Does this mean there is no writing in our elementary homeschool besides copywork? Of course not. We work on sentence formation and even paragraph writing in 3rd-5th grades. There are writing components during project-based learning assignments and lapbooking, too.
So, the writing that waits until middle school is formal writing. These include narratives, descriptive writing, persuasive essays, and expository writing. In other words, the writing where a whole lot of thinking and processing has to occur in order to pull together a well-thought-out, organized, creative piece.
I Use Picture Books with Middle School and High School Students
When it is time to teach writing styles, I LOVE to use picture books as examples. Why? They have been written by master authors. Even better, I love to use books that my children have read many times over in their earlier years. In this case, they already know the stories and can see them with fresh eyes as they look from the perspective of a particular writing style.
Today, I'd like to share some of my favorite picture books to use when teaching middle and high school students narrative writing. Some people will think, "You're using picture books with middle and high school students??" Yes. Heck, I use picture books with people of all ages because so many of them are just plain wonderful! More importantly, though:
Picture books are a good length for teaching lessons in a reasonable amount of time.
They make writing a narrative seem doable (not overwhelming).
Their use of illustrations helps new writers understand that good writing should invoke illustrations in the mind of the reader.
Picture Books to Teach Narrative Writing
Take a peek at my favorite books for teaching narrative writing below. Then keep reading to see how I use them in lessons.
The Relatives Came
When I Was Young in the Mountains (Reading Rainbow Books)
Owl Moon
The Rag Coat
Three Days on a River in a Red Canoe (Reading Rainbow Books)
Thunder Cake
The Relatives Came by Cynthia Rylant tells the story of a yearly family reunion. The perspective makes you feel like you're right there with the family enjoying food and festivities. Even sleeping uncomfortably amongst too many people! The book helps your own writer think about using words to evoke feelings.
When I Was Young in the Mountains by Cynthia Rylant gives a first-person account of growing up in coal country where life was simple, yet sweet. It helps your writer think of everyday things as powerful memories.
Owl Moon by Jane Yolen takes the reader on a wonderful father-daughter walk late one evening in search of an owl. This story can help your writer learn how to take a simple, even short event and turn it into a magical story.
The Rag Coat by Lauren Mills is written in first person and tells the sometimes sad, but heartwarming story of a young girl who found courage amidst tough situations. Young authors learn how to write honest memories and find positive endings from those memories.
Three Days on a River in a Red Canoe by Vera B. Williams is written in first person and recounts a fun camping and canoeing adventure. It helps writers learn to recount family vacations in a way that people actually want to read.
Thunder Cake by Patricia Polacco tells the story of a grandmother who bakes a cake to help her grandchild get over her fear of a thunderstorm. It's an excellent example of how to craft a happy memory.
Mailing May
Aunt Flossie's Hats (and Crab Cakes Later)
Baseball Saved Us
Chicken Sunday
The Babe & I
Roxaboxen
Mailing May by Michael Tunnell tells the story of a parent's ingenious plan to get their daughter to grandma's house. Writers learn how to build a narrative that doesn't spill all the beans too early in the story.
Aunt Flossie's Hats (and Crab Cakes Later) by Elizabeth Fitzgerald Howard shares the tales of two sisters who spend Sunday afternoons with their great-aunt. It encourages writers to think about simple days as wonderful memories worth writing about.
Baseball Saved Us by Ken Mochizuki recounts a touching memoir of overcoming the confines of a Japanese-American internment camp after the bombing of Pearl Harbor. This book is especially good at showing writers how to convey emotion without being overly explicit.
Chicken Sunday by Patricia Polacco shares a tale about friendship, family, and a misunderstanding. It's a good book to teach how weaving a tale of the actual events makes a story much more interesting than just citing the events in order.
The Babe & I by David Adler tells a story from the Depression era from the perspective of a little boy whose father has lost his job. The main event of meeting Babe Ruth is actually only part of a much bigger story of perseverance. I love using this book to teach the importance of building a background for the audience.
Roxaboxen by Barbara Cooney makes a simple summer childhood memory come to life. It's often hard for young writers to write more than a paragraph or two about simple memories. I use this book and its use of descriptive language to help remedy that problem.
Goin' Someplace Special
Apples to Oregon: Being the (Slightly) True Narrative of How a Brave Pioneer Father Brought Apples, Peaches, Pears, Plums, Grapes, and Cherries (and Children) Across the Plains
Picnic at Mudsock Meadow
Goin' Someplace Special by Jerry Pinckney is a precious story of a little girl's bravery during the time when segregation was normal in America. You can almost feel her fear and then her triumph as you read along. It's a great example to teach students to share feelings.
Apples to Oregon: Being the (Slightly) True Narrative of How a Brave Pioneer Father Brought Apples, Peaches, Pears, Plums, Grapes, and Cherries (and Children) Across the Plains by Deborah Hopkinson takes a regular narrative about pioneer life and turns it into a tall tale. I not only use this book to teach tall tales but also the use of humor, too.
Picnic at Mudsock Meadow by Patricia Polacco recounts the happenings of a Halloween picnic and the bravery of one little boy who faces the ghost of Titus Dimworthy. (You may have noticed that I've included more than one book by Patricia Polacco on this list. Generally, all her picture books are amazing.) This book builds great characters, which is the mini-lesson I usually teach.
How to Use Picture Books to Teach Narrative Writing
There are several ways to use picture books to teach narratives, but essentially all of them follow the same general principles:
Read one picture book with your student(s).
Discuss the particular element(s) of writing you want to highlight.
Reread a few sections that demonstrate the element(s) well.
Discuss how young writers might use the element(s) in their own writing.
Do a bit of oral storytelling together using the element(s) so creative juices begin to flow.
Begin writing a narrative with a particular focus on the element(s). Remember that writing a good narrative, including revisions and editing, will take several days.
In the end, you have a narrative that has at least grown in the use of the elements you focused on during your mini-lesson. Next time, you can focus on new elements and slowly, but surely, build a writer's toolbox that will last a lifetime!
Do you have any stellar picture books you've found for use in teaching narratives?
Need a little more direction in this method?
I taught a practical class that can help!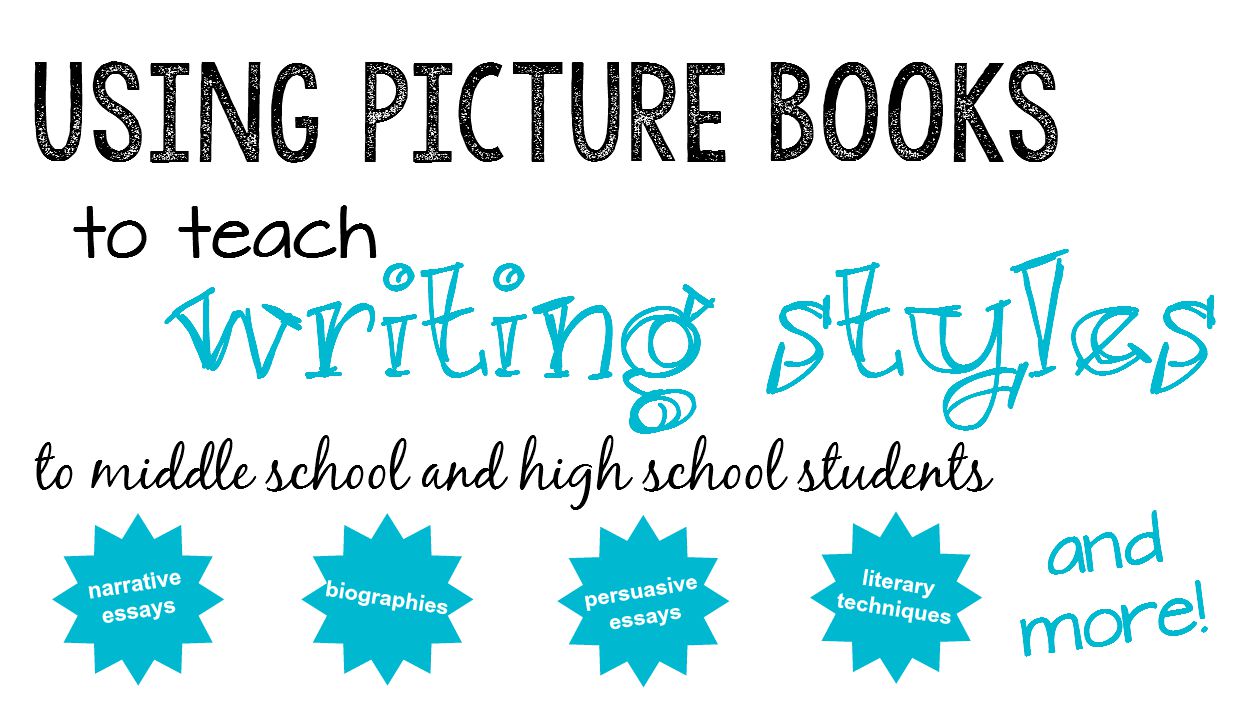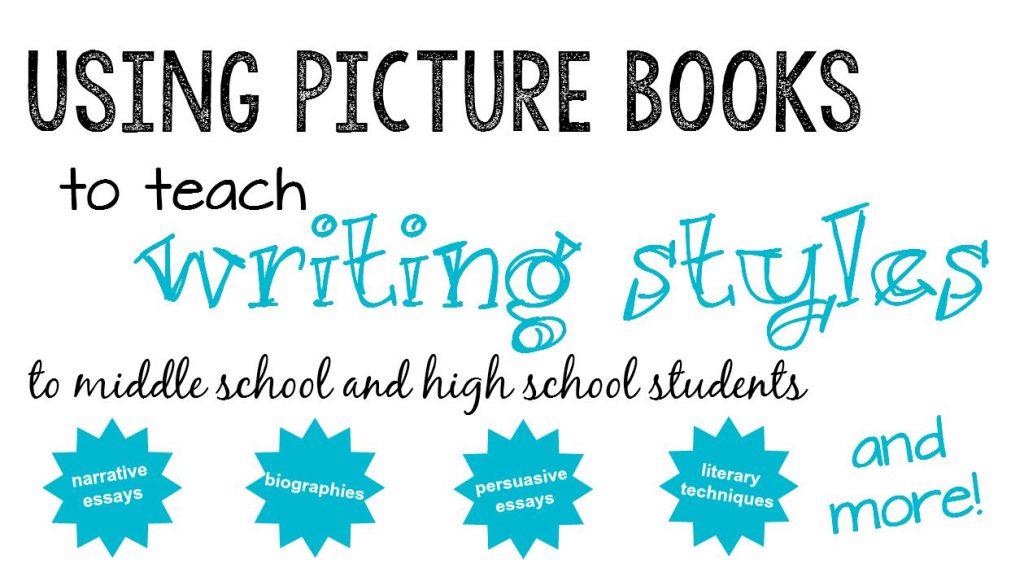 Be sure to check out my other posts about using picture books to teach various forms of writing!
Other Posts You Might Like