10 Reasons I Love The Logic of English
I'm homeschooling my third (and final) child through 3rd grade. My next youngest is in 10th grade. Here's the thing…I'm tired. Tired of all the time it takes to plan the piecemeal approach to teaching language arts, that is.
I used to teach in the public school system and in homeschooling my older two children I searched and searched for a thorough language arts curriculum that was strong in the foundations of phonics, spelling and grammar like I taught in the classroom. Most of the programs I found either required way too much preparation on my part, only offered practice worksheets with no real instruction, lacked severely in their scope and sequence, or left out systematic instruction of foundational rules altogether.
When phonics, spelling and grammar are taught without strong foundations in the elementary years, it's harder to be wonderfully successful in deep reading and fabulous writing in the middle and high school years. It's comparable to trying to have great success in algebra and calculus without ever understanding the mechanics of addition, subtraction, multiplication and division.
Over the years, I found myself jumping from one curriculum to another – and piecing bits of this with parts of that to try to build one complete, solid language arts program. While I think I did a decent job, I simply don't want to do that anymore.
So began last summer's search for the be all and end all of foundational language arts curriculum to set my son off on the right foot without all the effort on my part.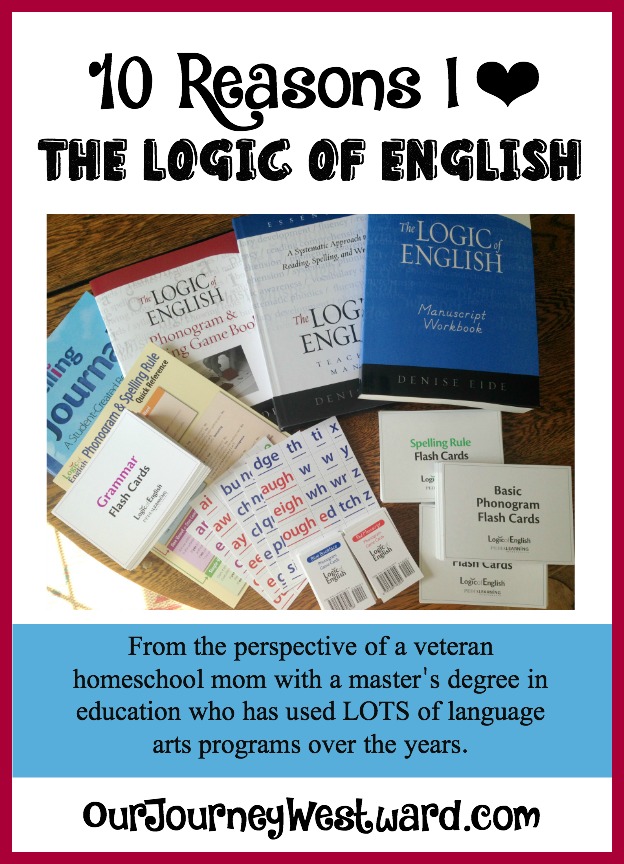 I received the Essentials Program of The Logic of English free in exchange for this review. As always, all opinions are completely my own. Affiliate links are included in this post.
The Logic of English Was The Answer
Honestly, I had never even heard of The Logic of English before. Probably because it's not a program mentioned much in Charlotte Mason circles. But after seeing the tour through a lesson and going through several samples, I was absolutely sure this is exactly what I've wanted and needed all these years.
Eli and I have been working through The Logic of English Essentials Program for an entire year now and we are as pleased as punch. Both of us. And here's why…
10 Reasons I ❤ The Logic of English
(Even in a Charlotte Mason Homeschool)
1. It builds foundations.
The Essentials Program is meant for anyone seven or older who needs a thorough introduction to the basic rules of phonics, spelling, and grammar. As long as the student is already reading and has the basics of handwriting down, the program will work beautifully to teach how the English language works. (For those who aren't yet reading, there is a Foundations Program you may prefer instead.)
The program not only covers phonics, spelling, and grammar, but vocabulary development, handwriting and writing, too.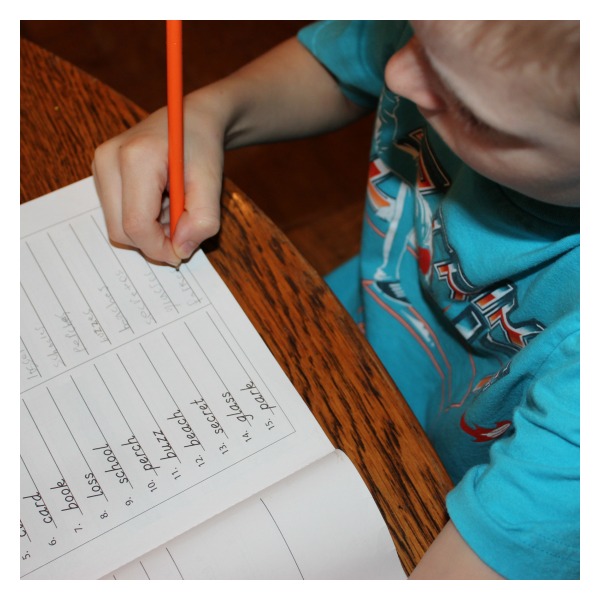 2. The lessons are systematic.
As each lesson progresses to the next, new rules are added to the previous rules. The new rules make sense because they flow right from what has previously been learned into the next practical step. For instance, after learning three phonograms that make the long a sound (a, ai, ay) and using those in various activities, the next lesson teaches rules about where you typically find each of those phonograms within words (end of a syllable, middle of a word, end of a word – respectively.)
This kind of systematic teaching slowly builds knowledge that grows into a strong and broad understanding before long. This same type of systematic building takes place in each and every part of this book – for phonics, spelling, grammar, and writing!
3. There is consistent review.
Just like it's important to review math facts to keep your skills up, it's important to review language arts "facts," too. The review built into The Logic of English isn't monotonous, though, because it's woven throughout. Your child may review rule flashcards one day, but write words that follow those rules in sentences the next day. He might play bingo with the rules another day, then demonstrate an understanding of the rules during dictation yet another day.
I've been SO pleased to see how this consistent, unobtrusive practice has translated to Eli's everyday work.
4. Rules are memorized.
The smooth, card stock flashcards are organized by phonograms, spelling rules, and grammar rules. As you learn a new rule, you add that flashcard to the pile of other rules you've already learned. At least once per lesson (see how lessons are organized below), you will review each of the three sets. In turn, children quickly begin to memorize the rules.
Classical homeschoolers have long known the benefits of memory work. Charlotte Mason homeschoolers have, too, it's just that we tend to memorize poetry and Bible verses before spelling and grammar rules. There is good to come from all memory work!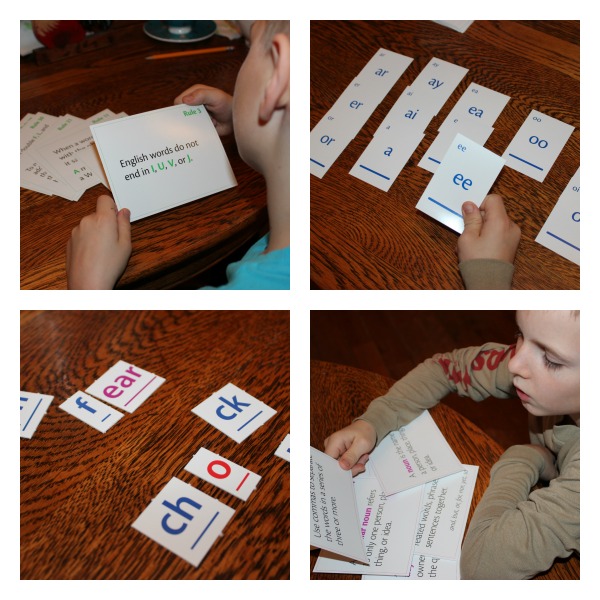 5. The lessons are short.
There are only 30 lessons in the entire set of books. However, I'm estimating we will be at least a couple of school years, maybe more, getting through the entire curriculum on all three levels. You see, each lesson is broken into three main parts: Phonograms, Spelling, and Grammar. Within each of those parts, there are anywhere from a few to several mini-lessons. (Don't worry – it's all clearly laid out and scripted for you!)
Each mini-lesson requires just a bit of teaching and at least a few short activities. The activities range from workbook activities to flashcard drills to simple games. (By the way, necessary game pieces are included. Don't picture mounds and mounds of game pieces to sort through, though. The extras are wonderful, but minimal.)
Each activity only lasts a few minutes, so we can work on several in one day. However, the entire day's lessons only take us 20-25 minutes. (Eli's reading time is not included in this. That's an additional 20-30 minutes – and not included in The Logic of English Essentials Program.)
While we may only focus on phonogram mini-lessons for a couple of days, the activities often integrate all the language arts. For example, when learning about the sounds of long a (a, ai, ay), the activities will likely have us working on spelling, grammar, writing AND handwriting at some point. If not that day, the next for sure.
Once we get through all 30 lessons on level 1, we will start back at the beginning for another round of lessons on a higher level. That sounds monotonous, but it solidifies the spelling and grammar understanding as your children dive into deeper and harder work the 2nd time through. And then once more for level 3 of the curriculum.
Believe me when I say that your children won't have everything committed to memory the first time through. This is an extremely thorough curriculum that builds upon itself each new time through. While some of the scope and sequence of the lessons is the same, the skills learned grow by leaps and bounds with each new level. (Plus, that means you have curriculum that lasts 2-3 years, depending on how quickly you move through it!)
6. The lessons don't waste our time.
My time is precious and so is Eli's. We have way more to do in our day than work on pages and pages of language arts worksheets. I love that ALL the activities are short and sweet. Because there is so much meaningful review built into the program, there really is no need for more than a few exercises to "get it."
7. There are plenty of options to meets various learning styles.
Just because the lessons are short, doesn't mean the program moves too fast before children have a chance to pick up the new concepts. Besides the consistent review I've already spoken about, there are plenty of additional practice activities suggested when a certain concept doesn't stick right away.
There is enough visual, auditory, hands-on, and written stimuli in this curriculum to meet just about every learning style. While not every activity will meet every learning style, there is always an option for extra practice that will.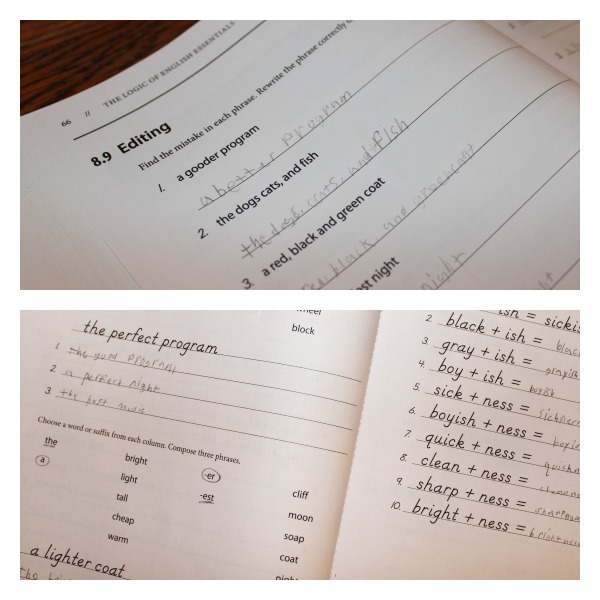 8. We aren't working on the same thing every day.
Praise the Lord. I'm mean, seriously, who wants to do the same thing over and over again every day? Around here we get SO bored with curriculum that follows the same model day in and day out. With The Logic of English, you will build certain habits over time, but no two days in a week ever look the same.
9. Everything I need is included – with clear directions.
With the complete Essentials Program, you get:
(4) hardbound teacher's guides with directions that are laid out very clearly. You know what to say, you know what flashcards you need, and you know the activities to complete.
(4) softbound student workbooks, which are also laid out very clearly with simple directions for your child to follow.
Sets of flashcards for phonograms, spelling rules, and grammar rules.
Game cards and tiles for various games suggested for hands-on learning.
A game book that includes simple directions for the various games suggested.
A quick-reference chart to the phonograms and spelling rules.
A spelling journal to collect a list of commonly misspelled words.
10. We can go at our own pace.
While the teacher's guide lays out the lessons wonderfully, there is no requirement about how much to teach in one day. And that's a GOOD thing! We go until I see that Eli has soaked in about all he can handle for a day. (Remember, that's in the neighborhood of 20 minutes.) Then, I add a pencil mark in the teacher's guide to remind me where we stopped and we pick up there again the next day.
It's very freeing to not feel like we're behind if we don't finish x, y and z! In this manner, it usually takes us between one and two weeks to finish an entire lesson. (Remember, there are 30 lessons that each include several mini-lessons. You go through those 30 lessons 3 times each on levels 1, 2, and 3 – meaning there are 90 lessons total.)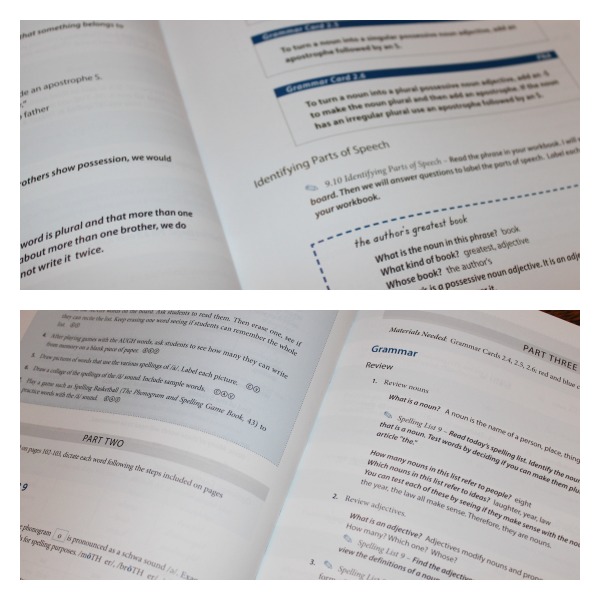 And, Charlotte Mason Fits in Where?
Really, The Logic of English fits in with the Charlotte Mason style more that you might imagine. Short lessons, copywork, dictation, and memory work are integral to the program. The copywork, dictation and memory work might not be quite as lengthy as some of you use with your students already, but you could easily add a bit more of each of these to your week if you like.
Narration and reading are the only two things strictly not covered in the Essentials Program. In our home, we tend to complete narration after history or science readings anyway, so it hasn't been a problem for us. As for reading, Eli reads (either silently or aloud) from living literature for 20-30 minutes each day. (Often, these books go along with our history and science lessons, too.)
Many of you know I'm not a huge proponent of early grammar instruction and you may think I'm stepping on my own advice by using this curriculum. That's not true. I do believe in grammar instruction at least once between 3rd-5th grades, then once (very thoroughly) in middle school and once (very thoroughly) in high school. If Eli and I complete grammar now with The Logic of English, we shouldn't need to pick it up again until early middle school using another favorite, Easy Grammar.
Now, I'd love to hear your thoughts! Have you used The Logic of English? Do you have a favorite thorough language arts program?
Other products you may like:
Other posts you may like: