The Best Art Supplies for Kids
Having a home full of the best art supplies for kids will help foster your children's ability to express themselves. Art keeps them busy doing something far more constructive than using electronics or watching TV. And that comes in handy… especially during the winter months.
Being cooped up inside can make everyone go a little bonkers. Keeping a good stash of art supplies on hand gives children a chance to create art through several different modes. Whether drawing, painting, or building foam pictures, almost every kiddo can find something that invites them to create art!
As you know, I love giving my children educational gifts. Art supplies make great stocking stuffers for Christmas, basket fillers for Easter, or inexpensive gifts as rewards for special achievements!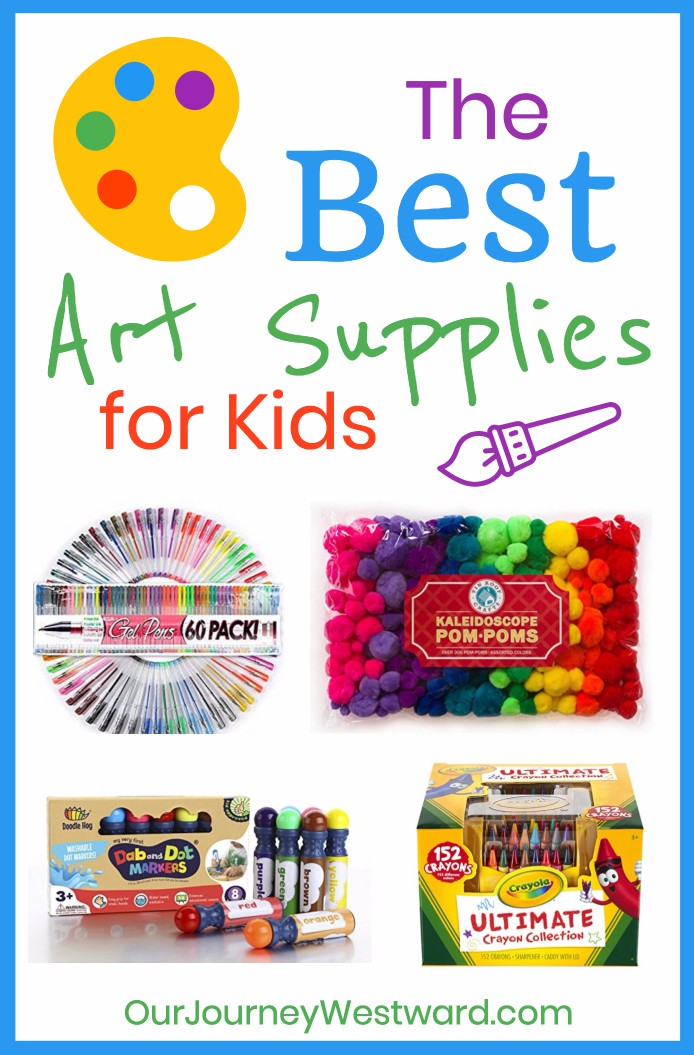 This post contains affiliate links.
The Best Art Supplies for Kids
It's always been important to me that art supplies are readily available in our home. I want my children to feel free to go for it whenever creativity strikes. So, I keep all our supplies together on a couple of bookshelves in the schoolroom and the kids have full access.
Of course, that's age-appropriate free access. When the kiddos were little, I only placed safe and relatively easy-to-clean supplies on the shelves. But since art can often be messy, we've always had an art table where creativity can get a little wild without too much worry.
Just what supplies have graced our art shelves over the years? Oh, so many!
Drawing Supplies
Markers, crayons, chalks, pens, and pencils are staples for the art supply stash. Whether for sketching in a nature notebook or creating a masterpiece, we've kept variations of these items on hand for years.
Paint Supplies
We used to do A LOT of painting in our house. So much so that I even allowed the kids to paint on the walls… as long as they were covered with craft paper. We also had an art easel on hand from early on. You can use a variety of different products to match the skill level of your kiddos. For example, instead of bringing out the paint brushes for your toddlers and preschoolers, use Dab & Dot Paint Markers for a cleaner painting experience.
Papers
We've always had a large variety of papers that have not only come in handy for arts and crafts but for project-based learning, too. Having all these different papers was an organizing nightmare at first. Stackable letter organizers helped a ton, but this colorful rolling cart made me even happier.
Sticky Supplies
Lots of projects need a little stickiness!
Cornerstone Art Supplies
The supplies listed below include fun items that can spark the imagination. Have you ever given your kids a few pipe cleaners, wiggly eyes, and a glue stick only to discover they are capable of creating an entire Dr. Seuss-style zoo?
Fun Art Kits
Art kits and toys can be an inexpensive way to provide creative inspiration and artistic training. We love giving these as gifts, too!
Did I miss anything? Share your must-haves in the comments!
Art Classes
I thought you might like to take a peek at Eli's latest artwork. Having lots of experience with art has prompted him to ask for professional art lessons this school year. These are three of his projects thus far!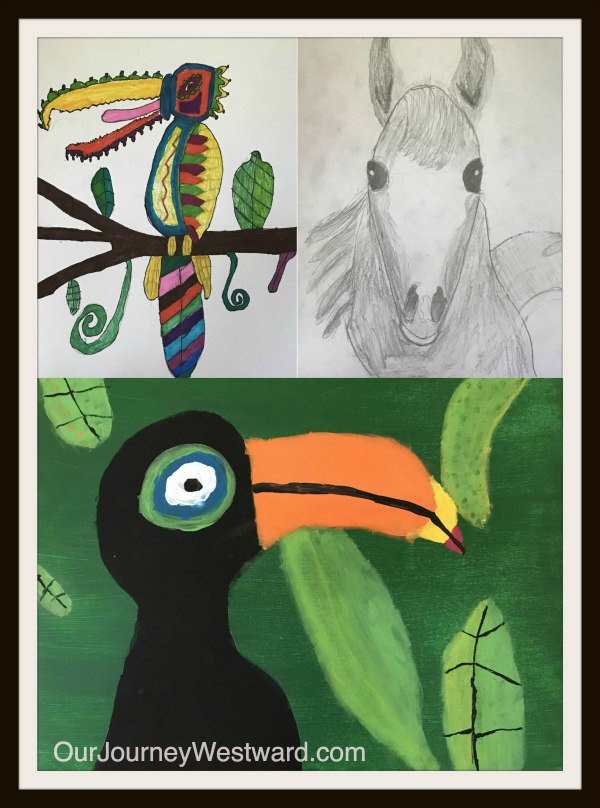 Other posts you might like: