Welcome to Day 2 of my 10 Days of… series on Teaching Values in your homeschool!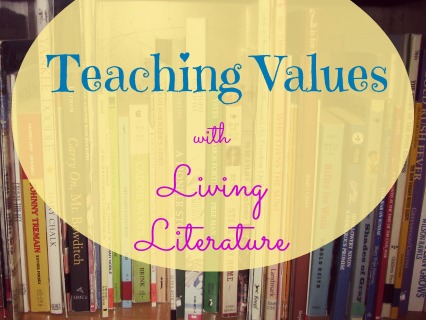 This post contains affiliate links.
Living Literature
Today I'm writing about one of my very favorite topics – living literature! There are SO many ways you can use literature to encourage good values in your children – and teach about the consequences of poor values as played out in the lives of book characters. Whether you're teaching preschoolers or high school students, living literature is a gold mine for values training.
Yesterday, I mentioned the Fruits of the Spirit as defined in Galatians 5:22-23 as our "go-to" list of values for training our children. And, while that is certainly the list I focus on most in my home, there are plenty of other values which are important to instill in our children – gratefulness, truthfulness, hospitality, thriftiness, punctuality, attentiveness and many more.
You can find a wonderful list of virtues along with an amazing set of Bible and teaching ideas for each virtue at Home Life Ministries. Don't miss this website! Also, while I'm not entirely sure of the content of The Virtues Project website, they have three printable posters of virtues you might be interested in.
Considering all the possible values to reinforce, it would be nearly impossible for me or anyone else to give you a comprehensive list of the best books to use for each and every value. While some websites and books set out to get you started on the practice of teaching values with literature (see below), my intent is to show you how I take just about any book we read and use it for at least some character training.
A Sample Lesson
Let's use just any ol' book you might find at the library…The Three Little Pigs. You know the story, right? After reading the story with my children (if I was intending to use it as for part of a values lesson and not just sweet reading time), I would start asking open ended questions. Typically, I would only focus on one topic per book per day. In other words, I wouldn't try to cover every single character flaw at one time.
Two possible character discussions:
Topic/character flaw = being mean
What do you think about the wolf? Why do you think he was called the 'Big Bad Wolf'? I wonder what prompted the wolf to be so mean? You think he was just hungry? Okay, what could the pigs have done to help him? When people are mean, should we try to help them? What if they don't want to be helped by us? Is there ever a time when we should run away from people instead of helping them? (Stranger talk!)
Topic/character flaw = laziness
Tell me what you think about each of the houses that the pigs made. Whose house stood strong against the wolf? Why? What did the other two pigs want to do rather than build strong houses? Do you think they were prepared for the troubles that came their way? What other troubles might they not have been prepared for? What does God tell us about being lazy in the Bible? Is there a time to play and relax?
There are obviously other discussions you could have based simply on this little picture book, too! And, just about any book you find will lend itself to character building discussions!
One other thing I might mention… When I'm preparing for a character talk (or when one comes out of nowhere), I'll browse through my copy of For Instruction in Righteousness. It prepares me with Bible verses, Bible stories and ideas to bring home the point on a huge number of "character flaws". It's been one of the most used book in my home! In fact, I'm planning to write a whole post on how I use this book as part of our values training later in this 10 Days series.
Some Great Resources
The following websites offer wonderful collections of character building literature:
Grace and Truth Books Character Building Literature List
Below are some book series which we have found to be fantastic for character building:
Any Missionary Story – Some of our favorites include Bruchko, The Hiding Place, A Chance to Die, George Muller: The Guardian of Bristol's Orphans, and Gladys Aylward: The Adventure of a Lifetime.
Miller Stories (from a conservative, Mennonite viewpoint, but great morals)
Pearables (occasionally legalistic, but many good discussion points)
Bob Schultz Books – Boyhood and Beyond: Practical Wisdom for Becoming a Man and Created for Work: Practical Insights for Young Men
You might find this large selection of Aesop's Fables helpful since every story has an obvious moral to discuss with your children.
(Short fables like these are good for assignments, too, where you ask your child to develop her own moral or write/act out a new version where the character makes better decisions.)
Online Collection of Aesop's Fables
The books in the widget below contain either book lists of great literature (with a moral) for all ages, or are collections themselves of literature selections.
I hope you'll join me tomorrow as we discuss teaching values through service and leadership opportunities!
Be sure to visit these brilliant ladies during our 10 days adventure between November 7th-18th!

10 days of Character Studies | Confessions of a Homeschooler
10 days of Christmas Countdown Ideas | Milk & Cookies
10 days of Creative Writing | Chocolate on My Cranium
10 days of Crockpot Meals | The Happy Housewife
10 Days to a Godly Marriage | Women Living Well
10 Days of Growing Leaders | Mom's Mustard Seeds
10 Days of Homeschooling High School | Weird Unsocialized Homeschoolers
10 days of I Wish I Had Known | Fruit in Season
10 days of Keeping Your Marbles | The Tie That Binds Us
10 days of Kid-friendly Food | Planner Perfect
10 Days of Language Arts Lesson Planning | Jimmie's Collage
10 Days of Learning Apps | Daze of Adventure
10 Days of a Mason Jar Christmas | Cajun Joie de Vivre
10 Days of More JESUS in Christmas | Preschoolers and Peace
10 Days to a Peaceful Home | Raising Arrows
10 Days of Raising a Life-Long-Learner | Bright Ideas Press
10 days of Science with Math | Blog, She Wrote
10 days of Teaching Values | Our Journey Westward
10 days of Winning your Child's Heart | I Take Joy