An Abstract Art and Living Math Activity Inspired by Kandinsky
Art and living math make a fantastic duo. Anytime you combine the creativity of art with the logical side of nature, you've got a powerful activity connecting both sides of the brain for meaningful learning.
This particular lesson brings art and math together through a fun project inspired by the famous abstract artist, Wassily Kandinsky.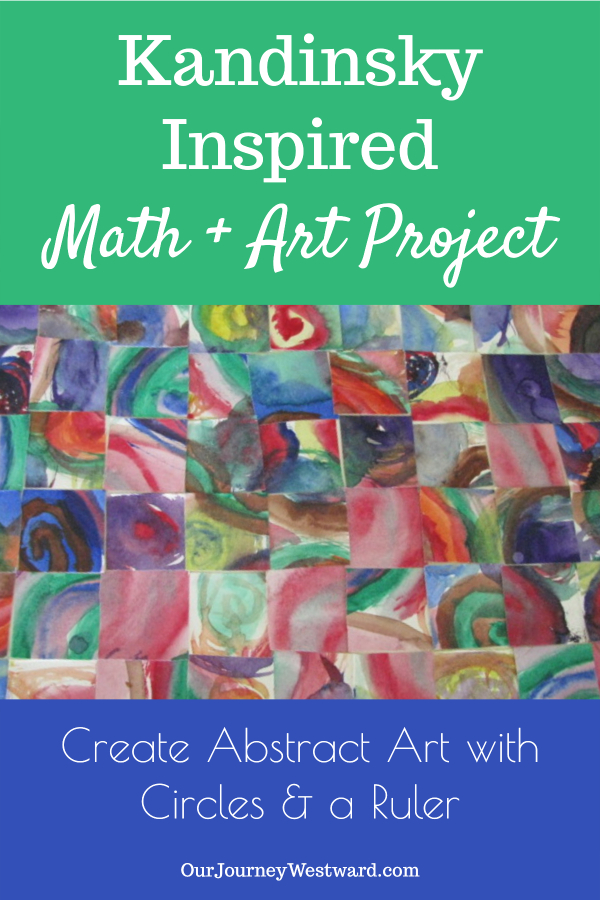 This post contains affiliate links.
Who was Wassily Kandinsky
Wassily Kandinsky is known as a pioneer of abstract art. Abstract art doesn't look like real life. Instead, the style uses bold lines, shapes, and colors to sometimes oddly portray real images – or no image at all.
Abstract artists often paint in ways to try to express their feelings or emotions. The painting of feelings and emotions is known as expressionism. Kandinsky often attempted to paint his emotions. The resulting artwork was both abstract and expressive, which meant it would fit into a special category called abstract expressionism.
Kandinsky was born in Russia in 1866 and died in France in 1944. He didn't actually begin a serious study of art until he was 30! Before that, he attended law school and then became a professor of law.
Kandinsky and Living Math
In so much of Kandinsky's art, you will see math! He often used shapes – especially circles and squares – within his works. Sometimes the shapes are organized in patterns like in the painting Color Study: Squares with Concentric Circles. More often, the shapes are rather unorganized like in the painting Composition VIII.
His geometric style isn't all that difficult for children to reproduce! In fact, I would suggest visiting the Wassily Kandinsky online gallery and choosing one or two to try.
Abstract Art and Living Math Activity
Using a theme of abstract circles along with measurement, we're going to create a Kandinsky-inspired, multi-media mosaic today!
Supplies:
2 sheets of white card stock per student
watercolors
watercolor paint brush
water
paper towel
ruler
scissors
glue stick
Step 1
Use the watercolors to paint circles on one sheet of card stock. You may use any design you like. For instance, you can make swirls as you see in the picture below or concentric circles that start as a dot and grow layer by layer.
No matter what type of circles you create, cover the entire paper and use several colors within each circle.
(You will notice that we were out of card stock and used manilla file folders instead. I don't recommend that, but sometimes you do what you have to do.)
Step 2
Let the watercolors dry completely.
Step 3
On the back of the dried artwork, use a ruler to make a grid of one inch blocks. Be precise because this is a math activity as much as it is an art activity.
Step 4
Cut the blocks apart and mix the pieces up.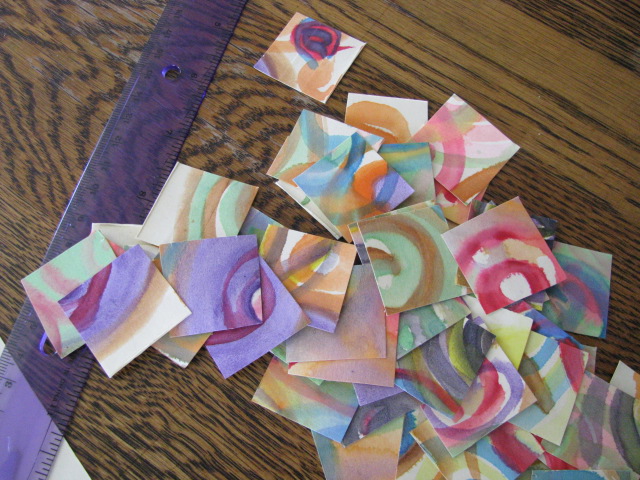 Step 5
Lay the blocks randomly on the other piece of card stock to create an abstract picture.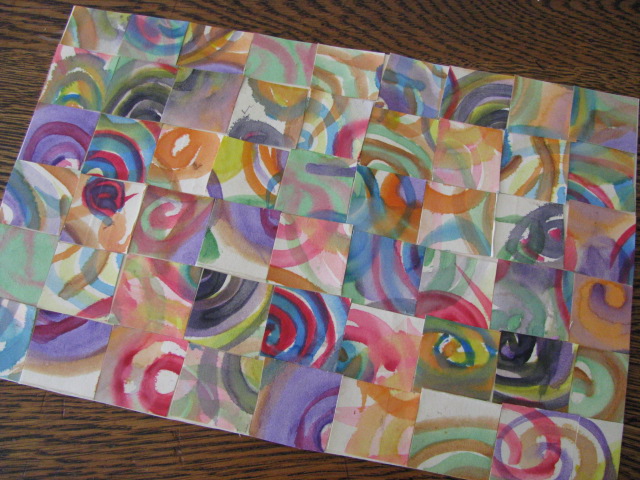 Step 6
Glue the pieces down securely.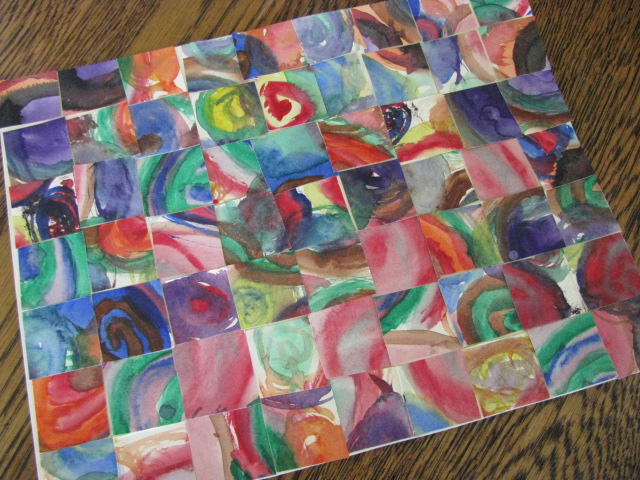 And, there you have it – a beautiful abstract, multi-media, Kandinsky-inspired art and math project!
More Art and Math Ideas
If you'd love more inspiration for activities that connect art and math, check out my friend Karyn Tripp's book, Math Art and Drawing Games for Kids: 40+ Fun Art Projects to Build Amazing Math Skills!
Math Art and Drawing Games for Kids: 40+ Fun Art Projects to Build Amazing Math Skills
Karyn has gathered a bunch of art and math lessons around the internet that you might like to peruse, too!
Kandinsky Picture Books and More
These picture books are perfect for any study of abstract art.
The Noisy Paint Box: The Colors and Sounds of Kandinsky's Abstract Art
Kandinsky (Basic Art Series 2.0)
Swatch: The Girl Who Loved Color
Georgia O'Keeffe (Revised Edition) (Getting to Know the World's Greatest Artists)
Through Georgia's Eyes
The Cat and the Bird: A Children's Book Inspired by Paul Klee (Children's Books Inspired by Famous Artworks)
Paul Klee (Getting to Know the World's Greatest Artists)
Action Jackson
Jackson Pollock (Getting to Know the World's Greatest Artists)
Other Artist Studies
We've completed a bunch of artist studies, picture studies, and art projects over the years. You can see the list of fun we've had with fourteen artist studies to find biographies, artworks, project ideas, and great books to read.

Art Supplies
Do you have a stash of basic art supplies so that art can happen easily in your homeschool? Here's a list of my favorite art supplies to keep on hand!
Other Amazing Resources: