Welcome back to my 10 Days of… Series on Teaching Values in your homeschool!  One busy week is coming to a close, but one more week of practical advice still remains!  Today I'm writing about instilling values in your children through heart-felt discipline.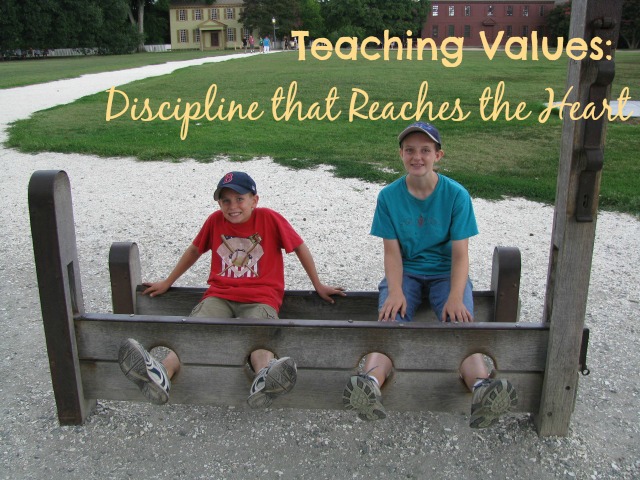 This post contains affiliate links.
I'll be the first to admit that heartfelt discipline is not my strongest parenting skill. It's way easier to demand a child stop doing something "because I said so" than it is to take time to reach the heart of why our family doesn't act a certain way. It's also easier to send everyone to timeout (for my sanity) than it is to stop everything for a family meeting to discuss what's going on and what we can do to fix it.
Those things are easier, but they don't ever build anything more in my children than thoughts that I'm too busy and too frustrated to care about their problems.
You know, I just said they are easier, but in reality they aren't at all easier. They are easier for the moment – until I have to deal with the same behavior issue 20 more times this week (or this day!) Every single time I've taken the time to get to the heart of a discipline issue right away, it's been nipped in the bud. In other words, there is no time for my children to form bad habits from my lazy discipline.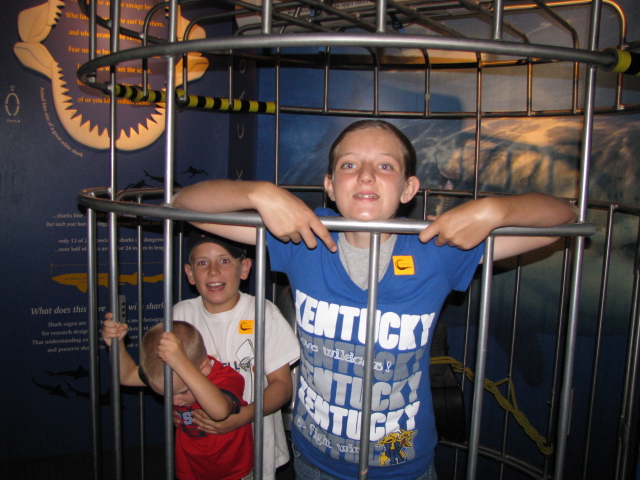 When I stop and get to the root of the behavior, I have the awesome opportunity to mold their hearts, minds and souls with values that are important to our family. I get to talk about what God expects from us and point them to the Word. I let them know that I really do care them!
And, usually, when I'm having a heart to heart discussion about behavior, I'm doing it with a much better attitude. This kind of discipline becomes my privilege rather than my frustration. It becomes a teaching opportunity rather than everyone waiting for the warts to start growing on my witch's nose.
Just what do I do to get to the heart of the behavior? Different situations mean different approaches, but this is my general plan of action.
Get eye level with the child(ren) and ask what's going on?
When I'm eye level, there is trust that I'm there to help rather than harshly discipline.
Talk about behavior that would have been better to choose in the same situation.
I usually ask, "What did you do that we need to talk about?" and "What could you have done differently?"
Talk about what God tells us in His Word about the positive behavior vs. the negative behavior.
If I don't know off the top of my head what the Bible says, there are a couple of resources I use – For Instruction in Righteousness and Doorposts. (See below.)
Decide what needs to be done to fix the situation.
Sometimes, a simple apology is in order. Other times a consequence is in order. I try to match the consequence with the offense, at the same time allowing my older children to help decide the consequence. (See a few examples below.)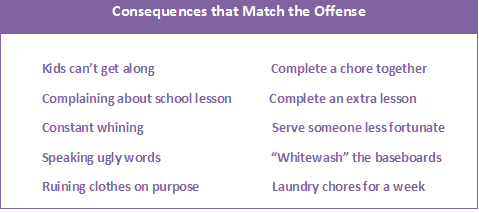 Two tried and true (and highly recommended) resources that have helped me understand the concept of discipline that reaches the heart are:
Two resources that have helped me bring the Word into my discipline are:
On Monday, I'll be sharing the nitty-gritty of how I use For Instruction in Righteousness in our home. This is such a wonderful book!
You might like to read about our Peace Place, too.
Like I said, I have a lot of growing room in this area! I'll be praying about and making a better effort to reach the heart of discipline in the days and weeks to come. How about you?
Tomorrow's post…Teaching Values Using For Instruction in Righteousness.
Be sure to visit these fantastic women during the 10 days adventure between November 7th-18th!

10 days of Character Studies | Confessions of a Homeschooler
10 days of Christmas Countdown Ideas | Milk & Cookies
10 days of Creative Writing | Chocolate on My Cranium
10 days of Crockpot Meals | The Happy Housewife
10 Days to a Godly Marriage | Women Living Well
10 Days of Growing Leaders | Mom's Mustard Seeds
10 Days of Homeschooling High School | Weird Unsocialized Homeschoolers
10 days of I Wish I Had Known | Fruit in Season
10 days of Keeping Your Marbles | The Tie That Binds Us
10 days of Kid-friendly Food | Planner Perfect
10 Days of Language Arts Lesson Planning | Jimmie's Collage
10 Days of Learning Apps | Daze of Adventure
10 Days of a Mason Jar Christmas | Cajun Joie de Vivre
10 Days of More JESUS in Christmas | Preschoolers and Peace
10 Days to a Peaceful Home | Raising Arrows
10 Days of Raising a Life-Long-Learner | Bright Ideas Press
10 days of Science with Math | Blog, She Wrote
10 days of Teaching Values | Our Journey Westward
10 days of Winning your Child's Heart | I Take Joy