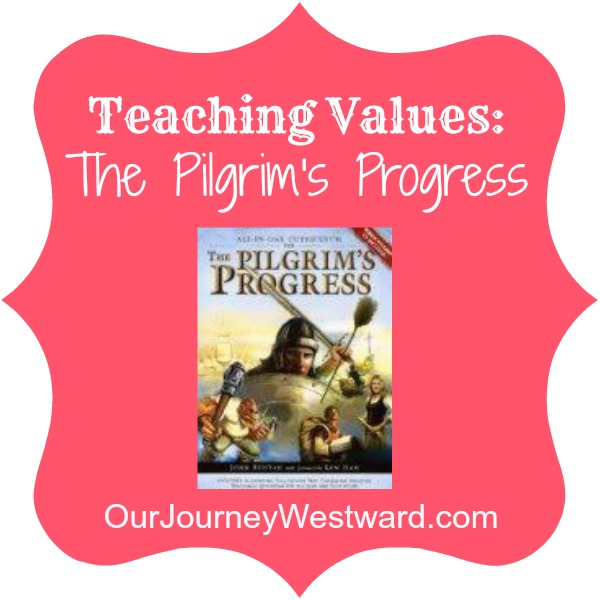 (This post contains affiliate links.)
Welcome back to Day 8 of my Heart of the Matter 10 Days of… series on teaching values in your homeschool! Today's topic is about one of my favorite allegories of all time – The Pilgrim's Progress.
An allegory is a story with a hidden meaning.
In The Pilgrim's Progress, each of the characters in the book represents a different type of person you might meet in this world as you travel through life trying to stay on the path that leads to eternity.
But small is the gate and narrow the road that leads to life, and only a few find it.

Matthew 7:14
One man, Christian, has been urged to leave his town – the City of Destruction – to find the city of salvation, known as Mt. Zion. On his journey, Christian meets many, many people. Some seem to be friends,while others seem to be enemies – many of them wittingly or unwittingly trying to lead Christian off the path that leads to his final destination.
Rich Character Study
From beginning to end, the book offers a fantastic study of "character qualities" through the many varied "characters" you meet. For instance:
Pliable – who starts on the journey with Christian only to get discouraged and go home
Worldly Wiseman – who encourages Christian to give up his silly fascination with religion and stray from his journey
Demas – who tries to tempt Christian away from his journey with worldly wealth
Evangelist – who first brings the Gospel message to Christian and urges him on his journey to Mt. Zion
Shining Ones – who are guardians to Christian throughout his journey
Faithful – a companion of Christian's during the journey
As you can tell, each person's character traits "fits" his or her name. And each character (there are many more) holds a very important place in values training discussions. The wealth of Biblical and character symbolism in The Pilgrim's Progress is unmatched, in my opinion!
I will admit that the original version written by John Bunyan in 1678 is difficult to read in its Old English writing style.  However, there are many other versions on the market.  In many cases, full-texts that have been edited to more modern language.  You can also find abridged, illustrated versions for younger children.  Some of your choices include:
If you're interested in completing a very in-depth study of The Pilgrim's Progress, I would suggest the curriculum below.  It's very workbook-like with questions for each chapter of the book, but also unit-study-like as it ties in Bible, history and more.
I'm a huge fan of Christian allegories and there are many wonderful children's allegories I highly recommend. (Don't think picture books are just for younger children! I read these with middle and high school kids at church all the time as part of fantastic Sunday school lessons!)
Now it's your turn! What Biblical allegories have you read and recommend?
Tomorrow's post…Teaching the Value of Purity.
Be sure to visit these great ladies during the 10 days adventure between November 7th-18th!

10 days of Character Studies | Confessions of a Homeschooler
10 days of Christmas Countdown Ideas | Milk & Cookies
10 days of Creative Writing | Chocolate on My Cranium
10 days of Crockpot Meals | The Happy Housewife
10 Days to a Godly Marriage | Women Living Well
10 Days of Growing Leaders | Mom's Mustard Seeds
10 Days of Homeschooling High School | Weird Unsocialized Homeschoolers
10 days of I Wish I Had Known | Fruit in Season
10 days of Keeping Your Marbles | The Tie That Binds Us
10 days of Kid-friendly Food | Planner Perfect
10 Days of Language Arts Lesson Planning | Jimmie's Collage
10 Days of Learning Apps | Daze of Adventure
10 Days of a Mason Jar Christmas | Cajun Joie de Vivre
10 Days of More JESUS in Christmas | Preschoolers and Peace
10 Days to a Peaceful Home | Raising Arrows
10 Days of Raising a Life-Long-Learner | Bright Ideas Press
10 days of Science with Math | Blog, She Wrote
10 days of Teaching Values | Our Journey Westward
10 days of Winning your Child's Heart | I Take Joy