Unique Art and Craft Supplies for Kids and Teens
Art and craft supplies for kids and teens seem pretty standard, but I'm excited to introduce you to some unique ideas that will help your children create in new ways.
This post contains affiliate links.
It's no secret that I'm a huge fan of incorporating art into my homeschool. Artist studies and museum visits, of course, but also creating our own art. It's one of the best ways to focus on gross and fine motor skills, stretch creativity, find unique forms of expression, and master multiple mediums.
Whether we're sketching a pair of cardinals in our nature journals or creating a masterpiece to hang on the wall, making art together has been a favorite of my kids through the years. The problem-solving skills put to use by a child working with art supplies are second to none. It's wonderful for the brain to create with low consequences, learn how quickly something can deviate from a plan, then practice adapting to changes and frustrations to create something beautiful.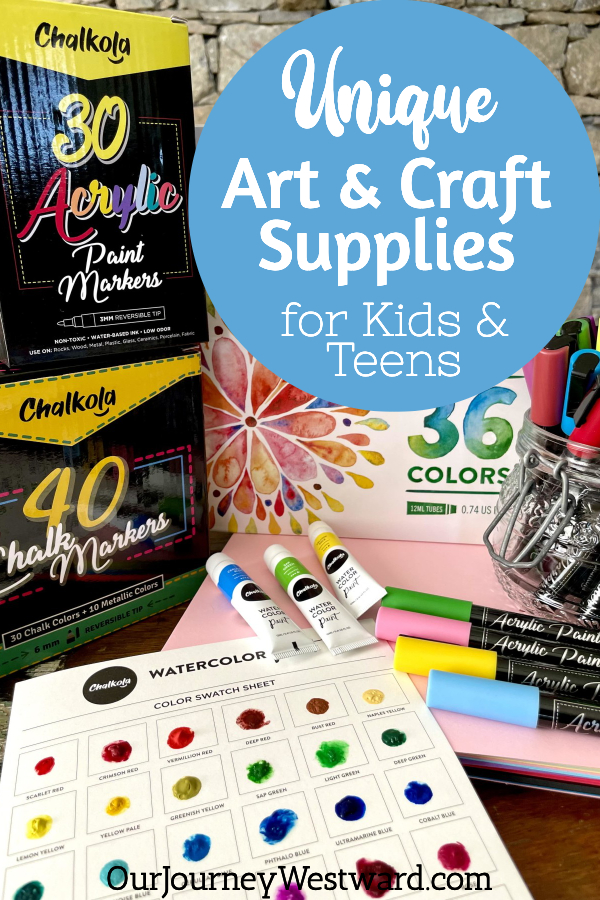 I received free products and compensation from Chalkola for writing this post. All opinions are completely my own.
Unique Art and Craft Supplies for Kids
Artistic pursuits are often only as good as the supplies you have on hand. When working with low-quality paints that don't offer much payoff or pigment, landscapes can't really pop. If you're attempting a watercolor portrait on too-thin paper, you're bound to get more color on the table beneath and a wrinkled canvas full of pilled-paper balls. And we can all nod knowingly at how much of a difference truly high-quality pencils make not just when drawing but also doing something as simple as sharpening them.
Being a lover of good-quality art supplies, I was absolutely thrilled when Chalkola reached out and blessed me with some samples of their products. I was just buzzing with excitement to try these products out, not only because of the impressive quality – especially at such reasonable prices – but because of how unique their offerings are.
Chalkola Chalk Markers
Some of the most versatile items I've enjoyed from Chalkola are their chalk markers. I intend to keep these on hand long past our homeschooling years because you can do so much with them! Filled with chalk paint in place of ink, you use them very much like you would a regular marker. The ink can be used on chalkboards, whiteboards, and even glass surfaces.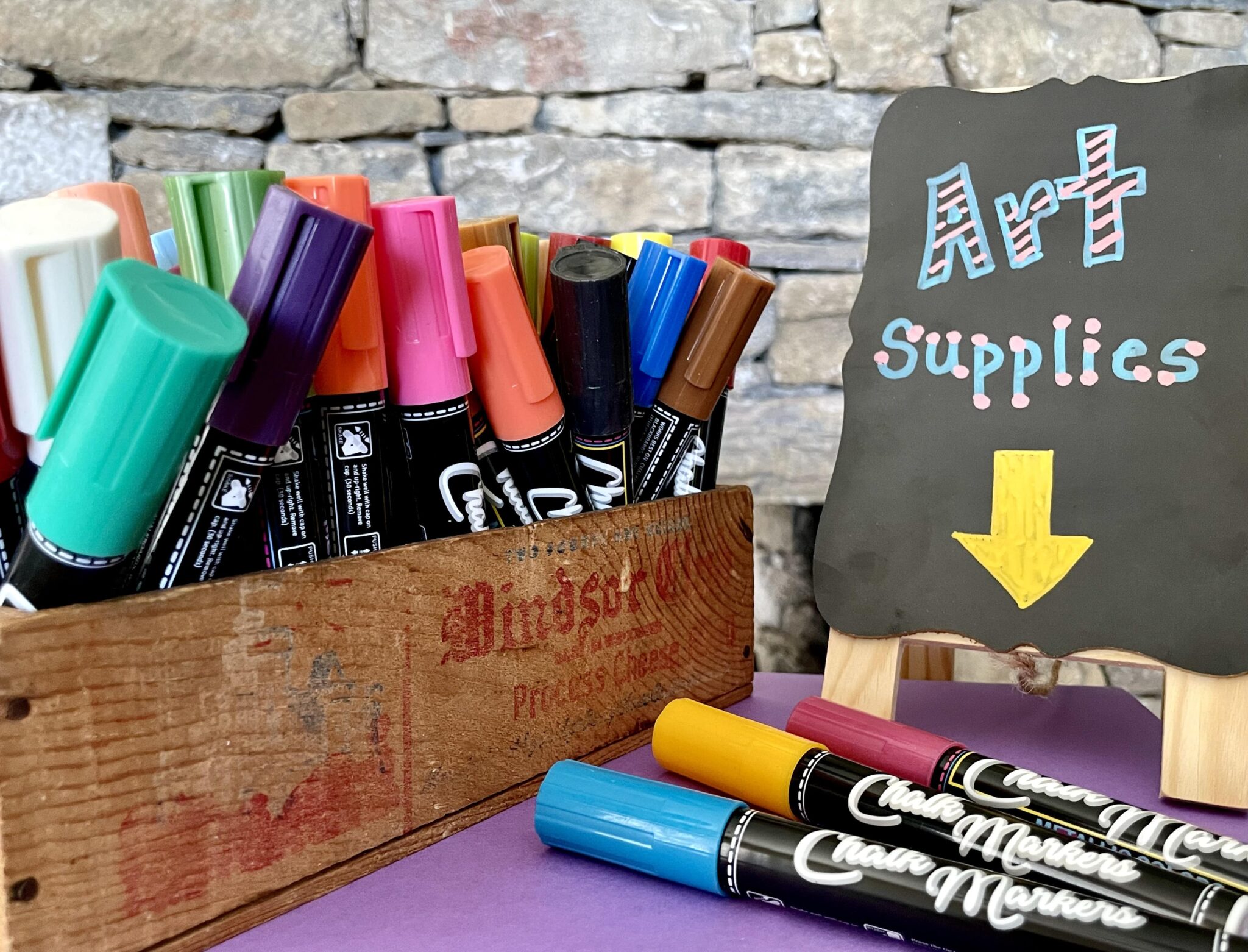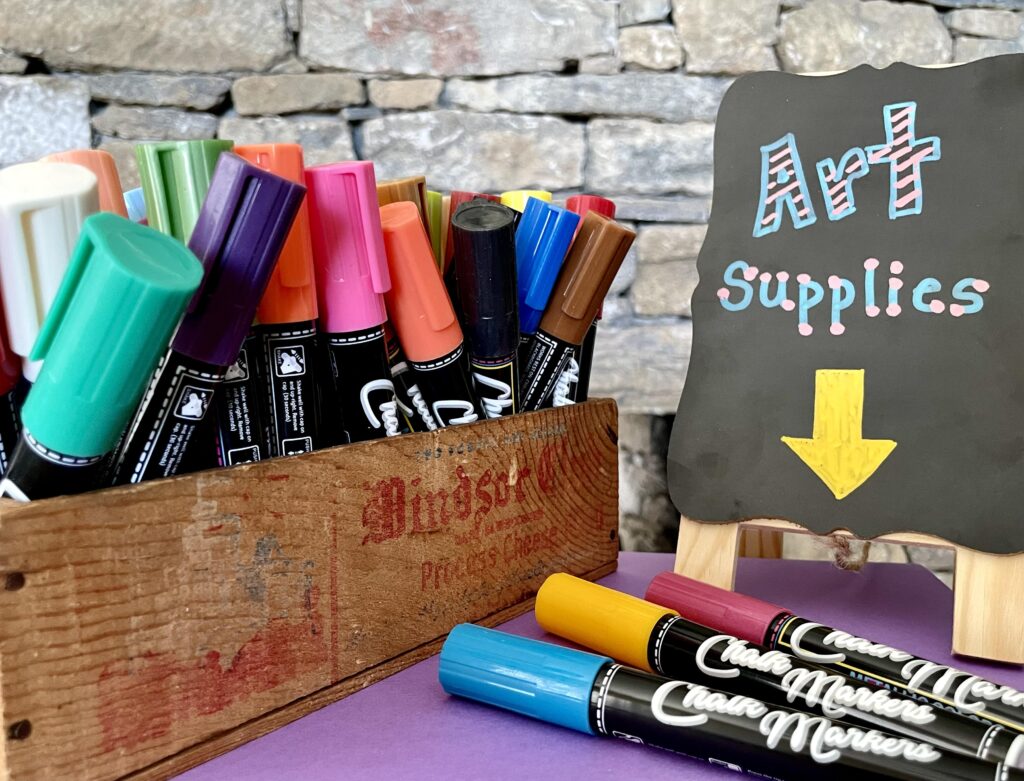 There's no chalk dust to sweep away or dirty my hands (and shirt, let's be honest) – just nice clean ink that combines the ease and cleanliness of markers with the never-ending possibilities of chalk. There are so many beautiful colors to choose from. And best of all, with a little water, they can be erased with ease!
They are perfect for daily lessons, morning time verses, themed homeschool signs, gift tags, whiteboard doodles and games, and, possibly my favorite, holiday window decorations! No more gripping broken chalk bits or dried-out dry erase markers, these pens give you all the fun with none of the mess – and they won't crack in two when your kiddos want to use them!
Chalkola Acrylic Markers
When you need to write or draw on more surfaces or you need permanent options, the acrylic markers are wonderfully fun. Anywhere you might use normal acrylic paint, the acrylic markers can be used with even more ease. Useful on canvas, glass, wood, pottery, paper (including photo paper), metal, concrete, and fabrics, you and your children could find a million reasons to pull these off the shelf.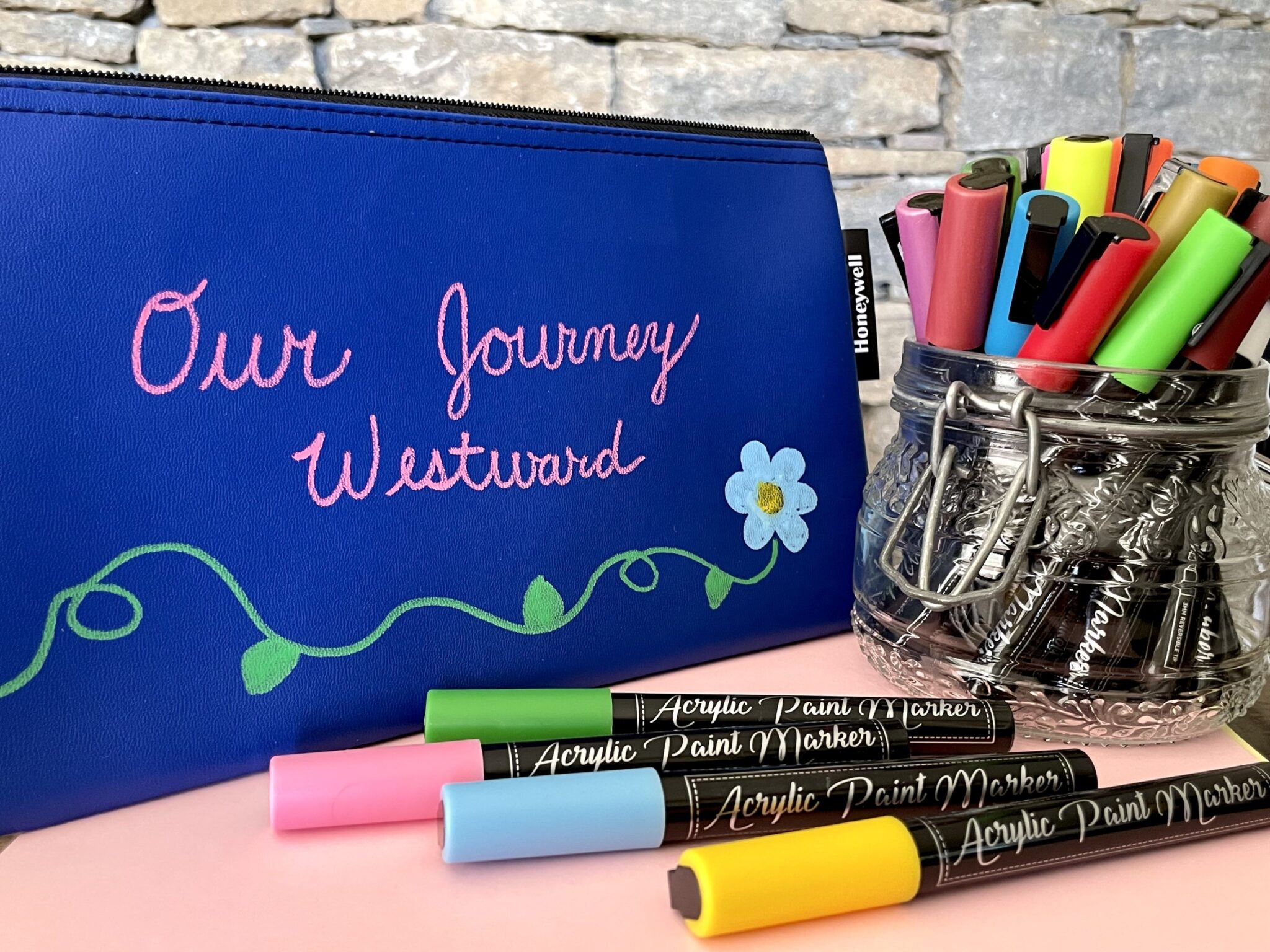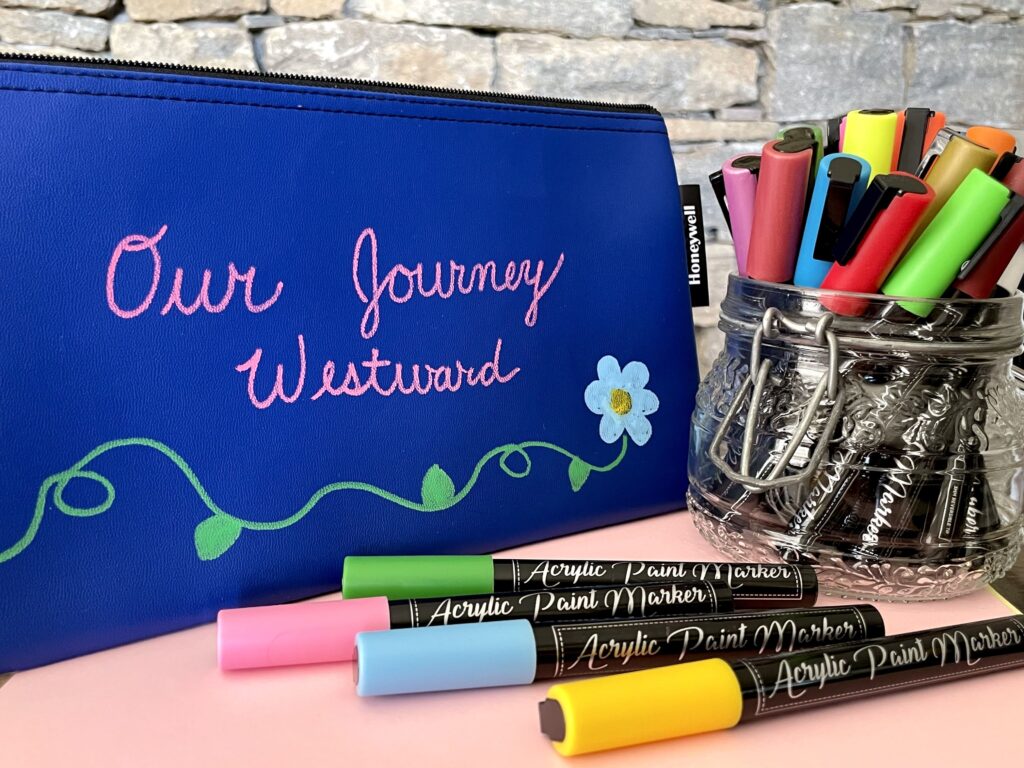 If paintbrushes are difficult for small or shaky hands to grip, try using acrylic markers. They can be used to "paint" a canvas, make signs, decorate rocks, or design a science project board! Because of their ease of use, these markers are perfect for personalizing items with a flick of the wrist, rather than fumbling with various brush sizes, shedding hairs, or needing to continually dip back into a paint pot.
Chalkola Watercolors
One of the most ubiquitous supplies found in the homeschool family's supply closet is a set of watercolors. There's something about their ease and simple beauty that makes watercolors almost romantic, isn't there? The beautiful illustrations, the way colors blend and melt into one another, they're just a very peaceful way to create without worrying about stains or overbearing color schemes.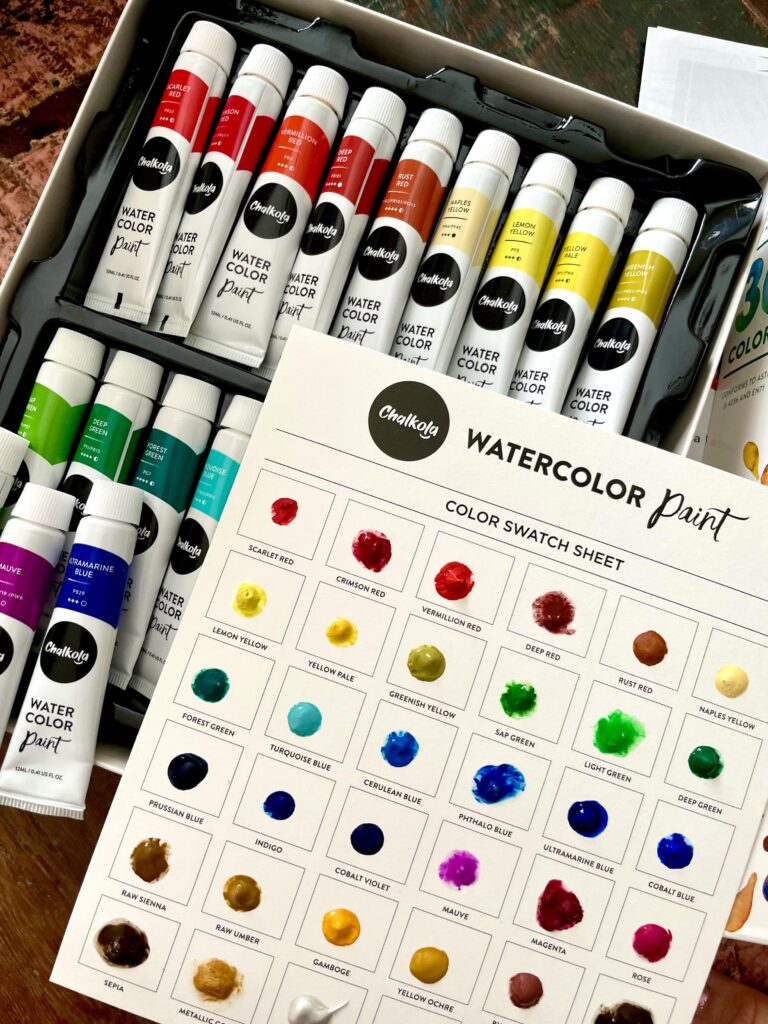 As beloved and universal as watercolors are in the homeschool community, however, they can still use some improvement and Chalkola has done just that. Their watercolor tubes are full of intense colors that are mixable in the same way you could mix any other liquid paints. This is a fantastic upgrade to traditional watercolors.
Just a little squirt goes a long way because the pigments are meant to be mixed with water to make them move on the paper like watercolors should. More water equals softer hues, while less water equals bolder colors. If you have a plastic paint palette, it's so easy to work with the colors individually and to mix them. However, mixing isn't really necessary when you purchase the 36-color kit!
I've also found that the colors are more consistent when creating artwork since the vibrancy and shades aren't impacted by each drop of water from my brush. These are yet another great tool for nature journals, especially for those who really want to take journaling to another level.
As excited as I was to receive and try art supplies from Chalkola, I'm even more excited to keep using them! I've loved the items I've tried so far and look forward to becoming a loyal customer. Their unique and quality products mean art in our homeschool can continue to adapt and revolutionize, expanding beyond a page or canvas and onto almost any surface we fancy!
And because their items are relatively inexpensive, Chalkola's art supplies make for perfect gift ideas, stocking stuffers, party activities or favors, and, of course, homeschool additions. Be sure to check out their offerings for yourself and see how their products can change how you do art with your family, too!
Our Journey Westward readers can save 10% on Chalkola art supplies at Amazon using the code CHALKOLA10 at checkout!
Other Posts You May Like