Westward Expansion Unit Study
Even in a Charlotte Mason-inspired homeschool, I've found unit studies to be extremely beneficial for learning. With lots of living books and some meaningful project-based learning, this westward expansion unit study was an excellent way to learn history in our homeschool.
The time my children and I spent learning about pioneers during the westward expansion era was full of interesting topics. From cowboys and gold rushes to the Pony Express and exploration, we "covered so much ground" and enjoyed a trip back in time during our study.
As with most of our unit studies, this one was full of living books and included a healthy portion of project-based learning.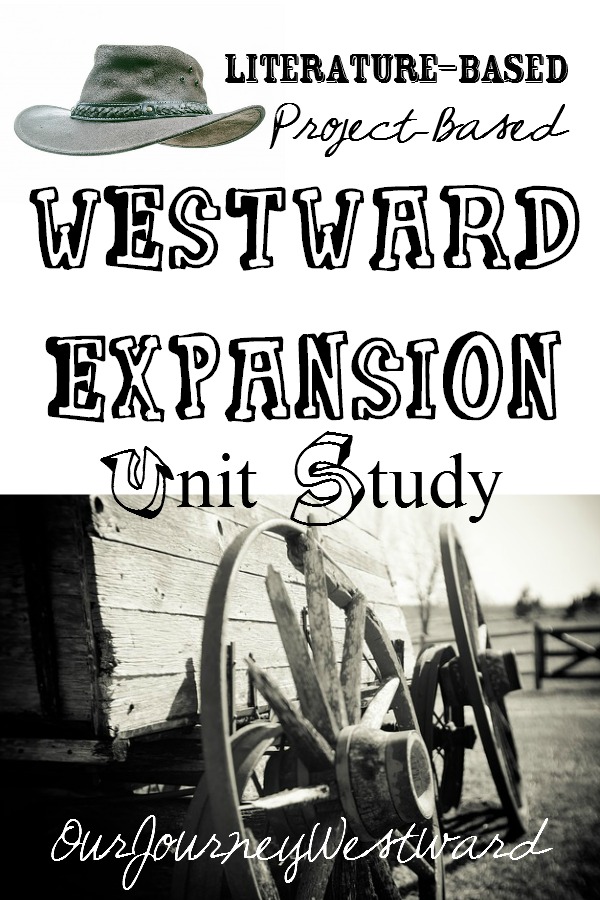 This post contains affiliate links.
Planning a Westward Expansion Unit Study
I plan most of our unit studies from scratch. If you'd like to learn how to do that, consider watching the video class I taught called How To Plan Effective Unit Studies.
For the westward expansion unit study, I worked hard to cover the era chronologically and as thoroughly as possible. While there might be a few holes here or there (or even some overlap), my upper elementary and middle school children soaked in a great deal of understanding about the time period.
What To Study About Westward Expansion
You will see people and events listed below in bold letters. They were the main topics we focused on during our unit study. After each person or event is listed in bold, you will see lists of other people or events. These topics were covered during our study but with less specific focus.
For example, our study began with a biography of Daniel Boone. We also took two local field trips to visit places that have significance to Daniel Boone. As we read and wandered, it was natural to learn about and discuss pioneers, frontier boundaries after the Revolutionary War, the Wilderness Road, and the Northwest Ordinance.
In many instances, we read other books, watched documentaries or YouTube videos, or had discussions to understand the "lesser topics". These "rabbit trails" of learning helped my children learn important information without turning each and every interesting topic into days worth of learning. This helps keep a unit study from becoming a beast, while still including the important stuff.
Westward Expansion Order of Study
Daniel Boone – pioneers, frontier boundaries after the Revolutionary War, the Wilderness Road, Northwest Ordinance
Thomas Jefferson – the Louisiana Purchase
Lewis and Clark – the Northwest Passage, the nature journaling of plants and animals discovered, geographic barriers, cartography, the map of Native American tribes across North America
Sacagawea – Conestoga wagons, the Monroe Doctrine, the fur trade, the Oregon Fever
War of 1812 – maps of America & Great Britain, the disagreement over shipping & trade on seas – Embargo Act, Henry Clay, the battles in America & Canada, the Star Spangled Banner, the Treaty of Ghent
Jedediah Smith – the Oregon Trail, the Santa Fe Trail
Davy Crockett – the prairie schooner, Jason Lee, Independence Rock
Trail of Tears – the Indian Removal Act, Andrew Jackson, Cherokee history
Johnny Appleseed (John Chapman) – the six states created from 1816-1821, wagon groupings, the Pony Express
The Battle of the Alamo
Oklahoma Land Run
Chisholm Trail and Cowboys – Buffalo Bill, Ben Holladay, Annie Oakley, Wild Bill Hickok
Daily Unit Study Work
During our westward expansion unit study, each day looked somewhat similar to the next. Generally, I made sure to include at least a few of the following.
Reading for research with notebooking
Timeline and map work
Reading for pleasure
Working on one or more projects (project ideas below)
Hands-on activity from Westward Ho!, Pioneer Days, or Wild West Days
Westward Expansion Living Books
Living literature is always a huge part of our history units. Each of these books made a great contribution to our westward expansion unit study. Some of the books we read as a family, some were assigned during individual reading time, and some were enjoyed as audiobooks in the car.
Westward Expansion Picture Books
Westward Expansion Chapter Books
Other Westward Expansion Resources We Used
Westward Expansion Project-Based Learning
After several weeks of fun activities, field trips and daily lessons, we finished off our Westward Expansion unit with a "project week". At the end of most of our units, I prepare a list of projects for my children to choose and complete. Each project requires a fair amount of research and assimilating the information into a something that is presented to the family at the end of the week.
On Monday of our pioneer unit, I gave the kids a Westward Expansion Test and a project list (below), both of which were to be completed by Friday. I don't always give tests, but I like to surprise them once in a while with new methods of assessment. As for the projects, Caleb had to choose three, while Mahayla had to choose four. Besides math, a little grammar and reading, projects were the only things on the schooling agenda during the week.
Project Choices:
Click on the image below to view and print the project list.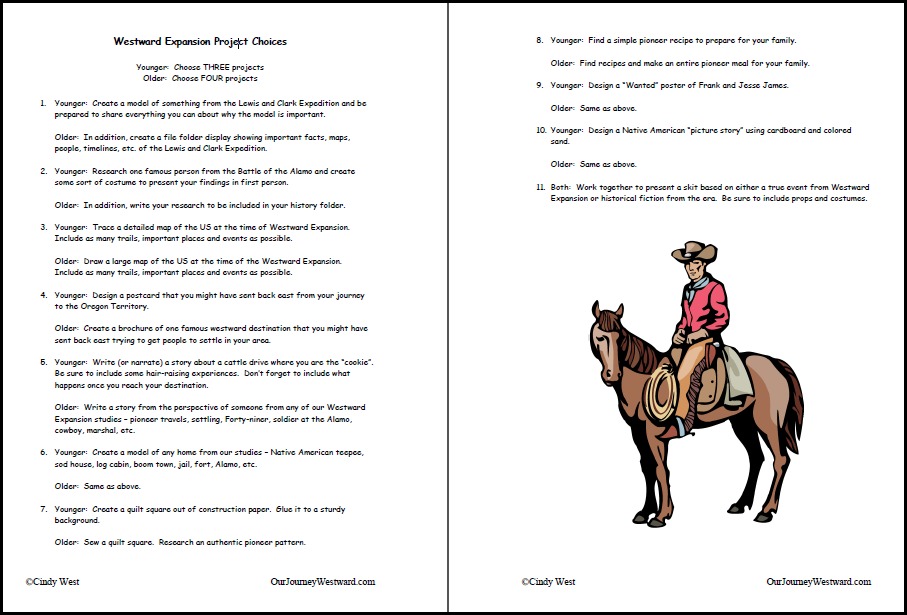 The Westward Expansion Unit Study Projects
Here's what the kids came up with. As usual, I'm not only pleased, but very surprised at their ingenuity and eagerness to do a good job. Give 'em and inch and they'll take a mile – that's a good thing in this case!
Mahayla: 6th Grade
She couldn't decide, so chose to complete five instead. (Yes, I know.)
1. A diorama and file folder report on Lewis and Clark shared many of the facts learned during the unit study.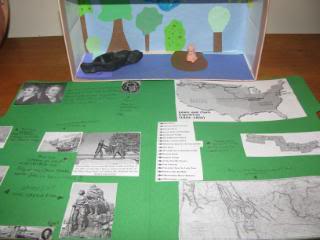 2. A quilt square handicraft project showed her how difficult it must have been for the pioneers to sew almost everything themselves. She researched pioneer quilt squares on the internet and came up with this one named "Oh Suzanna". She completed the entire quilt square from start to finish without any help from me. Not bad for a first timer, huh? My granny would be so proud!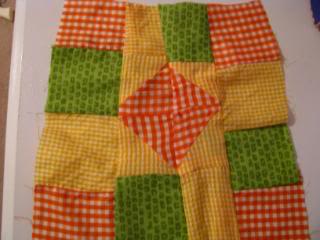 3. She wrote a five page report on Sam Houston, who happens to be in our family line. She had to interview my mom who has done extensive genealogy research, and had to find information on her own.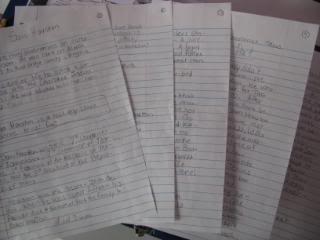 4. She prepared a cowboy meal of chili and homemade crackers that was yummy!
Homemade Crackers

1 c flour

1 tsp baking powder

pinch salt

1/2 cube butter

1/4 c milk

Preheat oven to 400 degrees. Mix flour, baking powder and salt. Use fork to mash butter in until it looks like crumbs. Add milk and stir until dough forms a ball. Sprinkle flour on counter and roll dough into a flat rectangle with a rolling pin. Use a knife to cut the dough into small squares. Place onto a greased cookie sheet and poke holes into the crackers with a fork. Bake for 9 minutes. Makes about 24 crackers.

5. And she was Flying Sparrow in their original play entitled "Cowboy and Indian". It was complete with five scenes, a playbill and a script!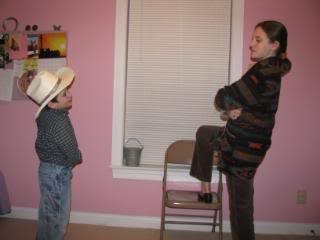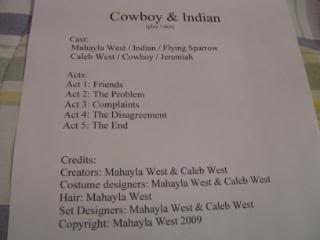 Caleb: 3rd Grade
In his usual fashion, he chose projects that required lots of hands-on and little writing. That's okay, though, because he was still required to give a presentation about the projects. Even with very little writing, the information he gleaned and presented was very good.
1. He made a model of the Lewis and Clark keelboat using several of the toys he has around the house.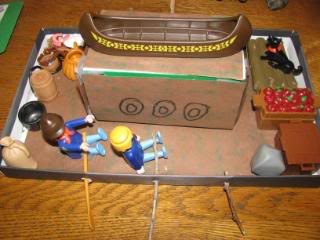 2. He made a 2nd model of the corner watchtower from a fort that might have been set up along one of the trails west. He said he would have built the whole fort, but ran out of Lincoln Logs!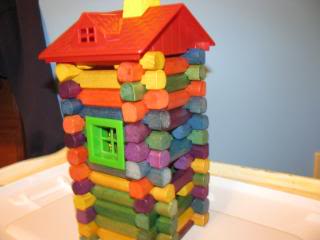 3. And he was Jeremiah (with a great country accent) in their play "Cowboy and Indian". As you can see, the play ended rather sadly. Jeremiah and Flying Sparrow couldn't find a better way to solve their conflict except through the use of guns. Maybe we watch too many Gunsmoke episodes on Sunday afternoons?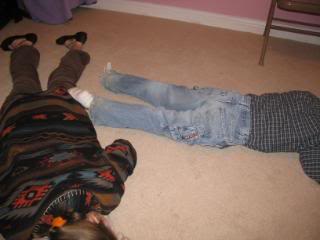 And that comes to the end of another fabulous unit study. We sure had fun, learned a ton and made lots of memories. I will never regret these moments spent teaching my children.
You might enjoy these pioneer lessons, too!
Homemade Lewis and Clark Journals
Lewis and Clark To-Scale Mapping
Lewis and Clark Day
More Fun Unit Studies