CM Series #10 – Our Charlotte Mason Schedule
What does a typical day in a Charlotte Mason homeschool look like? Truthfully, it will look different for each family! While there are important aspects that should be included in a true Charlotte Mason homeschool, the way you work those in should always fit your preferences and lifestyle.
Today, I'm sharing the typical daily pattern our family has fallen into that has worked really well for a number of years now.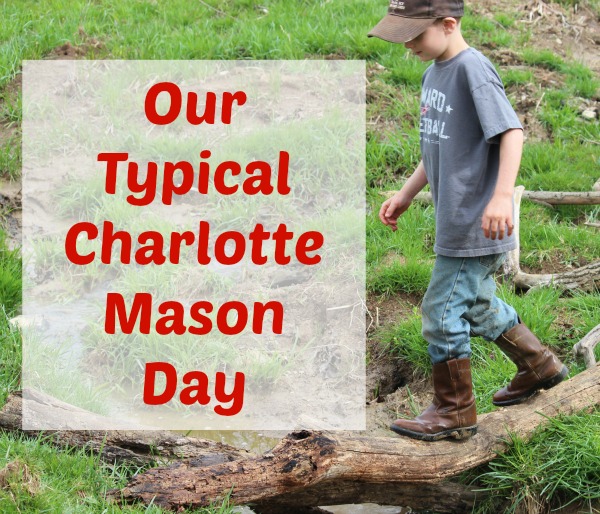 Our Typical Charlotte Mason Day
The short and sweet of our Charlotte Mason schedule…We do chores and bookwork in the morning and the less academic things in the afternoon.
The longer explanation varies daily, but the overall picture is essentially the same. I never put strict time limits on anything because we just do what we need to do until it's done. That plan works out similar to this:
Before breakfast – Everyone does simple daily chores like making the bed, bringing laundry downstairs and brushing teeth.
During or just after breakfast – We have Bible time and brain training time.
After breakfast – Everyone does a few chores to get the house tidy. I assign the chores daily and they rarely take more than 10-20 minutes. Then it's on to schoolwork…
Math – Depending on the day, this time is either textbook math or living math.
Language Arts – This will include several (but rarely all) of the following – copywork or dictation, reading, writing, specific grammar or spelling lessons, poetry, and/or Shakespeare.
Science and/or History – Sometimes we do a lesson of each. Sometimes we do larger lessons of one or the other. Most of the time, we do these lessons as a family through unit studies. Yes, you're right, you don't hear much about unit studies in Charlotte Mason circles. As we apply Charlotte Mason's principles to our unit study time, though, I think even she would be proud to see our learning time together!
Lunch – We take at least an hour to eat and have free time.
After lunch – The afternoons can be anything and everything – finishing up morning studies, nature walks, reading living books, handicrafts, cooking/baking, horse training, 4-H, barn chores, experiments, building projects, art, board games, plain old play time, and the list goes on.
I will tell you that I find myself having to train good habits into this time. If I'm not the afternoon activity director, it's very easy for my children to use this time less wisely – like sitting in front of the TV all afternoon. Many afternoons, I try to loosely organize or suggest worthwhile activities, but I also allow freedom for personal exploration and projects as much as I can.
There you have it. It seems simple, yet really works for us. My children are academically challenged, my house is relatively clean and organized, and we all have time to pursue our passions.
I'm sure some of today's readers would appreciate other Charlotte Mason homeschoolers commenting on daily schedules. What does your day look like? Does a somewhat relaxed schedule work well in your homeschool? Please help me encourage those who might be skeptical.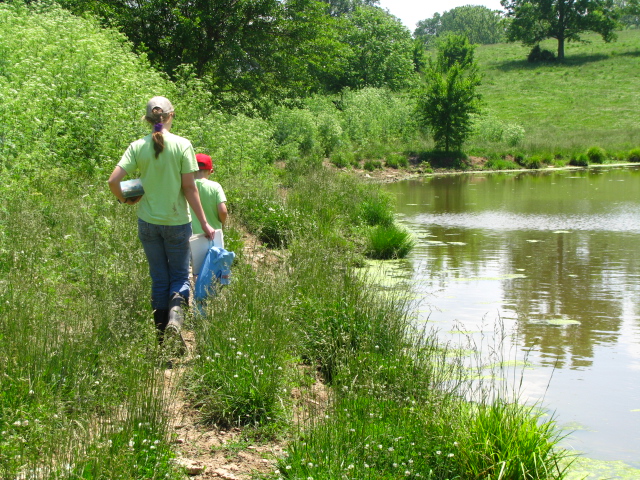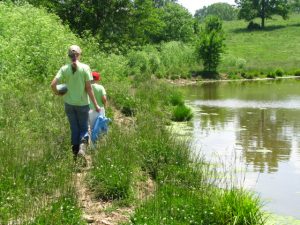 Well, that does it! Thank you, thank you, thank you for taking this two-week journey with me! And don't forget to check in next week for the Q&A post. Before I wrap it up, I want to remind you of one thing…
The Lord tells us in Colossians 3:23, "Whatever you do, work at it with all your heart, as if working for the Lord, not for human masters…" I don't want any curriculum to become my master, no matter how wonderful it is. With that said, take from this series what works for your family and do it well.
Expect excellence from your children, but realize that none of us can be excellent in everything, especially if our schedules are overloaded. Give God the glory and let Him direct your homeschool path and you'll find success!
Want More?
Using this series as a springboard, I've written a new book to help you get your Charlotte Mason homeschool up and running efficiently in 18 EASY steps!  I think you'll love it!
Check Out These Posts: