An Appleseed Adventure: Apple Unit Study
I love unit studies and autumn is the perfect time for several, fun, nature-based science topics. In September particularly, apple orchards are at peak harvest and it just so happens to be the birth month of Johnny Appleseed!
Use any or all of the ideas below to enjoy an educational and yummy autumn unit study about apples with the entire family this month!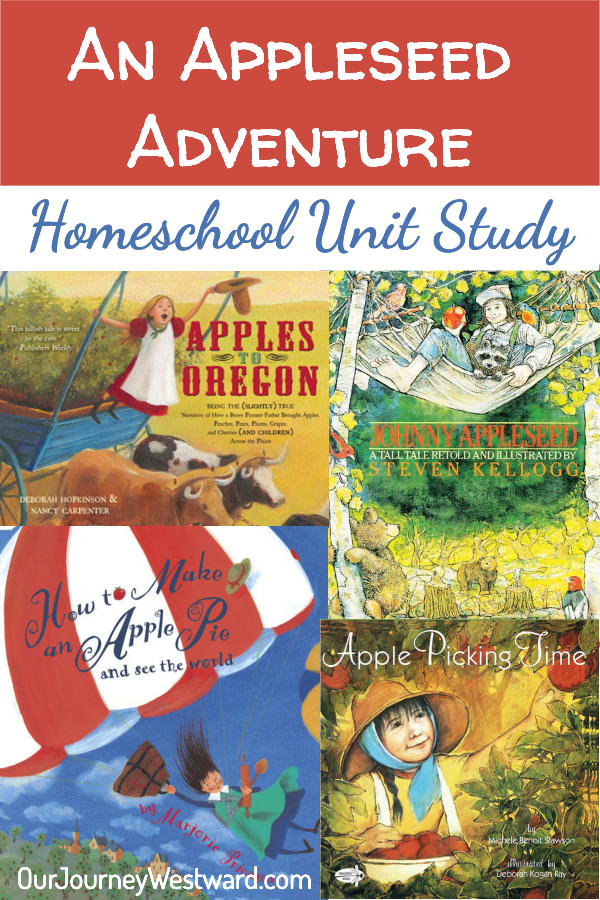 This post contains affiliate links.
The Science of Apples
While most unit studies tend to be focused on science or history topics, an apple unit study can easily focus on BOTH at the same time. Let's start with science!
Children can gain a lot of knowledge about plant life cycles in general when we teach them about the seasonal rhythms of an apple tree. Living picture books do such a good job of explaining scientific things to children. Here are some of my very favorites about the science of apples.
Apple Nature Study
With nature-based science unit studies, I ALWAYS make sure we do some hands-on learning through nature walk "science labs". Of course, this means we get to visit our local apple orchard at least a couple of times throughout the study…which also means we don't leave the nature walk without treats!
What do we do on a nature walk at the orchard? Way more than simply walking through to look at trees or pick apples! I choose at least one creative nature walk from the NaturExplorers Fruits and Nuts curriculum to give us a specific goal or two for observing and learning.
The curriculum includes tons of activity ideas for continuing the learning at home through experiments, model-making, recipes, kid-friendly research projects, and more, too!
In fact, if you don't have an apple orchard or single apple trees nearby, you could observe almost any other fruiting tree using this curriculum. That means you can still enjoy an apple unit study and make "science lab" connections to fruiting trees in general to observe life cycles and seasonal changes!
Apples and History
You may not realize it, but there are some wonderful historical connections you can make during an apple unit study. The most obvious connection is John Chapman's (aka Johnny Appleseed) contribution to westward expansion as he planted apple orchards in the frontier ahead of the pioneers.
Including your apple study as part of a larger westward expansion unit study would be a great idea if you have time!
Whether you have extended time or not, you won't regret reading a few books about Johnny Appleseed, as well as a couple of other historical books about apples.
I love when picture book biographies can fit seamlessly into a unit study! The life and contributions of Johnny Appleseed in the 1700's is an extra-special historical connection that goes along naturally with a study of apples. Because he was known as an orchardist, horticulturalist, and naturalist, his biography also makes great science connections!
John Chapman is one of the eight biography studies included in Famous Naturalists – a curriculum that can easily be used during morning time or as its own science study!
No Sweat Nature Study LIVE members can download the Famous Naturalists curriculum for FREE! Plus, they have access to a special Johnny Appleseed video full of music, art, mapping, and nature study in the member's only archive of video-based nature study classes.
Apple Math
Math isn't always easy to include in a unit study, but it is during an apple unit study! Apples are easy to use in recipes that allow your children to practice real-life fractions, measuring, conversions, time calculations, and more!
Of course, I have some book suggestions that are perfect to set up the math and baking in your apple unit study!
What Comes After An Apple Unit Study?
Oh, the ideas are endless! With October just around the corner, you could spend a few days on a pumpkin unit study. I already mentioned the great connection John Chapman has to westward expansion, but learning about him could also spur on a tour of the USA through picture books. No matter what you choose, have fun!