Charlotte Mason Series #3 – Short Lessons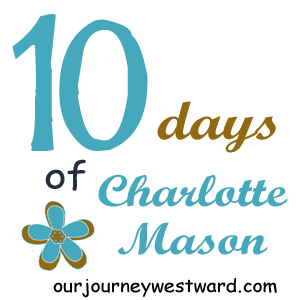 Welcome to day 3 of the 10 Days of Homeschooling blog hop! You can find the previous articles in my Charlotte Mason series here.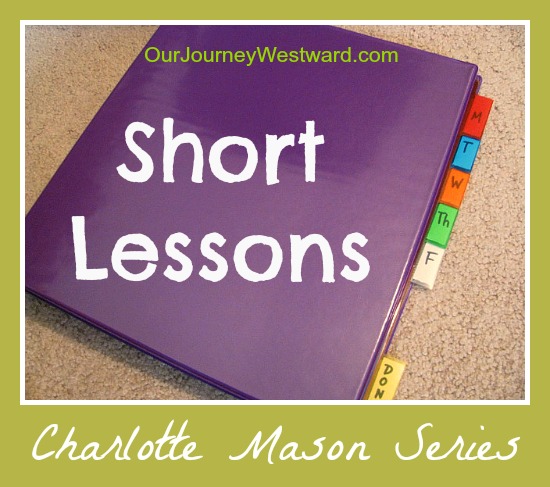 Short Lessons
One of the most refreshing aspects of CM style homeschooling is the implementation of short lessons, especially for elementary-aged children. Most lessons should last no more than 10-20 minutes for elementary children and up to 40 minutes for older children.
My philosophy has always been, "Why go on and on when you don't need to?" As a new homeschooling mom many years ago, I was always in a conundrum about how to keep records. According to my state's requirements, I was supposed to teach various subjects for XX hours per day. But, what those making the rules didn't know is that it doesn't take XX hours per day to accomplish the exact same amount of work as a normal public school child. In fact, it usually takes WAY less time!
Once jumping fully into the CM philosophy, I realized that not only were my instincts right to not keep pushing certain subjects "just because", but it's actually better for children to work on lessons in shorter bursts. Charlotte Mason knew, like any of us who have ever worked with children (or adults) that the attention span is only so long. Once past a certain point, little minds zone out. You know I'm right, don't you?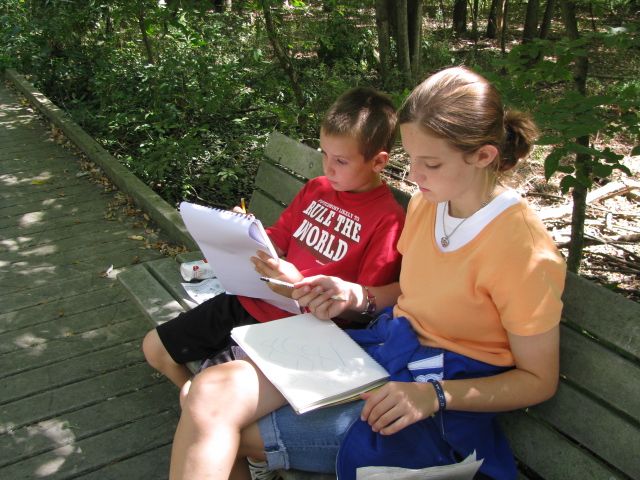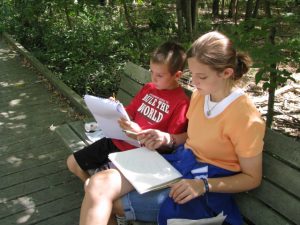 By incorporating short lessons, you're actually requiring your child pay closer attention and work more diligently.
How's that? Think about the typical grammar lesson, for instance…One or two pages from a grammar book is generally plenty for one day's worth of grammar. Unless your child is a dawdler, there is no reason the teaching and completion of the lesson should take more than 10-15 minutes. If your child is a dawdler, he is simply wasting both his time and yours. The dawdling has become a habit. (We'll talk more about habit training in a future post.) The longer the dawdle, the less focused attention to learning. And the less focused attention on any other lessons of the day!
I never let my children get in the habit of dawdling, but occasionally they slip into it anyway. When that happens, I set clear expectations and pull out the timer. It doesn't take too many episodes of having extra work assigned to get them back on track with getting busy the first time around!
Of course, I'm talking about a bad habit rather than a child who's struggling. But even for a struggling child, lessons should be kept short and sweet. He is no different than anyone else in the length of attention span. It might mean that you simply move more slowly through the curriculum.
Lesson Schedule – A Quick Peek
I'm going to post about my typical schedule later in the series, but here's a quick look at a morning of lessons for my 5th grader. The lessons vary as the week goes on, but this is pretty normal.
Bible 10-15 minutes
Memory Work 5-10 mintues
Math 20-40 minutes, usually on the 40 minute side
Spelling 5 minutes instruction with me, 5-10 minutes to complete an assignment
Writing 10-15 minutes, often included as part of our history or science study
Grammar 10-15 minutes
Typing, Handwriting (Copywork) OR Vocabulary 10-15 minutes
Reading to Self 15-30 minutes
History and/or Science as a family 30-60 minutes
So, before lunch, he's tackled all the 3 R's + some. The afternoons, as you'll see in a coming post, aren't wasted educationally – they just take on a different "look".
Is It Really Enough?
Some people really struggle with the concept of short lessons because they feel like their child can't possibly be getting "enough" in such a short amount of time. The Lord blessed me with several years in the public school before homeschooling so that I could have plenty of encouraging words to say to homeschooling moms and dads – – – What I cover with my children in short lessons at home is no less than what I covered in much longer lessons in the classroom! What takes my children a few short minutes to do at home is the same material I would've spent way too much time trying to explain to 30 students in the classroom – while at the same time making Johnny sit down, asking Sally to stop talking, allowing Robby to go to the bathroom, stopping to answer a question from the teacher next door and answering a phone call from the front office. Trust me. Short lessons done well are enough!
I forgot to mention in the previous posts that I welcome all comments and questions! I hope you'll come back tomorrow as we take a look at Narration, Dictation and Copywork!
You May Also Like:
More Scheduling Posts: