Charlotte Mason Series #2 – Living Books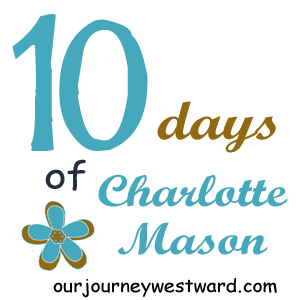 Welcome back to day 2 of the 10 Days of Homeschooling blog hop! You can find the entire series here.
I promised a look at each main aspect of a Charlotte Mason education, so today we dive right in and take a look at one of my favorite parts – living books!
What in the world is a living book?
Quite simply, living books come alive as you read them. They are so well-written and engaging that you can hardly put them down. Unlike boring, dry textbooks, or silly "twaddle", living books don't make you feel as if you just wasted your time. They come in all subjects (yes, even math!) and can be found in the form of picture books, chapter books and even some textbooks! (Although there are many examples, I would consider Story of the World and Apologia as textbooks with a "living" feel.)
Picture yourself with your children – PK through high school – snuggling on the couch reading a wonderful book together. Every single one of your children begging you to read more once your time is spent. And you, secretly as excited as your children, agree to "just one more chapter".
Think about your family loving books so much that you all race for the books on CD section of your library to see who can find the next best thing to listen to in the car.
Imagine your children filling their library cards with so many books that you can't imagine they would really read all of them. But they do!
These scenarios REALLY happen in our house, and can in any house where living literature is given a priority!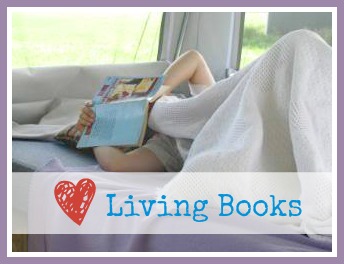 Mom, developing a deep love for literature in your children takes a little effort on your part.
You have to enjoy this time yourself. You have to become as intertwined in the stories as your children, at least at first, until they find the love of literature themselves. This can be hard for moms who either don't like reading or don't want to take the time to schedule it. Think of it like exercise. Once you start exercising and get in the habit, you feel so much better, right? It's the same with living books. Once you start reading really good books with your children, not only will you find yourself surprisingly enthralled, you'll form a habit for your family from which everyone will benefit.
Lessons in all subjects can come from living books, but we tend to focus most of our reading attention on historical fiction and biographies of famous historical figures, scientists and missionaries. Adding a really good book (or more) to a study of any history topic, for instance, brings my children personally into the time period. As they get to know the characters and become part of the storyline, it gives them an emotional perspective unlike other lessons. We can read textbooks, complete lapbooks, make projects, write our own stories, etc, but nothing quite puts them into the time and place of history like a living book.
Even though I said we tend to focus most of our living literature attention on history and science, don't forget that great books can be found to enhance any subject from grammar and math to artist and composer study! And sometimes, just reading for the sake of reading a good book fits the bill!
Unfortunately, you will come across lots of twaddle out there, but you can find more living books in every genre than you could ever read in a lifetime! To save you the burden of searching for great books on your own, below are some great lists for all age levels.

Below are some curriculum companies that save you the burden of figuring out which living literature to incorporate into your lessons. (Before you read this list…not all of these companies claim to offer Charlotte Mason style lessons. I'm not necessarily endorsing any company's curriculum. Each of them, however, give you really good options for adding living literature to your lessons. I'd love for you to leave a comment sharing other companies you've found that offer lessons based on living literature!!)
Happy reading!  I hope you'll join me for tomorrow's topic of Short Lessons!
Check Out These Other Posts!
Awesome Living Literature Resources