Supply and Demand Picture Books: Economics for Kids
Reading engaging picture books about supply and demand is a great way to introduce children to topics about economics. Teaching economics is more important than you might think and much easier than you might imagine. Choose from the books below to start learning!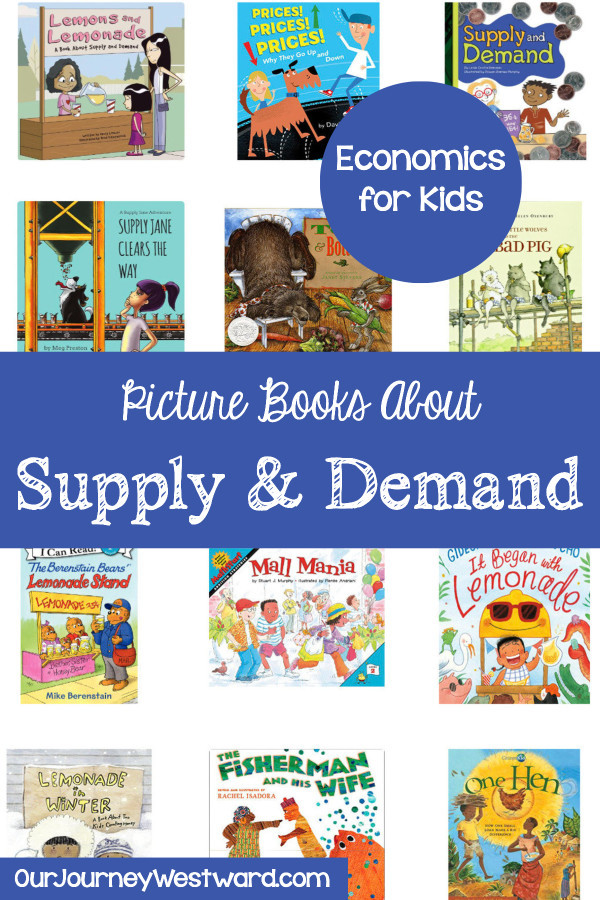 This post contains affiliate links.
What are Supply and Demand?
Supply and demand are two economic concepts that are closely related to one another. Supply is the amount of a product in a market, while demand is how many willing buyers are in the market. Together, they help set prices for goods and services.
The classic front yard lemonade stand is a great example. If it's a hot summer day and you live on a busy street, the odds are that demand for thirst-quenching lemonade will be pretty high. In that case, plenty of supplies would be necessary to keep up with the demand.
However, if you live in Alaska on a winter day, not many people will want to buy ice-cold lemonade. There would likely be little demand for the lemonade. Knowing this, it would be wise to keep the purchase of supplies low, which makes it easier to make a profit at the end of the day.
Supply and Demand Drive Prices
Additionally, the price for a cup of lemonade on a hot summer day can often be higher because of the demand. When there's high demand for a product, people are more likely to pay a premium price for it. How could you raise the demand at a drink stand in Alaska? A good business move would be to change tactics and sell hot chocolate!
If there is no option to change the product to one that is in more demand, it's likely that prices will need to be lowered in order to make sales. To reiterate, the demand for a product helps set its price in the market. The same is true for supply.
When there is plenty of a certain product, the price is generally lower. At most times in history, there is a large supply of eggs for people to buy. Because of this, eggs are relatively inexpensive. However, there was a time in recent history when a chicken illness killed enough chickens to greatly reduce the supply of eggs. As you can expect, the price of eggs rose.
Can children really understand economics?
Yes! Several basic economics concepts are easy for young children to understand. The lemonade and egg examples are very approachable for children of all ages. Luckily, picture books can step in and do the heavy lifting of defining and illustrating topics. This makes it even easier to teach and comprehend.
Now, why would it be important for elementary students to understand economics? Economics is a fact of life and as your children grow. They need to understand economic concepts to make informed decisions. When purchasing something at the store, it's important to understand how prices are set. Additionally, price comparison helps people to make smart choices.
More important than personal money comprehension, though, is the role economics plays on the larger scale of world financial systems. Of course, macroeconomics isn't a topic for the elementary ages. But on the other hand, a foundational understanding of things like supply and demand goes a long way in preparation!
Picture Books About Supply and Demand
Supply and Demand Picture Books
Besides descriptive teaching about supply and demand, the following books cover or demonstrate other important economics concepts, too. Children will learn about the market, prices, products, competition, and consumer choices. They will also learn about business, entrepreneurship, wants, needs, contentment, loans, and even counting money.
Lemons and Lemonade: A Book About Supply and Demand
Lemons and Lemonade: A Book About Supply and Demand by Nancy Loewen is an easy-to-understand scenario of a lemonade stand. Of course, it helps children grasp the concepts of supply and demand. Also, it describes why entrepreneurs look at the market to decide which products to sell and which prices to set.
Prices! Prices! Prices!: Why They Go Up and Down
Read Prices! Prices! Prices!: Why They Go Up and Down by David A. Adler for a clear illustration of supply and demand and how it affects the prices of the things we buy.
Supply and Demand
Learn the factors that affect supply and demand in Supply and Demand by Linda Crotta Brennan.
The Berenstain Bears' Lemonade Stand
Follow the popular bear family as they set up shop in The Berenstain Bears' Lemonade Stand by Stan and Jan Berenstain. Children will learn about supply, demand, pricing, and competition.
Mall Mania
The math-based book, Mall Mania by Stuart J. Murphy, introduces several economics concepts in the context of a busy shopping mall. Children will understand how these principles affect both businesses and shoppers.
It Began with Lemonade
Meet a little girl who discovers that her street is oversupplied with lemonade sellers in It Began with Lemonade by Gideon Sterer. When she moves her lemonade stand will it benefit her business?
Supply Jane Clears the Way
Can Supply Jane and Fifo find the bottleneck in Uncle Manny's dragon food factory? The dragon food supply is not able to keep up with the demand. Will they figure out the problem in Supply Jane Clears the Way: A Supply Chain & Manufacturing Adventure for Kids by Megan Preston Meyer?
Tops and Bottoms
The humorous book Tops and Bottoms by Janet Stevens tells the story of a clever hare. He and his family outsmart a lazy bear by making a deal to share the harvest of a field. It's a fun way to explore supply and demand dynamics as the hare family cleverly negotiates their share of the harvest.
The Three Little Wolves and the Big Bad Pig
You'll love the role reversal of the Three Little Pigs in The Three Little Wolves and the Big Bad Pig by Eugene Trivizas. Surprisingly, the wolves learn about supply and demand as they attempt to build houses. As you can imagine, the houses must withstand the destructive tactics of the big bad pig.
Lemonade in Winter
Siblings Pauline and John-John set up a winter lemonade stand in Lemonade in Winter: A Book About Two Kids Counting Money by Emily Jenkins. As they face low demand due to the season, they inevitably learn about supply and demand. You'll also be pleased to find the concepts of counting money and making business decisions within the pages.
The Fisherman and His Wife
The Fisherman and His Wife by Rachel Isadora is a retelling of a classic folktale that can be used to discuss supply and demand. It explores the consequences of greed as it teaches children about the balance between wants and needs. Luckily, it will help kids contemplate the importance of contentment, too.
One Hen
Introduce children to the concept of entrepreneurship in One Hen: How One Small Loan Made a Big Difference by Katie Smith Milway. Notice the power of supply and demand as the main character uses a small loan to start a chicken-raising business.
Economics For Older Children
If you are interested in learning more about economics with OLDER children, I highly recommend Whatever Happened To Penny Candy? and Economics for Everybody. They both lay wonderful foundations of economic principles that are easy to use and put into practice.
Other Economics Posts You Might Like
Related Products from the Our Journey Westward Shop