How To Easily Plan Monthly Homeschool Field Trips
For years, we've taken at least one homeschool field trip each month of the school year. They have created some of our best memories and always almost supply us with wonderful learning opportunities.
It may sound overwhelming to plan monthly field trips, but it's really not that hard at all when you're organized – and I'll help you get organized!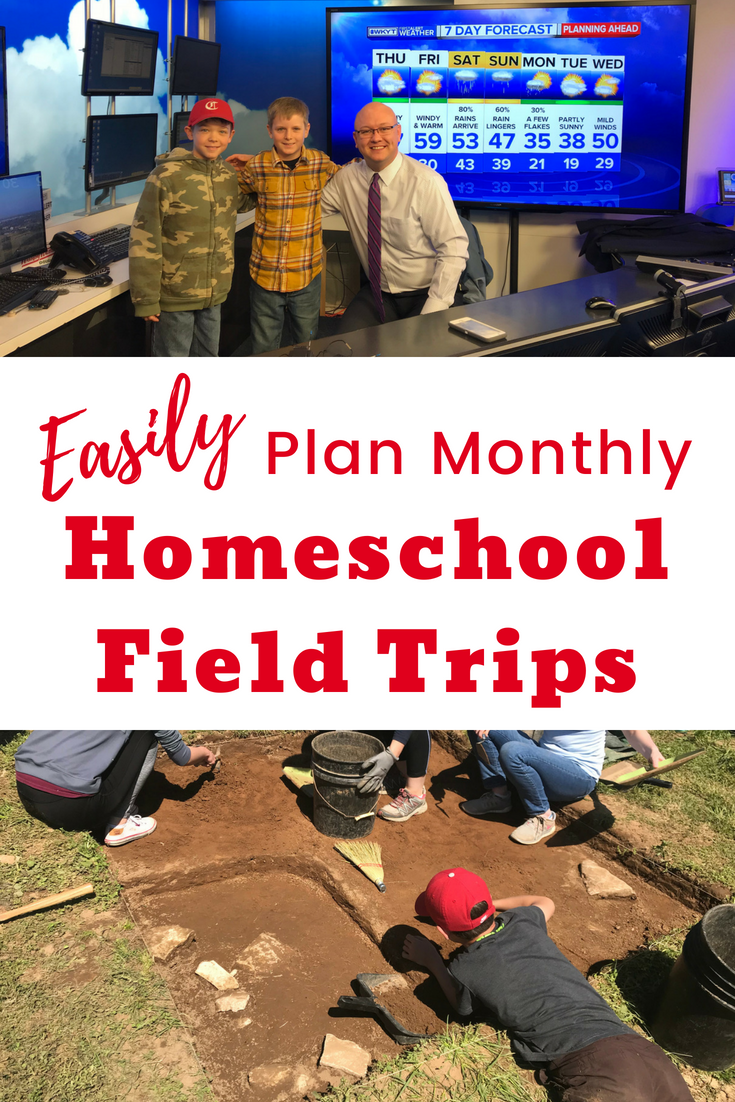 Why Do We Take So Many Homeschool Field Trips?
Over the past eighteen years of homeschooling, I bet our family has taken over 100 field trips. That's a lot of experiential learning!
Field trips are the perfect example of hands-on, real-life learning. I love that so many of them are taught by professionals who know much more than me about whatever topic is at hand. Every bit of time, effort, and money spent has been worth it for such powerful learning outside of the textbook.
History, science, and artist study come alive as you tour museums and take part in special classes. Interpretive nature walks lead you to observe things you've never noticed before. The arts are truly appreciated as you enjoy various musical and theatrical performances. Even something as simple as a cemetery scavenger hunt can creatively teach local culture and history.
Field trips are more than just extras in our homeschool. They are one of the best tools I have in my homeschooling toolbox.
How To Plan Monthly Homeschool Field Trips
In various years and at various times, I've gone about planning homeschool field trips differently. Each scenario worked well since it matched the flow of our school at the time.
Spontaneous Field Trips
Each month, check your state's tourism calendar and the schedules of nearby museums, nature centers, zoos, and theaters. You should find a list of possibilities for special classes, special exhibits, festivals, history fairs, and more. Choose one (or more) of interest and enjoy.
Field Trips to Supplement Learning
If you have an overall plan of which history and science topics you'll be studying during the upcoming school year, you can plan field trips that supplement those topics. For example, if you plan to learn about government systems, you might plan field trips to your state capital and county courthouse. Or, if you plan to learn about cold-blooded animals, you might plan field trips to a reptile zoo, a fish hatchery, and a pond in the spring to observe frogs.
Subject-Focused Field Trips
Each month of the year could have a different subject focus. If September's focus subject is science, you might schedule a trip to the airport or take a special STEM class. If October's focus subject is history, you might visit an interpretive history festival or a nearby history museum. In November, you might focus on nature study and hike a new trail or take a class at the zoo. December's focus subject might be fine arts and you could consider attending a play or a concert.
Yearly-Focused Field Trips
Every once in a while, you might spend an entire year taking field trips focused on one subject. When we studied KY History, almost every field that year had something to do with learning more about our state and its history. We visited landmarks, history museums, cemeteries, state parks, forts, caves, and other tourist attractions. All of us look back on that year with fond memories.
Student-Planned Field Trips
If your children are interested, allow them to take a turn in planning one or more of the monthly field trips. You might supply a list of possibilities or expect them to research their own possibilities. Either way, if they are old enough, encourage them to make any necessary calls and reservations.
Are You Making Homeschool Field Trip Plans?
From experience, I've learned that I need to get the monthly field trip planned by the beginning of the month – or earlier. Otherwise, it's way too easy to get to the end of the month and realize life got too busy and we missed our opportunity.
Once I've set the date and taken just a few minutes to get the details in order – like hours of operation, reservations, cost, and/or how long it will take me to get there – we're set. Homeschooling can go on as usual for the rest of the month and we joyfully look forward to the fabulous field trip that will happen.
I keep a simple yearly field trip planning page in my homeschool binder that helps me stay organized. Feel free to print it off for your own binder if you'd like to keep all your field trip details in one convenient place. (P.S. It also happens to be a great addition to end-of-the-year portfolios.)
I've Got You Covered On Nature Field Trips
Nature walks make great field trips, too! The 19 NaturExplorers guides, 100+ Creative Nature Walks, or 40 Science Labs On-the-Go can help you with wonderful ideas for things to do to make nature walks meaningful and fun.

Other Posts You Might Enjoy