The Four Year History Cycle: Slightly Revised
You may have heard me say before that we follow a four-year cycle of chronological history in our homeschool.  Well, we used to.  My littlest man will be in 3rd grade this coming school year and we're just now getting into ancient history – year 1 in a four-year cycle.  I still plan to follow a four (or five) year cycle, but he'll only go through it twice before he graduates – several years from now – which is one less time through the cycle than most classical models.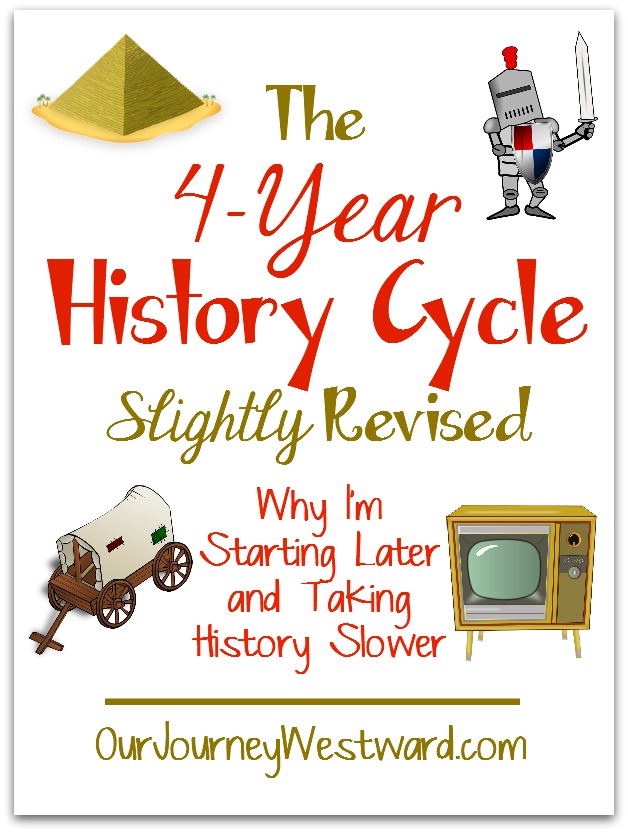 (This post contains affiliate links.)
Why only twice through the cycle?
My big kids didn't really need the 3rd cycle by the time they got into high school.  We had studied world history thoroughly twice before and they had a really good grasp.  Of course, we didn't just skip history during high school.  We still, in fact, stuck with the original plan and completed the 3rd cycle, but it took on much more depth and breadth.
Additionally, I felt like sometimes the big kids and I rushed through great literature or missed some key events trying to fit a particular era into a year's worth of study.
What did I do with the big kids?  I used Story of the World through the first cycle (with some unit studies.)  The second cycle was strictly project-based unit studies with lots of literature.  And during the third cycle, we took on all kinds of text curriculum, project-based research, video curriculum and literature.
Our four year history cycle will be slightly revised.
Little man and I are going to take our time and bebop through chronological history in a much more relaxed (yet, still rigorous) way.  We'll begin with Creation and work our way through the 21st century on our own time – and then start the process over again once for good measure and more depth.  The decision feels really good.
You might wonder what in the world we did for history if we aren't beginning our chronological tour until 3rd grade.  Well, we spent 1st grade focused on cultures around the world (with a focus on missionaries) and 2nd grade taking a tour of the good ol' USA (with lots of literature which gave us an intro to American history.)  Now that Eli is entering 3rd grade and a good reader, we're finally ready to hit history harder.
Story of the World will be slightly revised.
I love Story of the World and that's the curriculum I plan to use during our first 4 (or 5) year cycle.  When I did SOTW with my big kids many moons ago, we did EVERYTHING – all the projects, all the worksheets, all the literature.  I spent HOURS reserving books online and traveling to and from the library.  This time around, we'll do SOTW on much more relaxed terms.
We'll hit the text, narrate with the comprehension question, complete the maps and work on our timeline.  We'll probably only complete the occasional hands-on project (because that isn't his thing) and I'll only choose the best of the best living lit books to go-along.
It's nice to get to a point in your homeschooling journey when you realize relaxed learning is just fine.
These books will be on our informational shelf.
I'm still deciding on the final "best of the best" elementary living lit list to take us through our upcoming ancient history year, but I'm already beginning to gather a pile of informational books that will follow us through the entire first 4 (or 5) year cycle.  We'll use these to "see" the history we've been studying and dig a little deeper at times.
I love that each of these are chronological resources which will help build Eli's understanding of change over time and relate particular things/events/people with their eras. Since each of the books are colorful and kid-friendly, they will be on his pleasure reading shelf so he can dig in whenever he gets the urge.
Note: Many of these books have at least a mention of evolution-based beginnings. Some of them will also discuss gods and goddesses (which is part of ancient history.) I always read through these types of books once with Eli (if just quickly) to discuss any potential issues before putting them on his read-alone shelf.
What about Eli's 2nd cycle in middle and high school?  Good question.  We'll have to see what floats our fancy by the time Eli reaches middle and high school.  I'm sure I'll keep you posted.  😉
As we jump into the first ancient history cycle this coming August (or maybe September), I'll be sure to share our journeys with you!  Until then, I'll be thinking about which timeline we'll be using this year and gathering must-do lessons from my ancient history Pinterest board.  I'll also be considering which of my "top 10" ancient history living books Eli might be ready to read in 3rd grade.
Oh, I do so enjoy lazy summer days of curriculum planning!