Do you have a girly girl in your life? My daughter can muck the dirtiest of stalls in her Carhartt coveralls then settle in with Jane Auten and hot tea with girlfriends a few hours later. I'm not sure whether to call her a girly girl or not, but I do know that she's enjoyed plenty of gifts for girly girls over the years.
I've never had trouble finding gifts for her girly side. There are a handful of gifting categories that I focused on when she was younger that always brought a sparkle to her eyes. Surprisingly, those same categories still work now that she's a young adult.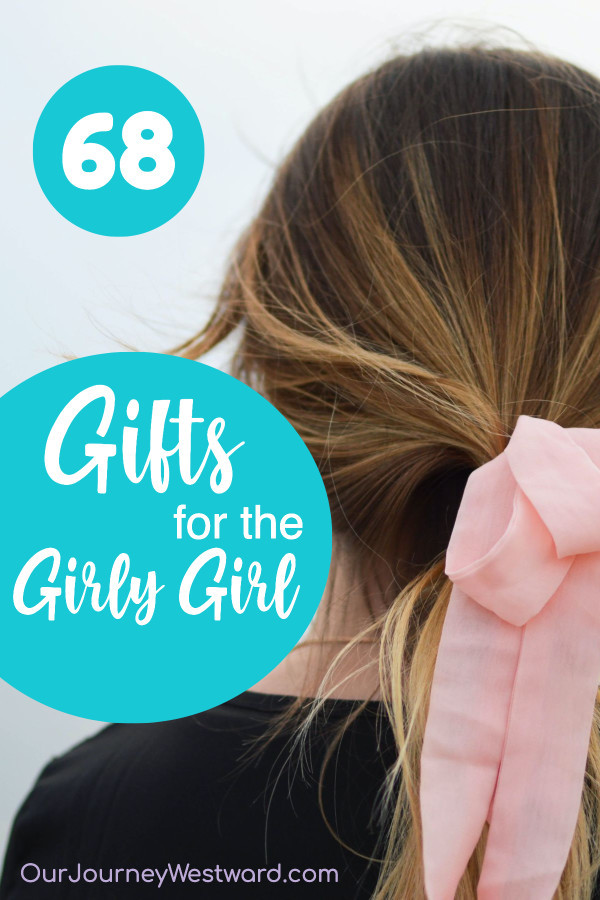 This post contains affiliate links.
Gifts for Girly Girls
I've tried to include a variety of ideas across those basic categories here for you today. Some will be more appropriate for younger girls, while some will work for older girls and even adult ladies.
Crafts and Projects for Girly Girls
My daughter loved doing arts and crafts, especially when she was younger. While we always had plenty of art supplies on hand at all times, kits were a favorite for her and happen to make great gifts. They include everything necessary for completing fun, beautiful, and often useful projects. I loved purchasing kits that introduced new handicrafts to her, too.
Jewelry Gifts for Girls
What girly girl doesn't like jewelry? The great thing about jewelry is that you can be as low-key or full of bling as you want. Jewelry can be classy, fun, flashy, and everything in between. My daughter who has always loved her farm animals did and still does appreciate animal-themed jewelry. I didn't include animal jewelry here for you because I think it's important to find special pieces that match the personality of the girl in your life. Here are some basic styles to get your jewelry hunt started.
Hair Gifts for Girls
If your girly girl enjoys doing her hair, there are a ton of hair accessories that make great gifts. From brushes and hair clips to curling irons and straighteners, you can't really go wrong when buying hair gifts as long as you take into account her hairstyle. Not included on this list are shampoo, conditioner, hairspray, dry shampoo, and a variety of other hair care products you could also consider purchasing.
Spa Day Gifts for Girls
Everyone deserves a spa day once in a while, but it can be expensive to actually visit the spa. Buying gifts that help make spa days happen at home is not only frugal, but they also allow for pampering to happen again and again. I will usually include some inexpensive supplies in my daughter's stocking and love including more expensive, reusable items as bigger gifts. As a bonus, I often get the benefit of using the bigger gifts, too! One of my favorites is a paraffin wax machine for exfoliating hands and feet!
Bags Make Great Gifts for Girls
Using the right bag makes everything easier and girls have lots of reasons to use bags. Overnight stays, school, sports, music lessons, parties, and shopping all seem to require a bag or purse of some sort. I've included a large variety of options on this list – small purses, large purses, cosmetic bags, and backpacks. If you know your girl is going on a trip soon or she's about ready to launch out on her own, luggage can make a great gift, too.
Wintery Clothing for Girls
My daughter has always loved cozy clothes. Indoors or out, she likes to be warm and feel comfortable. For this reason, pajamas, scarves, socks, gloves, sweatshirts, and jackets always have and continue to make great gifts for her. Christmas is a good season to stock up on winter clothes of all sorts, too, since most of them are on sale in December anyway.
Makeup Gifts for Girls
No list of gifts for girly girls is complete without mentioning makeup. However, I hesitated to include makeup on this list because so many gals are picky about the brand of makeup and the colors they use. However, I did include a few as inspiration for you. Additionally, brush sets, organizers, and beauty mirrors can help the girl in your life up her makeup game.
I hope this idea list of gifts for girly girls has helped you find the perfect gift for the girl in your life. Now, I need to get cracking on buying this year's gifts for my own girl!
Other posts you may like