Snowflake Nature Study for Kids
Snowflake nature study might be cold, but it sure is beautiful! As you listen to the podcast episode with Mrs. Cindy, learn about temperature, states of matter, and more. Then, move on to the video class to learn more about how snowflakes are formed and their amazing structures.
Whether you live in an area that gets snow or not, snowflakes are fascinating. The icy precipitation is almost magical as falls to the ground to create what looks like one big, white blanket over the ground. Even more fascinating, though, is how each and every snowflake is a geometric piece of art.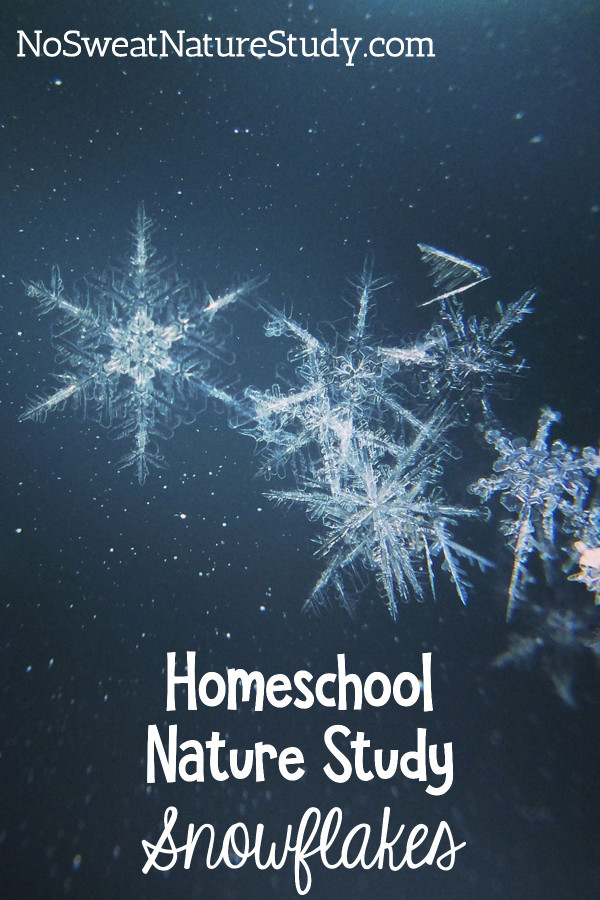 This post contains affiliate links.
Snowflake Nature Study
Here we are again learning about math alongside nature study. It's amazing how much of nature is mathematical. Snowflakes bring together geometrical shapes, symmetry, and fractals into fragile ice crystals that often melt before we ever have a chance to see their incredible beauty. That's okay, though, because the introductory podcast episode alongside the in-depth video class will help you to see the beauty even if you never experience a snowflake in real life.
Snowflakes are wonderful examples to demonstrate states of matter, too! You see, water can exist as a solid, liquid, or gas as it goes through the phases of its life cycle. From physics and chemistry to weather science and math, there is so much to learn from one single snowflake!
Snowflakes Nature Walk Challenge
If there is snow where you live, be prepared for the nature walk challenge that you'll hear about in the podcast by gathering a few supplies:
black construction paper
magnifying
nature journal
pencil
If there is no snow where you live, this is the video mentioned in the podcast that you will want to watch to create a page in your nature journal.
Snowflake Video Class
The video class that goes with the snowflake nature study podcast is not to be missed! There is so much extra goodness to learn about weather science and the formation of the ice crystals that we call snowflakes. You'll also create a wonderful chart in your nature journal to help you identify the geometrical shapes that make up all snowflakes.
Members of No Sweat Nature Study LIVE have access to the snowflake video lesson (along with access to nearly 100 other video science classes). Membership is very reasonably priced and can be used with your entire family of 1st-8th graders. Besides video classes, members receive printable activity packets for each lesson, booklists, free monthly curriculum downloads, and surprise bonus classes and events throughout the year.
There are several winter-themed classes waiting in the video library for you right now! One of my very favorites of all time was the lesson about polar bears, plus we've learned about tundras, reindeer, animal tracks, evergreens, and plenty of other topics that work for winter studies!
If you really don't prefer to be outside in the cold, you're in luck. There is no need to go outdoors! Mrs. Cindy handles all the teaching and shares nature study specimens with children from the comfort of a warm, cozy home.

Nature Walk Curriculum
If your family would love to study more about snow and other wintery topics – and you like getting outside in the winter – I know you'll appreciate either of these learning guides from the NaturExplorers series. Each of the guides includes 20-40 creative nature walks (some of which have printable nature journaling pages) and tons of ideas for indoor hands-on activities, experiments, art projects, kid-friendly research projects, books and poetry to read, and more!
In Coping with the Cold, learn how animals prepare for cold temperatures and survive long winters. In Snow and Ice, get even more up close and personal with the icy precipitation that falls in wintery water cycles.
Snowflake Nature Study Links and Resources
If you can only get your hands on two things from this list, grab Ken Libbrecht's Field Guide to Snowflakes and a magnifying glass. They will really help children get the most from snowflake nature study walks.
Please leave a rating or a review on your podcast app! It helps the podcast to show up for more people…which means more families can enjoy science through the wonderful lens of nature study! Thank you!
Would you like to record a voicemail to answer this season's nature study question?
At the end of each No Sweat Nature Study Podcast episode, Mrs. Cindy includes messages from a few of her friends. You have the opportunity to record a message that she might use on an upcoming episode!
All children must have their parent's permission before leaving a recording. Parents are welcome to record an answer, too!
Each season, there will be a different question to answer. You can see this season's question below. Think about your answer first and then follow these simple directions:
Click the button that says "start recording".
Tell me your first name. (If you want to tell your age and/or where you live, feel free to do that, too.)
You will have 60 seconds to answer the question, but try to be concise.
Push the play button to listen to your recording before sending it to be sure it is recorded properly. If not, simply record it again.