6 Tips for Teaching Early Readers
Do you have a child who began reading well at three or four years old? A child who reads far above grade level? Early readers who soak in more books in a year than you've read in your entire life? Do you wonder what to do with all that advanced ability?
Just how do you proceed with gifted early readers?? Here's what I did.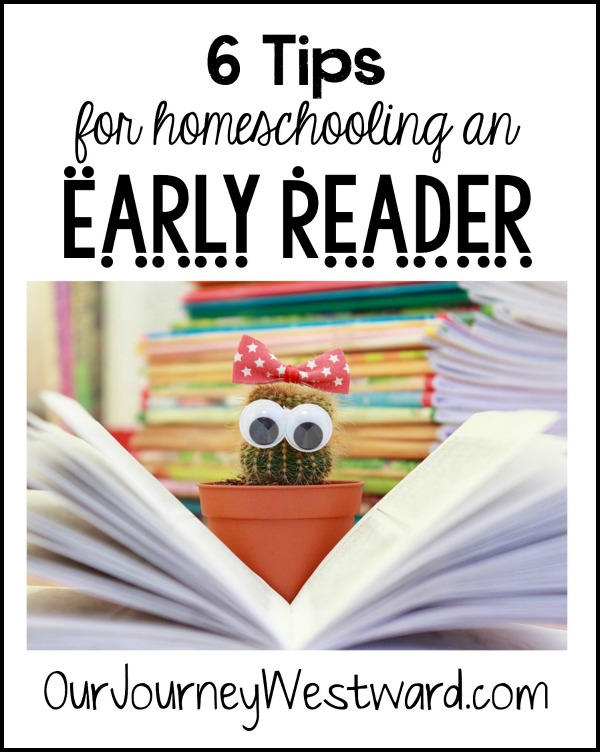 You can listen to this post if you prefer!
Teaching Very Early Readers
My oldest was an early reader. She blew my mind as she reached for book after book, able to tackle nearly everything on her own. As her teacher, I wondered how to handle her reading instruction. Should I still teach phonics? Should I force reading comprehension lessons? Should I hold her back from reading highly advanced books knowing the subject matter would likely be too mature for her actual age?
I don't think there's a one size fits all answer, but through trial and error, I made some discoveries that are worth sharing.
1. Since she's so capable, do I push for even more?
I let my daughter take the lead in reading and never pushed for more when she was younger. Since she was reading well above grade level on her own, I wanted her to continue finding pleasure in reading. I didn't want her to ever begin hating her gift of reading. As she got older and could understand her gift, I began assigning reading for certain subjects. But I continued to allow plenty of time for pleasure reading. During pleasure time, she read a bazillion books on the subject of horses and learned nearly as much as a pre-vet student before the end of her homeschool career!
2. Do I teach phonics to early readers?
I gently introduced phonics as issues came up. This was hard on me because I'm a firm believer in reading/spelling instruction based on a phonics program. I worried a lot that not taking her through a structured program would prove to be a mistake. But, because she was capable of teaching herself reading, she was also capable of internalizing phonics rules without too much guidance. I threw the occasional phonics workbook in just to be on the safe side, but she really didn't need them.
See my favorite phonics and spelling curriculum: K-2, 3-5
3. What about reading comprehension?
I didn't expect much in the form of book reports, comprehension workbooks, or other comprehension projects because these were very annoying to my daughter. She understood so much (because of the vast amount of books she was reading) that it was rather senseless to make her "prove" her understanding constantly in the form of an assignment. She was having adult-sized conversations about the books already, and that was enough for me. Again, this doesn't mean I never gave/give assignments. They just have to have a purpose other than, "Did you understand what you read?"
P.S. I wasn't using narration much at this point in my homeschooling journey. For this kid, even narration would have been overkill. She simply didn't need it.
4. Where do I find appropriate books for early readers?
As long as the subject matter of a book wasn't way out of her maturity level, I allowed my daughter to read just about anything she was interested in reading. This meant previewing lots and lots of books, but it was worth it.
Because she could sail through most books at ridiculous speed, the library was our very best homeschooling resource.
5. What if she loses interest in a book?
If my daughter lost interest in a book, I never forced her to read it to the end – except for books I specifically assigned as she got older. Part of teaching a gifted child means giving them some freedom in their learning. Gifted readers will usually devour so many books that it won't matter when a few aren't finished.
6. Should I still read aloud to her?
Oh, yes! I continued to read aloud to her – even some through her high school years.  Early readers still benefit from snuggle time – and continue to develop phonics skills, fluency, and comprehension during read-aloud times.
Enjoy your voracious readers! Reading is a fantastic mode of learning and you're likely to find they begin to excel in more than just reading because of all the sheer knowledge that passes through those little brains!
More About Reading Instruction